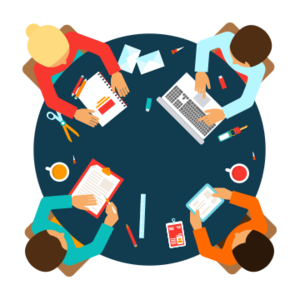 Studenten leren samenwerken door uiteenlopende perspectieven te verenigen die horen bij verschillende professionele rollen.
Even if you don't apply the full SCRUM framework, you can adopt some of its practices.
The daily SCRUM meeting is a short (15 minutes) meeting quite often held at the beginning of each working day with the full team.
SHARE WITH US WHAT OCCUPIES YOUR MIND AT THIS VERY MOMENT BEFORE STARTING THE SESSION TOGETHER

Basic Rules
Sharing what occupies your mind is absolutely voluntary
Everyone listens and perceives the message someone wants to share with the group
No comments, no reaction but recognition
Time estimation: Allow 1 min per participant who wants to share what occupies their mind.
No more resources found