47 useful online tools for workshop planning and meeting facilitation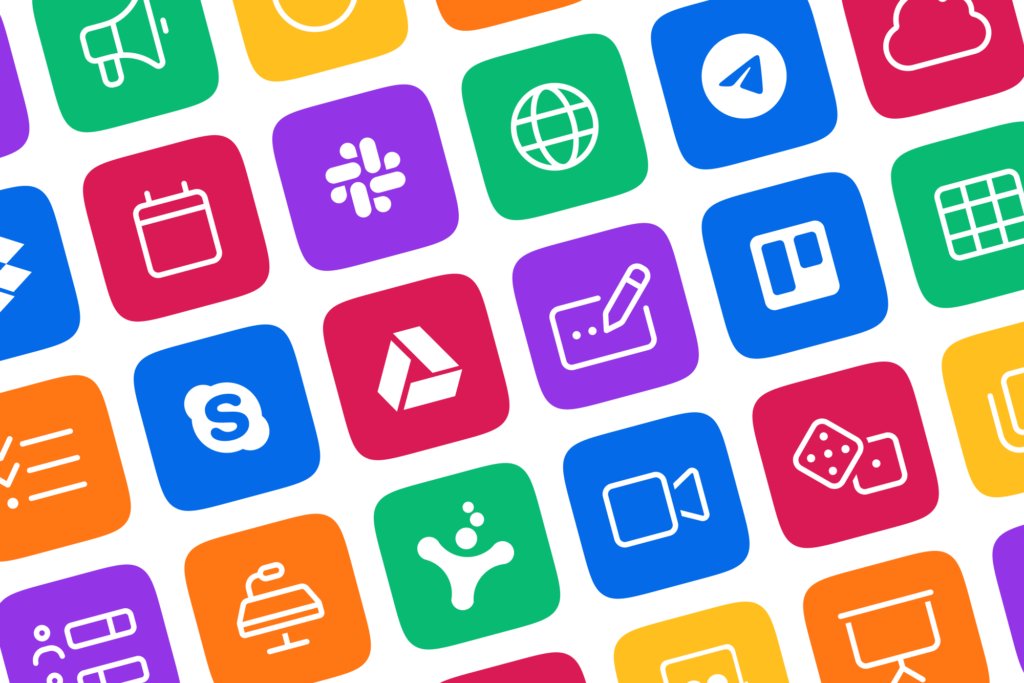 Effective online tools are a necessity for smooth and engaging virtual workshops and meetings. But how do you choose the right ones? Do you sometimes feel that the good old pen and paper or MS Office toolkit and email leaves you struggling to stay on top of managing and delivering your workshop?
Fortunately, there are plenty of online tools to make your life easier when you need to facilitate a meeting and lead workshops. In this post, we'll share our favorite online tools you can use to make your job as a facilitator easier.
In fact, there are plenty of free online workshop tools and meeting facilitation software you can use to become more productive when in the process of preparing or following up on a facilitated session.
We collected the most useful tools we have encountered while talking to SessionLab users: facilitators, corporate trainers, and service designers as well as our own personal experiences. Many of these tools also include a fully functional free version available without time limitation so you can incorporate them into your workflow easily!
We grouped the tools according to the tasks they are primarily used for so you can find precisely what you need. The primary use case we considered was to support a digital facilitation process while running workshops. Most of these tools are equally useful when you need to prepare for other online sessions or work with virtual teams.
Let's jump in!

In 2022 SessionLab ran a survey of over 1100 facilitators from all over the world. A whole section was dedicated to tools, and you can now read the results in the State of Facilitation Report. What tools do facilitators use for design, delivery, and evaluation of sessions?

Based on these results, online tools coexist alongside pen, paper and sticky notes for session design, while whiteboards and videoconferencing software have become essential for session delivery. Go to the report to learn more! Is your favorite tool not on the list? Let us know in the comments or start a discussion in our Community!
Online whiteboard tools
Online whiteboards offer an endless flexible space where you can collaborate and share ideas. You can create an online canvas and use that as a simple whiteboard for jotting down ideas, or as an infinite board for building a project with a remote team. They allow the creation of mockups and schemes, you can quickly add stickers, write down ideas and leave feedback.
Complex problem-solving can be made easier by using a visual platform to brainstorm and collaborate. Online whiteboards are not only useful for preparing your workshop with a remote team, but also for online meeting facilitation. They can also help to replicate the feeling of working together in person. Here are our favorites!
Miro is one of the most popular online whiteboards on the market. It offers a flexible suite of features and templates that make it easy to start collaborating remotely.
We particularly love Miro's large collection of integrations and apps – there are so many ways to do something exciting for your virtual workshop with Miro. It also scales well with large numbers of participants and it's easy to invite people to the board in the middle of a session. Miro includes a free version that offers up to 3 boards for your team.
Miro and Mural were mentioned in the State of Facilitation in 2023 report as the top two most-used whiteboards, so you're in good company if you choose either of these for your next online session!
Mural is a versatile online whiteboard tool for remote team meetings. It is particularly strong as a tool for teams, allowing you to create different rooms for your board with differentiated access rights. It offers a wide range of workshop and meeting templates, including planning, design, issue analysis and idea generation board templates.
We've found Mural one of the best solutions for creating visually pleasing whiteboards and it's been used by many conference organizers as a result. Mural's free plan includes 3 murals with unlimited members.
Stormboard focuses on helping facilitators with idea generation, organization, and prioritization. You can add different types of notes, combine them together, comment in threads, and vote on ideas using colored dots.
Stormboard also has a strong reporting functionality that allows you to instantly turn your online sticky notes into structured meeting reports. Great when working with external clients. For a more guided approach to virtual meetings, Stormboard is a worthy option of online whiteboard. The free version offers 5 boards with a maximum 5 collaborators for each.
Figma is a great design tool for visual collaboration. FigJam is an online whiteboard that is especially useful for teams wanting to ideate around their Figma designs and collect all their online collaborations in one ecosystem.
FigJam is simple and intuitive to use and we love that we can access our designs easily. You can even add widgets such as a code editor and donut for team building! FigJam features a free version with 3 FigJam files and unlimited collaborators.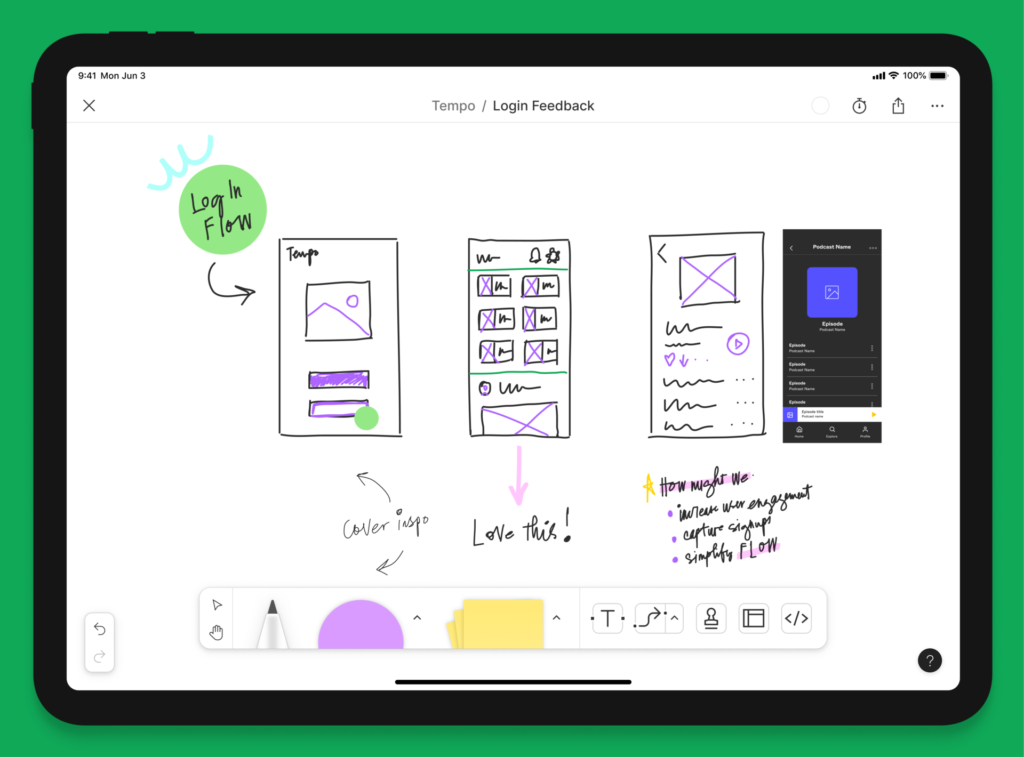 Meeting and agenda planning
If you are planning to facilitate a group session that spans more than a couple of hours and you have different workshop activities, theory blocks, team building games and energizer activities, then you likely need to have some sort of agenda to plan the sequence of these activities.
A simple pen and paper might just do the trick for you, but what if you're working together with some other people on the agenda or simply need to share it with your client? If you want to avoid having dozens of different versions of Excel or Word files, then an online agenda builder might come in handy!
SessionLab is an online workshop planner tool for anyone who designs and facilitates workshops and meetings. It provides a drag and drop interface that is designed for the flexible and iterative process of building up a workshop or meeting agenda – making your process design work a real flow experience.
When it comes to running your workshop, stay on time with Time Tracker and adjust your agenda on the fly. You can collaborate in real-time, create a personal library of reusable assets and create quality printouts to share with your clients.

If you're looking for new inspiration, you can find more than 1000 workshop activities in a public library of facilitation methods and a set of expert-designed complete workshop templates too. And yes, we're blowing our own horn, but mainly because we're facilitators too and we love using it!
Google Sheets is a worthwhile online alternative to Microsoft Excel. So if you are a hardcore spreadsheets fan loving to tinker with rows and columns to turn them into workshop timetables then Google Sheets offers you most of the features you need for creating and sharing session agendas.
Real-time commenting and revision tracking is highly useful for collaborative work and integration with Google Drive cloud storage allows you to easily find content in your sessions in your Drive.
Virtual facilitation platforms
While Zoom still dominates as a video conferencing tool, what about when you're facilitating workshops that require more bespoke features? Or how about if you'd prefer to host your agenda, engagement tools and video software in one place?
These virtual facilitation platforms are designed to be a single spot for all your facilitation needs. They can be great if you're not already wedded to a video platform or prefer having all your tools in one spot.
Stormz is an app for professional facilitators. It enables you to design and facilitate digital and live workshops in one platform.
You can use Stormz to ask your participants to give their input on questions you generate in the app, generate ideas and make collective decisions directly from their laptop, tablet or mobile phone. It's a great way to create engagement and visualize responses during a session.
Stormz also offers a unique on-site solution to manage large group workshops involving hundreds of participants by using their portable Stormz Box device which provides secure and reliable local network infrastructure for collaborative workshops at any venue.
Butter is a new video conferencing tool dedicated to online meeting facilitation that is packed full of features. With in-built polls, icebreakers, a queue to enable equal participation, and time tracking, Butter is an effective alternative to Zoom for facilitators.
Butter has a free plan for up to 100 participants running 60-minute group sessions. It's certainly worth looking at if you're looking for a more robust facilitation toolbox in your video conferencing software.
Thing.online is a virtual facilitation platform that aims to recreate the feel of a live workshop online. With features like spatial discussions, breakout tables and integrations, Thing.Online aims to provide a single space for facilitating complex online events.
We like that Thing.online makes moving between presentations and individual discussions easy while keeping all your materials available and easy for participants to access. Running a virtual conference with a mix of keynote speakers and workshops? Thing.online might be the tool for you.
Combining interactivity and video conferencing, Toasty.ai seeks to make meetings more engaging and interactive. In the left sidebar, you'll find features like icebreakers, polls and whiteboard integrations you can add to your virtual meeting in a cinch. The integrated polling made for a simple participant experience, and Toasty features a heap of host tools to make running meetings easy too.
Toasty.ai's pricing is based on the number of agendas and participants in your sessions. Get started for free with 3 agendas and 20 participants and move up to premium plans as your scope expands.
Designed for those wanting to run more engaging online meetings and workshops, Klaxoon aims to be the one tool you need for online delivery. With a suite of features including a virtual collaboration space, polls, engagement apps, and more, Klaxoon can empower and uplift your online meetings.
The free version of Klaxoon includes a one-shot template with up to 15 participants, though you can also try the full version of Klaxoon with a 30-day trial.
Virtual space tools
Virtual space tools are great for creating an online alternative to a physical event or office space. With these tools, you can create virtual events and conferences that recreate that sense of navigating a festival ground or moving from keynote speeches to breakout rooms. You might even create a virtual office where people can gather, work and have chance interactions.
Virtual spaces such as those below can help create a sense of wonder and excitement in participants, though note that they do often require more set-up and overhead that a simple virtual meeting. For the right use case, they can be more than worth this time investment and can add something special to your team's online interactions.
Spatial Chat is a wonderful combination of video conferencing and virtual space designed to help remote teams work together. We used Spatial to host many of our Christmas events. Being able to move around the space and sit next to the virtual fire or arrange into teams for a quiz certainly elevated our experience!
Spatial Chat is free to start with teams of 5, though if you want to record meetings and have more than 3 rooms, you'll want to look at some of their premium plans. It's a great way to make digital facilitation more organic and engaging.
For teams looking for a virtual space that encourages playfulness, Gather might be the best shout. By including avatars that you move through a virtual space, Gather feels like an old-school videogame! It brings a sense of fun and embodiment to remote working, while also featuring heaps of tools to boost productivity.
We loved the customization features of Gather, and for teams that are looking for something different in a virtual space, it's worth playing with! Fully virtual teams looking for ways to connect and have fun outside of Zoom energizers will find lot's to love here.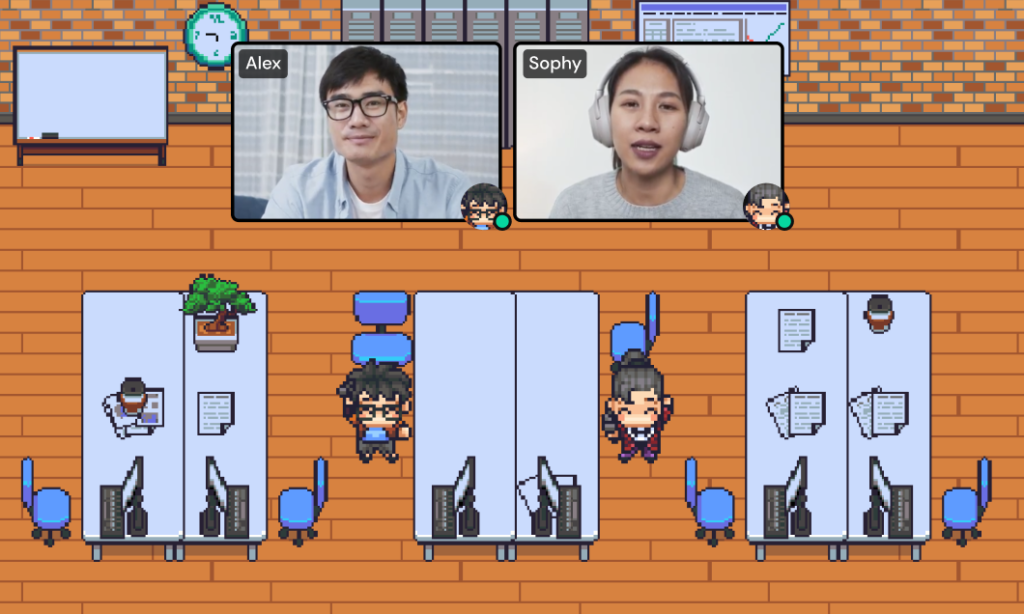 Conference and virtual events looking for a festival atmosphere should check out Welo. With a bird-eye-view style that emulates maps or isometric games, Welo is great for creating large-scale events and conferences online. Welo has a whole suite of features for virtual events and team building, but we especially love how easy it is to explore.
Our experiences in Welo have been memorable, such as attending NeverDoneBefore festival for facilitators. We love what's possible in this platform and the potential wow factor a virtual conference organizer can achieve here! Welo is free to try and integrates with Zoom, too!
Engagement tools
Engagement tools are a suite of tools that allow you to quickly poll participants, run quizzes, visualize responses and even run simple games inside your meetings and events. This kind of workshop engagement tool can be key to creating memorable experiences. For virtual team building sessions and remote teams, this can be the missing ingredient to truly engage and delight participants.
For facilitators, such tools can also be useful to get feedback or facilitate group discussions in a way that makes sense for an online session. Quickly getting a read on how a group of 100 participants is feeling can be so helpful for determining the next stage of your workshop!
Mentimeter allows you to create questions (such as multiple choice questions) in their web application and participants can answer them from their mobile devices. The great thing is that you can instantly visualize everyone's opinion and display the results in real-time to the group. It helps your participants to feel engaged, which is especially important for a large group workshop.
Mentimeter works really well on mobile devices with a streamlined user experience and the free version allows you to create two polls and five quiz questions per presentation.
Slido also offers participant polling functionality and a mobile app for your participants. The free version allows you to have 3 polls per event. Similarly to Mentimeter, it also supports Q&A, so your meeting participants can post their questions at any time via the mobile application.
Slido has a heap of integrations including Google Slides and Microsoft Teams. We also loved the analytics suite: polling large groups and visualizing outputs in a word cloud was also a neat engagement feature that can help elevate your sessions.
Kahoot is an online platform for creating and sharing learning games with large audiences. It has a suite of features that make it great for classrooms, board meetings and workshops alike.
You can even create self-paced assignments for asynchronous engagement: great for hyping up a group before or between sessions. By using prizes and rewards, Kahoot's engagement tool is a great way to gamify your virtual sessions.
Video conferencing tools
In a world of remote work and digital facilitation, video conferencing tools have become near mandatory. Many of us spend our working days inside virtual meetings and video chats, so choosing the right video tool is important!

Whether you're looking for a simple drop-in solution or something more robust for your next webinar, these video conferencing tools are some of the best. Each aims to make it easier to connect and work together online. You can expect to see screen-sharing options, participant management tools and useful integrations with other software too!
Zoom provides exceptionally reliable quality, minimizing audio or video latency issues that you usually encounter with most video conferencing applications. It has a wide variety of features available both for individual and business needs including the scheduling of calls, a dial-in phone number and recording audio and video calls even on the free service plan. The only downside is the 40-minute call limit.
One of the benefits of using Zoom for digital facilitation is audience familiarity. Most people working remotely are now familiar with the tool and you rarely need to explain how to use it. It's become the industry standard for good reason – it just works! With integrations, you can also use many of your favorite tools inside your meeting, making it a robust and simple option for your virtual sessions.
Whereby comes in to help when all other tools fail: you just open a video conferencing room, send the link to your guests and they can join without having to install any application or create an account. (Only a browser extension is needed to be added).
Whereby is a lightweight video chat tool with fewer features than Zoom but offers unprecedented ease of use. The free plan offers group video conferencing and screen sharing up to 4 people with one fixed meeting room. There's no need to create different meeting links each time, the same link will work for your team to meet anytime. We enjoyed using Whereby for quick meetings and to chat about something that email or Slack couldn't cover.
Skype was among the first players in peer-to-peer video conferencing and as it has been widely adopted now it's often a straightforward option for calling contacts who have Skype accounts.
As the market has expanded, Skype has grown to include screen sharing, group video conferencing, and file sharing too. Though it lacks some of the more collaborative elements of other tools, it's pretty good for a free option! For peer-to-peer communication with businesses and clients who prefer phone calls, Skype still has a place in your video and audio toolbox.
If you're hosting online workshops and conferences with large numbers of people and need to handle ticketing and recordings, Big Marker might be the tool for you. It's especially useful for those running webinars and who want to create a content hub of past sessions.
Breakout groups for workshops might not be as intuitive as Zoom, but it's easy to run conference-style sessions with speakers, Q&As and presentations. Creating a repository of recordings on your channel is a great feature that can be a massive boon if you're running an ongoing series or training course.
Google's popular messaging app offers an easy-to-use video conferencing tool that works really well even if you need to talk with people both in and outside your organization. Having a native integration with Google Calendar and Gmail means this tool gets a lot of use here at SessionLab!
Additionally, Google Meet offers many standard features such as breakout rooms, attendance tracking, and live streaming. While it may not be as robust as some of the other tools on this list, it is easy to use and requires little setup.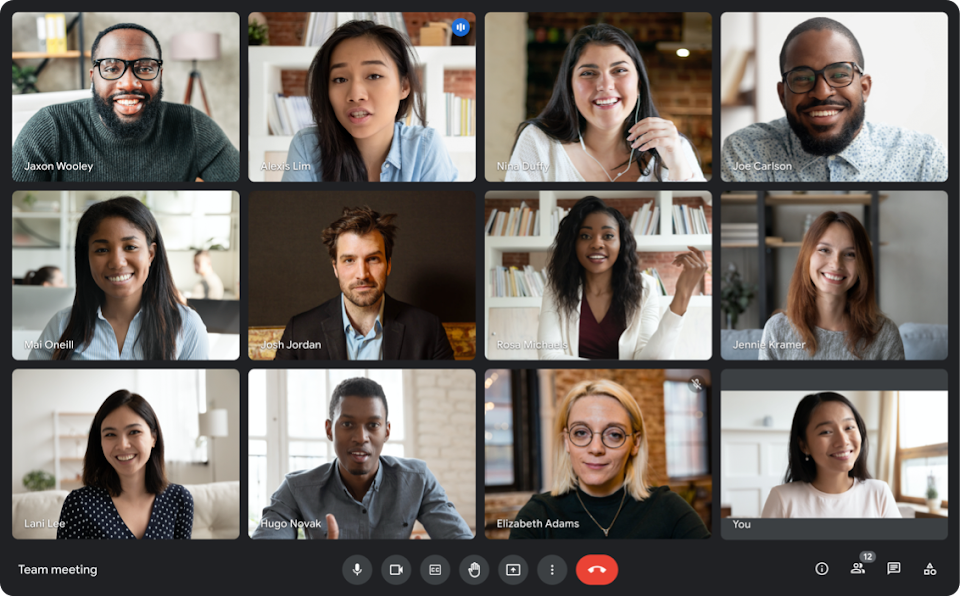 Online survey tools for needs assessment or evaluation
If you ask for feedback from participants and you want to go beyond using 'happy sheets', paper forms filled out right after the workshop on the spot, then you may decide to create an online survey after the session.
Alternatively, you might want to conduct a needs assessment survey while preparing your session. You can choose from a wide range of online survey tools that can do the job for you, ranging in complexity and use case. Here are some of our favorite tools for data collection and surveys.
Google Forms allow you to create unlimited surveys with 6 types of questions and skip logic that can guide your participants through your survey depending on their answers.
The service has seamless integration with Google's other apps including Gmail, Google Sheets and Drive, allowing you to take advantage of file storage and simple results sharing too. Google Forms also has a great advantage: unlike most of the competition that has usage limits in their free versions, Google Forms is absolutely free.
Typeform has made filling out forms engaging and interactive. The forms look fresh and modern, promising that users are more likely to enjoy the survey experience and complete it. It also offers some great insights on response rates and question drop-offs to help you improve your surveys and polls.
Typeform offers three surveys with a maximum of 10 questions and 100 responses in the free version while the paid version adds extra features, such as advanced question types and conditional logic.
Having been around since 1999, SurveyMonkey is one of the longest-running online survey services in the world. SurveyMonkey does the basics and does them well, providing a reliable alternative that has heaps of integrations with other tools. In the free survey version, however, you will be limited to 10 questions, 40 respondents per survey and no possibility to export your data.
Cloud storage and document sharing with your co-workers
For most projects you take part in, sooner or later you will have an endless amount of documents: meeting memos, PowerPoint decks, a batch of documents you receive from your client and dozens of spreadsheets with session agendas, registration forms… and the list can be continued.
Online file storage and sharing solutions allow you to store all your files in the cloud and access them whether you are on your desktop, phone or tablet. What's more, you can easily share the documents with your colleagues and work on them simultaneously: a must for any data collection process and effective project management too.
Dropbox is a pioneer in this market with their reliable and easy-to-use syncing and file-sharing system. The free option offers 2GB of storage, although the full-text search that helps you find any piece of information within your document is only available in the paid version. The service is very easy to set up and rightfully praised for its clean design.
Google Drive, offering 15GB free storage, this has the added benefit of a built-in office suite where you can edit documents, spreadsheets, and presentations even if you created the document in another program. Working together real-time on shared Google documents is a great feature and, similar to Dropbox, you can easily invite collaborators to any document or folder.
As with some of the other tools on this list, it's worth noting that many people are fluent in Google Drive and have a linked Gmail account. Even if you prefer Notion or One Drive, having a Google Drive for working with clients in that ecosystem is helpful.
OneDrive offers 5GB of free storage, a seamless integration to Windows, therefore it works especially well if you have a Windows PC, tablet and phone, and need to get to your files from any device with minimum effort. if you use Microsoft Teams or Office 365, chances are this is already part of your tech stack. As with Google Drive, it pays for digital facilitators working with different clients to have some familiarity with this tool.
As with many online tools, some of your clients might be sensitive about having data about their business stored in the cloud. For this reason, it's useful to consider Box, which has more sophisticated collaboration and privacy control options for business and enterprise users.
Collaborating across devices and ecosystems with peace of mind and advanced security features makes Box a worthwhile alternative to some of the basic file storage options above.
Online communication tools
Successful workshops and meetings are built on effective communication and this is even more true in online settings. While many meetings can be done over free video chat software, finding online communication tools that work asynchronously or allow groups to work together over longer periods have their place in your toolbox too.
When working with clients, co-facilitators or internal teams, you'll often be working collaboratively and asynchronously. Email often isn't conducive to these kinds of back-and-forth conversations and so the online communication tools below have a chance to shine!
If you work as a team online, chances are you have tried Slack. Slack is designed to make working with others easy and is full of features that help groups and teams connect, chat, and share in a virtual space. The free version of Slack has everything you need to communicate better online with your co-facilitators, clients, and workshop participants: a workspace, channels, 1:1 calls, 5GB of file storage, and up to ten integrations.
As an asynchronous tool, it's wonderful for using with hybrid events or longer sessions that span multiple days. Ensuring groups can stay connected and ask questions in the right place can help ensure everyone is on the same page, even across time zones.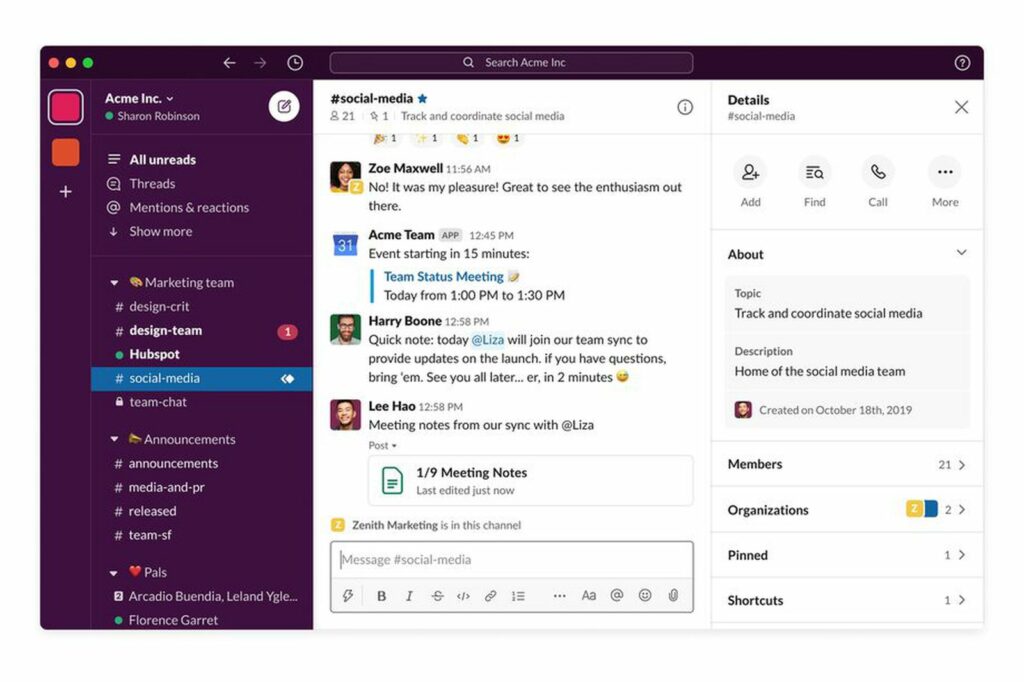 Coming as part of Microsoft's Office 365 suite of tools, Microsoft Teams is group chat software designed to help teams collaborate across text chat, video and audio calls, and more.
By tightly integrating with familiar tools like Excel and Word, Microsoft Teams can help a team integrate their workflow and communication channels with ease! The free version offers storage of 2 GB/user and 10 GB of shared storage, 1:1 and group meetings and much more!
Immensely popular with gamers, streamers, and developers, Discord features a heap of features and is free and easy to use, making it a great alternative to other online communication tools. Discord's free version features screen sharing, voice chat, and no member or message limits.
For longer training courses and learning communities, Discord can prove to be a great tool that can be an ongoing source of communication and information usable for everyone in the group.
A business messenger tool, Chanty is a great alternative to Slack and other messaging apps. With competitive pricing, a fully-featured free version, and built-in task management, Chanty can be your online communication tool of choice. Chanty's free version allows ten team members to collaborate and communicate online, and it features unlimited chat history, voice messages and audio calls, and more.
Online Learning platforms
Delivering online courses, workshops, and training sessions can be made easier by using a dedicated learning platform. These tools are designed for hosting classes, sharing materials, setting tasks, and for presenting more complex sessions or courses over a longer period of time.
We'd especially recommend such a system if you're setting up an ongoing development or training program internally or for a client. Centralizing learning resources and keeping records can be what makes or breaks such a program!
Padlet is an online learning platform that can work for everyone from virtual teachers to facilitators, managers, and course leaders too! Padlet is flexible enough to be used to publish course materials online, collaborate with others, or to deliver online sessions. Especially for those involved in online teaching, it's well worth exploring!
Padlet's free version includes 3 boards, which is plenty to start collaborating or for delivering an online course or workshop!
For large-scale training programs and development processes, LearnWorlds is a great learning platform. You can build comprehensive in-house programs or courses you can deliver to clients again and again. LearnWorlds has a free trial, but it is one of the more expensive learning management solutions on this list.
If you're an agency or in-house training provider looking for a platform for hosting your courses, this could be what you're looking for. If you're running shorter workshops or courses and want something that requires less set-up, one of the other tools on this list might be more suitable.
Nearpod is an online teaching platform primarily designed for teachers and facilitators involved in e-learning and virtual course delivery. Nearpod features a library of learning methods and formative assessments to help make online learning interactive and a suite of features to enable virtual teaching.
Nearpod has a free version that allows 100MB of storage, 40 students per session, and 20+ formative assessments too. Absolutely check it out if you're a teacher or a facilitator regularly working with students.
Teachable is a platform for creating and selling online courses. While it's often used by content creators wanting to monetize their knowledge, facilitators and trainers can make use of the easy-to-use platform to create courses to support digital faciliation too!
Teachable is very simple to use out of the gate. While it lacks some of the customization features of the other tools here, Teachable is great for putting together a course at speed. If you're switching to an asynchronous model and need a learning management system in a snap, it's a great choice.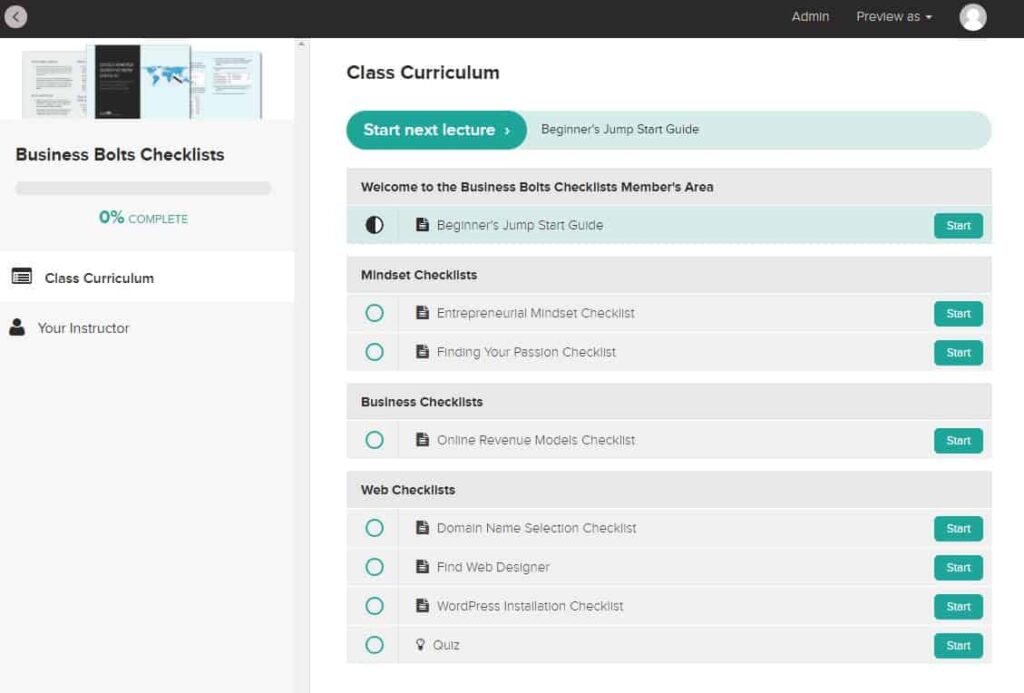 Task management and collaboration tools
Do you have an endless to-do-list while managing multiple facilitation assignments? Arranging client meetings, working on designs and aligning with co-facilitators: the list can feel endless when you need to juggle multiple sessions and manage projects.
There are a vast amount of task management software tools available on the market. Some are part of complex project management suites, while others are dedicated only to keeping your tasks in order. You can find our favorite ones below.
Trello offers a flexible and visual way to organize anything with anyone. Trello is organized in boards inspired by Kanban methodology. You can add lists to the board and cards to the lists. Each card can have individual checklists, uploaded documents or pictures, and discussion in the form of comments.
Trello is an effective project management tool for any complex task, though it's especially useful when collaborating with a team. It's often favoured by lean teams using Scrum and other agile practices.
Todoist is more specialized towards personal organization in their free plan: you can compile tasks and subtasks into simple lists which is practical to use for a specific workshop.
One of the handy features is that it tracks progress over time and gives you insight into your personal productivity trends. The app monitors how many tasks you're completing and gives karma points as rewards for accomplishing them.
Todoist allows you to switch between Kanban and simple to-do lists, and it can be used to itemize recurring tasks too. When trying to balance bigger projects with business-as-usual tasks, Todoist is a great shout for the solo facilitator.
If you have a bigger project you may want to use more specialized project management software to help your team collaborate without getting flooded by emails. Asana is an intuitive task-management system that works best for teams seeking real-time interaction and its basic version is free for up to 15 users.
As with the other tools in this section, Asana has an easy-to-use mobile version that allows syncing over devices. Where they differ is in the specialization: Asana, for example, is great for working on complex tasks with many stakeholders and contributors. Check it out if this is what you and your client are after!
Notion is a sophisticated workspace app with a sleek design. It offers a highly flexible interface for doing everything from managing work, creating to-do lists, and organizing your tasks into tables, kanban boards, and calendar views. Many organizations use Notion as their internal documentation and collaboration center too! This flexibility is great if you like to tinker and tweak settings to create a perfect workspace to fit your needs.
For virtual teams, Notion becomes much more powerful and can be used to collaborate and organize work, much in the same way as Google or Microsoft's suite of tools. We use Notion at SessionLab and we love it!
Note-taking apps and organizing information
Noting down various bits of information during a session design process is crucial: when talking with clients, jotting down some personal follow-up steps, saving useful links, and so on. Having your trusted notebook with you is essential to register all the information you need in one place, but organizing, finding, and sharing your notes is easier when using digital tools.
Doing this online has never been easier. There are plenty of apps that allow you to write down thoughts, sync them across devices and share them with your colleagues. Below you can find the most popular options with somewhat different strengths.
Evernote lets you easily capture, organize, and find content from the Web. You can highlight text on the web, take screenshots, write your own notes, etc. The notes can be tagged, shared, and formatted (to some extent) and you can even assign tasks to them. We like that Evernote also has some robust presentation features, and supports visual note-taking – it's a blast using it on a tablet!
Microsoft OneNote has a similar set of features to Evernote but the approach in organizing your notes is different. OneNote supports a more defined structure, as you can have several levels of notebooks, pages, and subpages. It also provides richer formatting options, which are especially useful when doing creative work as it allows you to start typing anywhere on the page.
We mentioned Google Drive combined with Google Docs earlier as a full-stack alternative for cloud storage and document management. Using Google Docs for collaborative note-taking in combination with a well-structured Drive and be a great way to simplify note-taking. It also has the benefit of offline doc support, easy collaboration and synchronization to multiple devices.
Google Docs isn't expressly designed for note-taking, but when running virtual sessions, we've found it to be a reliable and simple way to take notes.
A key bit of advice for any facilitator taking notes: whatever software you choose, you actually need to remember to use it! These tools really become useful when all your notes are in the same place and you can use powerful search and sharing features to share insights with your clients.
For taking quick notes during a meeting, you can actually use SessionLab's simple notes feature. This is useful for keeping track of what changed during a live workshop, or leaving instructions for a co-facilitator.
Online design tools
When running sprints or design workshops, being able to collaboratively work on visual assets for product and marketing initiatives can often mean the difference between a productive or unproductive session.
Whether you're brainstorming, prototyping or aligning on final designs, these collaborative design tools can be hugely beneficial to your sessions. It can be especially useful to work with something asynchronously before a meeting, leaving comments and suggestions that a designer might iterate on before a sign-off session.
For facilitators wanting to create visual assets for their online workshops or participants working together on new materials during a workshop, Canva is a great tool that makes creating beautiful designs easy. Canva really shines when it comes to ease of use and the fact it enables less design-savvy individuals and teams to create something attractive quickly and easily.
Canva's free version includes real-time collaboration, 5GB of cloud storage, and hundreds of thousands of free images and graphics to help you create great designs!
Figma is a great design tool that works to help designers and collaborators create and test prototypes together. Like Invision, Figma lives in the cloud, and so designs and prototypes are updated and ready for everyone who needs them instantly. With some unique and interesting features like the Arc tool and Vector Networks, Figma is well worth checking out for any folks involved in virtual design workshops.
Figma has a free plan that offers unlimited viewers, 2 editors and 3 projects and is great if you need to work together on visual assets as a part of a small team.
Invision is a design tool that is well suited to remote teams wishing to work on product or feature prototypes collaboratively online. It features a whole suite of features to support every part of the design process – freehand mode is great for commenting and ideating on a design, while Studio is awesome for creating and showing off prototypes with animations and interactions.
Invision's free plan is suitable for individuals and small teams and supports up to 3 active users working on up to 3 documents and unlimited freehands.
What's next?
Tools are only part of the solution and while they can make your work easier, the quality of your sessions will come from a thoughtfully designed workshop. Check out our post on how to design a workshop for help designing an effective session.
Need help with digital facilitation? Check out our guide for facilitating a meeting to get tips on engaging your participants!
All these online tools are worth checking out, and hopefully, they will save you time and make your facilitation-related work go even more smoothly.
Which is your favorite online tool from the list?
Let us know in the comments, and also if you missed something on the list!