SessionLab features
Help you create, share and organize your workshop or training content
Find the right block of content for your session
Search among hundreds of quality exercises that you can filter by suggested number of participants, duration and topics. Once you have found the exercise that fits, you can easily add it to your session plan.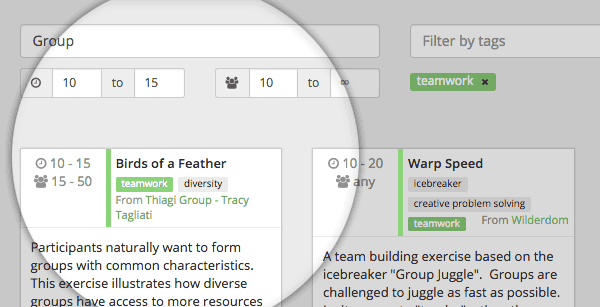 Easily create and adapt your session plans
With our Training Planner you simply drag & drop your blocks where you want them.
Think of it as a spreadsheet combined with sticky notes – only better.
Effortlessly maintain your timings
However often your session plan evolves – you can add new blocks, delete or rearrange – SessionLab will maintain your timings.
Keep a balance of activities in your session plan
Colour-coded categories help you to get a quick overview of the interaction mix of the session. You can customise both the category labels and their colours to fit your style.
Work on multiple plans simultaneously
Whether you need to get inspiration from a previous session plan or work on a workshop that spans over multiple days, Multi Plan view is here to help. You can view several plans in parallel and rearrange the content between them.
Share your plans and get instant comments
Share your session plan with clients and colleagues to get input and feedback about individual elements. Easily follow and facilitate the dialogue.
Always stay up-to-date with what happened
An activity indicator marks your session if it has been edited by your colleagues while you were away. Never miss a detail if your work was modified.
Collaborate in real-time
Work with your colleague at the same time and see who is working on which block of the session. The activity log lets you know what happened while you were away.
Have your documents where you need them
You can attach your training presentation, exercise handouts, evaluation forms or any other document easily to the right content block. Upload them directly from your computer or your favourite cloud storage like Google Drive or Dropbox.
Get your content organised
Session blocks help you manage relevant content. Exercise descriptions, attached materials and comments travel with the training blocks when you move or reuse them.
Easily create beautiful looking printouts
SessionLab facilitates one-click printing of your session plan. And there is no messing about with formatting; the print version will exactly mirror your on-screen plan.
"It's awesome! The best schedule designer I have ever seen!"
Krisztian Stancz, Senior Learning Specialist, Vodafone
Reuse content effortlessly
Search among your session blocks to seamlessly re-use existing materials and adapt it to your new plan.
Nominate co-trainers
Distribute the session plan between yourself and your co-facilitators. Share an overview of who delivers which part.
Easily iterate new versions
Duplicate or copy any of your own – or shared – session plans to create a new version.
Ready to start? Create your free account now!