37 brainstorming techniques to unlock team creativity
Finding new and innovative ideas is a vital part of the growth and success of any team or organization. While brainstorming techniques are rightly perceived as creative and exciting, it's important to find a framework and idea-generation process that empowers your group to generate meaningful results.
Innovation is important for many businesses, but what brainstorming technique might you use to help make true innovation a reality? Find out in this collection of effective brainstorming techniques!
In this post, we'll explore a host of effective brainstorming techniques in categories such as creative exercises and visual idea generation games, all of which can be used to help your group brainstorm be more effective and gratifying for all involved.
We'll also explore talk about the benefits of group ideation and share some examples of brainstorming sessions that utilize these methods. Let's get started!
What are brainstorming techniques?
Brainstorming is a process of enabling people to think freely and creatively when trying to come up with ideas, solutions, or sharing knowledge.
Brainstorming techniques are proven frameworks for coming up with lots of ideas quickly. They'll often include steps to shift perspective, facilitate team collaboration and refine initial ideas into something even better.
Some examples of brainstorming activities include classic mind mapping and brain writing where you try to generate as many ideas as possible. Teams often use these techniques to generate creative ideas to tough problems and to explore possible solutions. They can also be used as part of more in-depth brainstorming sessions where team members then refine and choose ideas to put into action.
Some of the core concepts of brainstorming ask that team members reserve judgment, go for quality over quantity, listen to all ideas, and think outside of the box in the pursuit of radical new ideas and creative solutions. Bring these concepts and a proven technique to your brainstorming session and you're already on the route to success!
What are the benefits of group brainstorming?
While the primary measure of success for a brainstorming workshop will be the quantity and quality of ideas generated, the benefits of this kind of session can go much further.
Establishing an ideation mindset and encouraging creative thinking will benefit your organization in the long term, and finding new ways to push your team in the direction of generating effective ideas has positive effects for your whole organization. Let's see some of the benefits that can come from bringing team members together for a brainstorming session.
Encourage creativity
Creative games and exercises can yield instant results when it comes to creatively engaging a team and generating ideas but beyond that, regular brainstorming can help participants be more creative in their regular work and find methods of finding new ideas and solutions that work for them. Being creative is a wonderful way to engage a group and getting out of a regular workflow can be the key that unlocks innovation.
Inclusive, easy-to-understand activities
Brainstorming is a simple group activity that is easy to understand and contribute to. Whatever skill level or competency a person has, the first stage of the idea generation process is something that can be involved in with little overhead or difficulty. This can have massive value in helping a team come together toward a shared goal in an inclusive and simple way!
Diverse ideas
Relying on certain teams or individuals to generate ideas alone can lead to stagnation. By pooling together a diverse group of people to contribute to generating and developing ideas, brainstorming can be a great way to find innovative approaches and diverse ways of thinking. Every point of view you bring to the table is another way of approaching the issue and the results generated by diverse groups are often more robust and multi-facted than those made in a silo.
Quantity of ideas
When it comes to brainstorming techniques, quantity often comes before quality. In order to find great ideas, a group first needs to flush out as many ideas as possible and share before moving onto idea development. The best brainstorming exercises encourage the creation of large amounts of ideas in a short period of time, providing a great foundation for the next steps!
Get past creative blocks
Problem solving or idea generation can go around in circles if a team isn't given the freedom to think creatively and approach things from a new angle. Brainstorming methods like those featured here are great ways to unblock a team's creative and find new ways to approach stalled conversations.
If you're finding your team with a problem they don't know how to solve, a technique that encourages creative thinking might be just the ticket! Use as part of a complete workshop process to refine those ideas into something actionable.
Improve team morale
Brainstorm sessions are often fun and energetic by their nature, and games and exercises that focus on idea generation allow for everyone to contribute and feel heard as part of their team. These kinds of idea generation activities can really help bring a team together and improve team morale too – everyone wants to take part in developing new ideas and being creative!
Get project buy-in
Involving participants across departments and specialties early in the process by inviting them to contribute to generating and developing ideas can not only lead to great ideas but also ensure that a project is followed through on. Get buy-in early by involving stakeholders in early brainstorming sessions and help that creative energy continue throughout your project!
Kickstart projects with energy
The opening stages of a project can determine the tone for the rest of it, and by kicking off your projects with a fun, energetic brainstorming workshop, you can ensure everyone is energised for the work ahead. Try creative games to help your team approach the project with a sense of creativity and experimentation and use brainstorming techniques that see proven results to help move a team forward effectively.
Core brainstorming techniques
Brainstorming has been around as long as individuals and teams have tried to find creative and innovative solutions, or come up with new ideas or products. Whether a group is ideating on how to solve an organizational problem or generate ideas for new features or initiatives, getting people together to quickly ideate and come up with something new is time well spent.
In this section, we'll first explore some of the core techniques that have been used time and again to create meaningful results and great ideas.
Popcorn Brainstorming
One of the classic brainstorming techniques, chances are you've done a popcorn brainstorm already. It's been used by everyone from school teachers to CEOs to generate ideas and create energy around new initiatives – much like the popping of corn in a microwave!
Start by posing a question or problem statement and invite participants to take a minutes silence to think on it. Once the minute is up, start a timer and invite everyone to contribute ideas out-loud and build on each other's ideas too. Have a single person take notes and encourage quality over quantity: no evaluation, no criticism or discussion yet – just rapid ideation!
Round-Robin Brainstorming
A tried and tested idea generation technique, Round-Robin Brainstorming provides a little more structure and ensures everyone in a group can contribute to a brainstorm by ensuring the discussion isn't dominated by the loudest voices.
In this group method, seat everyone in a circle and hand them an index card. In silence, everyone writes an idea on their index card before passing it to the person to their left. Each participant then writes an idea based on their neighbour's card and passes that along.
The result is a more relaxed session that encourages a combination of idea development and co-creation while ensuring everyone is heard. Perfect for teams with big personalities!
Brain writing
No single person is as smart or as creative as a group. With the brain writing technique, tap into the ideas and approaches of multiple collaborators and co-create effectively.
Start by writing down the topic or area for which you'll be generating ideas. Have all team members silently write down an idea related to the topic on a card and then, pass that idea to the person to their right. The receiving player reads the card and then adds an idea inspired by the original OR enhances the original idea before passing the card along.
By asking participants to grow and improve on one another's ideas, Brain writing helps a group ideate effectively and come up with better ideas. You can even bring this to an online brainstorming session by using an online whiteboard and have participants pass post-its to the working spaces of their partners.
Question storming
Sometimes, shifting perspective and starting from a different angle can generate the best ideas. Q-Storming, or question storming invites participants to brainstorm questions, rather than solutions.
After rounds of gathering qualifying data and assumptions, ask your group to think of all those questions that they still have which might help the team think the matter through. This approach can be really useful at finding ideas your team might not have considered and ensuring that what you come up with is truly going to solve the problem at hand.
Walking Brainstorm
Brainstorming methods come in many forms – you might have a quick-fire session that encourages excitement and verbal exchanges. Alternatively, you might find your group will create better ideas by working together in a more relaxed, introvert-friendly manner.
Walking Brainstorm is designed to help large groups work on idea generation dynamically but without creating scenarios where only the loudest participants are heard.
Create a space where different topics or questions are spread on posters/post-its around a room or virtual space. Silently and individually, each participant is encouraged to walk around and visit each question/topic in turn and add ideas to each. By moving around and working individually, this method helps create a more reflective, dynamic ideation session and can also help ensure group-think doesn't set in!
Mind Map
For those who prefer a more organized approach to idea generation, mind mapping is a great activity for creating ideas quickly and effectively.
Begin by writing the key topic in the center of a piece of paper or in an online whiteboard. Invite participants to brainstorm related topics and ideas by adding branches to the central idea and create new nodes or elements. As a facilitator, you'll want to group ideas by color and also amend the thickness of the branches to show the strength of various ideas and concepts.
When you're done mind mapping, the result will be a diagram that visually represents your ideas and makes it clear how the various parts interrelate – a great resource for idea development or for future sessions!
Brain Netting
The concept of brain netting is to not only take your brainstorming online, but to use online tools and virtual spaces to make the session a truly engaging experience.
The key is to use an online tool that the group is familiar with, can co-create in easily and which works both synchronously or asynchronously. Using an online whiteboard or shared document for brain netting means participants can contribute in both a live online workshop as well as in their own time. This is a unique benefit of online brainstorming, and it's one we'd recommend taking advantage of with your team!
We'd especially recommend using an online tool that supports easy commenting, images, videos and links – encourage your group to use whatever assets best communicate their ideas!
Rapid writing
Different teams and workshops need different approaches to generating fresh ideas. While a carefully structured approach can be effective, using quick-fire brainstorming techniques like Rapid Writing can help create a sense of energy, urgency, and get heaps of ideas out quickly.
For this method of brainstorming, start by setting a timer and encouraging your participants to get as many ideas out as possible within that time limit. Remember that at this stage in the idea generation process, there is no such thing as a bad idea and by quickly ideating without being critical, your group can be creative without prematurely shutting down possible ideas. Be sure to collect all the ideas and share them without judgment at the end, whether you're brainstorming online or in person!
Lotus Blossom
Some of the most effective techniques are those that encourage free-thinking and rapid ideation while also having some rules that can keep things structured. Lotus Blossom combines these concepts while also creating a great visual representation of your brainstorming activity.
Lotus Blossom helps facilitate idea generation by working out from a central concept and adding eight additional themes or ideas inspired by the first on sticky notes. Once you have those eight ideas, you then invite participants to take each of those and add another eight and effectively blossom them around the original. By clustering ideas in this way, this ideation method also creates a visual resource you can come back to later and follow the brainstorming process from start to finish.
Starbursting
Complete freedom without an ideation framework isn't always the best way to find and develop ideas. Structured techniques like Starbursting can help guide a team through more effective idea generation and ensure all key elements are considered at an early stage.
To begin, create a six-pointed star on a large piece of paper or online whiteboard. At the tip of each point of the star, write down the words Who, What, Why, Where, When and How. Invite the group to brainstorm ideas and questions related to each of these points in turn.
At this stage, the group only needs to brainstorm questions in each of these sections, leaving answers until later, though creating follow-up questions can also be helpful in effectively ideating on your central concept or problem.
The 5 Whys
When ideating on solutions to problems, it's very easy to come to the table with underlying assumptions that can affect the course of the idea generation process. You can avoid this potential pitfall by using The 5 Whys to go further and deeper in a very simple, group-friendly manner.
Kick-off by working as a group to create a problem statement that you'll work on solving. Once you have a concise statement, ask the group why you have this problem and discuss the answer. After working together to form a cohesive answer, ask the group why you have the problem again. By repeating the process, you and your team can dig deeper and find the root cause of the issue and move past the first, most obvious ideas.
Creative brainstorming techniques
All brainstorming is creative. Generating ideas and finding solutions often asks groups and teams to find new ways of looking at things but in this next section, we'll look at techniques that aim to approach the ideation process from a unique or especially creative starting point.
If you're finding your typical exercises aren't yielding results or want to try something new, creative games like those below can create space for innovation. Let's dig in!
Imagie-ination
Words are often our primary tool when it comes to starting a brainstorm or kicking off an idea generation workshop. While these kinds of techniques are tried and tested, it can also be useful to try something different that can unlock your team's creativity.
With Imagie-ination, you'll use images to help your group generate ideas that go beyond the norm. First, collect an assortment of images for your brainstorm and write down a simple description of the topic you want to generate new ideas around. Have each participant select an image and then come up with as many ideas as they can for how the image relates to the topic.
After the first round, you'll then cluster ideas together and find an image and title to best illustrate those clusters. This kind of clustering and titling can help refine the ideas your team has generated and move them towards action – a great outcome for any brainstorming session!
Bad idea brainstorming
Idea generation is at its best when groups are encouraged to add their ideas without being self critical or overthinking. Often, individuals involved in ideation can put pressure on themselves to offer only great ideas and so don't contribute everything that comes to their minds.
Use this brainstorming technique to help free your group's creativity and encourage them to come up with the absolute worst ideas they can in relation to a central topic or problem. Like reverse brainstorming, this brainstorming technique is a great way to find alternative routes to more creative ideas. Just be sure to use a swot analysis to figure out what should make it into reality!
Brainstorm questions instead of solutions
Our first instinct when it comes to problem-solving can often be to jump straight to giving answers and finding solutions. Though this can be effective, when it comes to generating creative ideas, a different tact can be more effective.
With this reverse brainstorming game, challenge participants to offer questions instead of solutions so they can respond to a central concept creatively and from a new angle. If you're finding your group can become blocked when generating ideas, it might be that your existing questions or frameworks aren't sufficient. By taking a new ideation approach, you can unblock your team!
Stakeholder Round Robin Brainstorm
Bringing together groups of different stakeholders with their own areas of expertise is a great idea whether you're brainstorming or finding solutions. That said, it's worth noting that in these kinds of mixed groups, participants will be coming from different places and have different priorities and approaches to idea generation.
Start by creating a flipchart or whiteboard space for each stakeholder's perspective and writing this at the top. Give each stakeholder two minutes to brainstorm on the central idea from their perspective and add those to their flipchart before then inviting each participant to move to the next one and brainstorm from this different perspective. By using this round-robin brainstorming exercise, you can help the group understand the perspectives and insights each member brings to the table while also generating fresh ideas as a result!
Walking Questions
A brainstorming technique with a What if learning style, Walking Questions is a great way of encouraging group members to share knowledge, ask questions to personal problems, and explore a topic dynamically.
Best used at the end of a training session or workshop, each participant writes a question they have on the top of a sheet of paper then hands it to the person to their right. The person receiving the paper then writes any ideas or answers they have underneath and passes it to the next person.
By the end, the original piece of paper will be returned to the owner filled with ideas and answers from the entire group. It's a great way of generating ideas from a group quickly and efficiently and of utilizing everyone's expertise in a structured way. Give it a go!
Guided Imagery
Coming up with new ideas doesn't always have to be boisterous! You can also get the creative juices flowing in a relaxed way by tapping into mindfulness and imagination with this method.
Start by inviting participants to close their eyes and get comfortable. Next, progress through a guided meditation designed to inspire creativity. Afterward, ask your group to reflect on what came up for them in the meditation and use this as the basis for further brainstorming!
Brainstorming techniques for refining ideas
When you want to go beyond initial brainstorming and generate more refined ideas, the following complex idea generation techniques can effectively guide you through the process.
These activities combine brainstorming with idea evaluation, idea selection, and then going into concept development to help you come up with the best options. Let's dig in!
25/10 Crowd Sourcing
Group brainstorming can be tricky to manage, and not all idea generation techniques are up to the task of managing creative input from large groups effectively. 25/10 Crowd Sourcing is a fantastic exercise that not only invites big, bold ideas, but can ensure everyone takes part in generating ideas as a group.
After first inviting participants to write a big, bold idea on an index card, start a timer and invite the group to move around the space and exchange cards without reading. Stop the timer and ask each person to read the idea and give it a score from 1 to 5. Repeat five times so that each idea has a score out of twenty-five and then find and share the top ten ideas with the group.
Group brainstorming techniques with a mix of blind scoring and sharing can be especially useful in avoiding bias and encouraging bold ideas – especially useful when ideating in large groups!
3-12-3 Brainstorm
Brainstorming is often associated with fast ideation and energetic idea generation sessions. While many standard techniques can be slowed down and run in different ways, there can be obvious benefits to maintaining energy and proving the value of short working bursts to your ideation group.
The 3-12-3 Brainstorm technique taps into the power of speed to generate great ideas and can help a team generate, develop, and present ideas in just less than twenty minutes. By combining speed and structure, this ideation method can help a group pressed for time use the session effectively, and we love how much ground can be covered by a group with this exercise!
Mash-Up Innovation
Some of the best ideas come from taking existing ideas and putting them together. Brainstorming that takes advantage of what your group already knows and loves can really supercharge the idea generation process and this creative exercise is a perfect example of that.
In Mash-Up innovation, first ask your group to brainstorm around three different topics or areas and add them to a shared space or whiteboard. Next, organize your participants into small groups who will spend the next twelve minutes combining and mashing up as many of the elements as possible to make even better ideas. After a short idea presentation, you can even take your group through an idea development stage to really make the most out of this activity. You'll be surprised at what comes out!
1-2-4-All
Large group brainstorming can be dynamic, exciting, and productive but without structure and strong facilitation, it can also become disorganized and frustrating. 1-2-4-All is a classic idea generation process that not only helps ideas find space to allow idea development but also ensures the entire group can contribute to the session.
Start by inviting silent self-reflection on a shared challenge or question before then moving to pairs, foursomes, and then entire group ideation. One of the many benefits of this brainstorming technique is that everyone gets a chance to contribute freely and share their ideas in a structured way. In groups where conversation can become dominated by strong personalities or not everyone gets a chance to speak, this method is well worth employing.
One will get you Ten
Ideas most often spring from other ideas, and the sharing and co-creation of ideas during a brainstorm or idea generation workshop is where the magic really happens. This technique uses the sharing of ideas between teams as a central concept and it's a great way of having participants communicate and learn from one another's ideas meaningfully.
After first generating ideas solo and as a team, this ideation game asks team members to pair up with members of another team and share ideas. Each member then returns to their own team and presents two ideas – one of their own, and one from the other team – while the rest of the team guesses whose is whose. It's interesting to see how participants package and present generated ideas and find ways to improve them organically as part of a rapid ideation.
The Creativity Dice
When approaching the idea generation process it can be tempting for a team to go with what's worked in the past and get locked into what appears to be working. Games that challenge the status quo and challenge teams in ways they don't expect can be especially effective when generating ideas.
The Creative Dice is a brainstorming technique that encourages participants to work in three minute bursts and work on either specification, investigation, ideation, incubation, Iteration or integration based on a roll of the dice. By moving between different modes, this method prevents premature closure of one line of ideation and keeps the session energized and engaging. What's more, the non-linear thinking can help with idea development too!
Affinity Map
Using brainstorming techniques to get a large number of ideas together quickly and efficiently is a great first step to developing new solutions or solving problems. But what to do once you've generated lots of ideas and want to work on idea development? Affinity Map is a great method for organizing your group's brainstormed ideas and for both seeing and challenging existing patterns.
Starting with a simple brainstorm, Affinity Map asks that the group collectively organizes the ideas into columns or groups based on relationships. By doing this idea clustering as a group, your team can take ownership of the idea generation process and discover patterns of thinking together! It's a great way of identifying and improving a group's natural inclinations while also creating meaningful ideas.
Fun brainstorming techniques
Brainstorming is often a fast-paced and engaging process that results in a group having fun. Creative games that help participants have fun while generating ideas are also effective ways of bringing a team together. In this section, we'll look at brainstorming games that intentionally take a fun angle as a means to create better ideas.
MindSpin
Energy, fun, and creativity go hand-in-hand, and brainstorming techniques that encourage these items and generate ideas quickly and effectively – especially with large groups!
In MindSpin, teams of 3-5 participants are challenged to write as many ideas as they can in two five-minute rounds. Whenever a person writes an idea, they slam it down on the table. If they cannot think of one, they can take an idea from the person on their left and hopefully be inspired to write an additional card they also slam on the table. Remember that this brainstorming game is designed to be fast and loud while getting creative juices flowing. Encourage all participants to really slam their ideas down and keep things moving!
Figure storming
One potential difficulty when generating ideas is that not everyone feels comfortable sharing or holds back their ideas for fear of judgment. Creative brainstorming is all about removing restrictions or hesitation, and enabling your group to ideate freely – figure storming is a great method for achieving this!
Start by asking the group how a famous person, fictional character or well-known creative would approach the problem or topic at hand. You might ask how Albert Einstein, Elizabeth Bennett or Barack Obama might think about the ideas or concepts at hand. By inhabiting a different person's perspective, not only can teams and individuals access new ideas, but they can also do so free of judgment. Also, it can be great fun to invite Atilla the Hun or Cleopatra to your creative exercises!
Flip and Rip
Images can often unlock our creativity but when using them to generate ideas, it can sometimes be difficult to know where to start. This visual brainstorming technique places some rules on how a group will both source and use images, and can encourage some really creative ideas!
Start by giving participants two magazines or image sets each. Then, invite each person to tear our whatever images stand out to them or grab their attention. Next, give them a problem statement and encourage them to find the connections between the problem and their chosen images. These unexpected connections between visuals can then be used as the foundation for further ideas! Plus, who doesn't love the sound and feeling of tearing paper!
Forced Connections
An important part of the ideation process is giving your team permission to be silly and bring ideas to the table without fear of judgement or inhibitions. Empowering your team to be creative without limiting themselves can massively affect the effectiveness of your brainstorming and so it's worth spending time to unblock your participants early.
Assemble a collection of random objects or images and invite participants to choose two or more items and brainstorm how they might be used together or connected in some way. Encourage out-of-the-box thinking and unusual ideas by bringing a collection of odd items to the table and you'll be surprised at all the ideas your team can generate!
Visual brainstorming techniques
Visual brainstorming is a great way of helping your teams out of creative roadblocks and encouraging fresh ideas. When words fail, images can enliven, invigorate and inspire your process. In this section, we'll look at some great brainstorming techniques that focus on drawing or creating visual responses when ideating. Let's take a look!
6-8-5
Bratinstorming shouldn't stop when you have your first good idea. Fast iteration and refinement can help your group discover better ideas and develop ideas in record time. With 6-8-5, you can encourage your team to move from brainstorming to idea development in just a few minutes, and by asking participants to draw, you can keep things flowing easily!
Start by inviting your group to sketch 6-8 ideas in response to a central question or topic in five minutes. Encourage your team to be rough and not to worry about finesse at this stage – remember that the first stage of brainstorming works best when it's free and unrestricted!
After a quick round of presenting ideas, go through the sketching process again and encourage idea development or ideas that have come out of group sharing. The result will be a heap of ideas and sketches you can move forward with too!
Four Step Sketch
Visual brainstorming techniques can be great right at the start of the process but they can be equally effective later on when it comes to idea development. In this exercise pulled from the design sprint playbook, take your group through a structured ideation process that encourages reflection, quick sketching and a completed idea too.
Begin by reviewing any existing materials or outputs from earlier exercises before then having your group do a round of Crazy 8's, where they create eight sketched variations on their idea. At this stage, you then invite participants to finesse their idea and create a final polished sketch to share with the team. By mixing reflection, ideation and development, this brainstorming technique offers a structured path towards better ideas!
Headlines from the future
Starting from the desired outcome and working backward with a reverse brainstorming technique can be a great way to solve a problem. Thinking into the future can also be inspiring in a way that encourages free thinking and big ideas – a great result for any brainstorming workshop.
In this idea generation game, ask your group to imagine it's twenty years in the future and that your project or organisation has been a huge success. Invite each participant to draft a headline and sketch an image for a New York Times feature of this reality. Encourage big, bold ideas and debrief by discussing any common themes or ideas before moving onto idea development as a team!
Brainstorming warm-ups
Generating ideas and thinking creatively isn't always easy. Finding ways to energize and prepare your group for brainstorming with simple and fun warm-ups can help ensure the success of the workshop or session and introduce key idea generation concepts too.
While these creative games don't necessarily create ideas in themselves, they are a great way to get teams ready for the next step. Let's take a look!
Draw Toast
When it comes to warming people up for an idea generation workshop, simple is best. With Draw Toast, you can introduce your group to visual thinking, working memory and systems thinking, all through the prism of a simple warm-up that works well online or offline!
For this creative exercise, invite your participants to illustrate how to make toast with a sketch or diagram without using any text. Afterward, share observations and insights as a group and outline the fact that there is no right or wrong diagram, and that differing and unique approaches to a problem or concept are all valid and useful. Not only is this a fun, fast brainstorming technique, but it prepares a group for the next stages of idea generation too!
The Paper Clip Method
Even established and successful groups have preconceptions about brainstorming or how to generate ideas. Warming up a team by introducing the power of brainstorming practically can prevent stumbling blocks later on and ensure everyone is on the same page when approaching the brainstorming process.
The Paper Clip Method is a creative exercise that challenges your group to brainstorm all possible uses for a paper clip. After some silent brainstorming, debrief by sharing what the group has come up with and highlight how the group has cumulatively come up with a greater quality and quantity of ideas than any single person could.
Apple-Drawing Ideation
Learning how to approach creative brainstorming as a group is a worthwhile way to kick-off your idea generation workshop. In this simple creative game, split your participants into groups and invite them to take it in turns to fill a grid with drawings of apples, with the challenge that no apple can be the same as another.
When the time is done or the grid is full, debrief and highlight some of key concepts for effective brainstorming including the fact quantity is a precursor to quality and that we should try to build on the ideas of others. This brainstorming game is flexible by design and you can use it with something other than apples for a more practical application: e.g., draw 30 logos, write 30 taglines, draw 30 new cars.
Activities to kick start a brainstorming workshop
We've covered everything from fast and fun creative games to in-depth brainstorming techniques, but what about if you're looking for ways to improve or kick start your brainstorming process? Preparing for a brainstorming workshop with research on inspiration collection can really help your team make the most of the upcoming session.
In this section, we'll look at some techniques and methods you can use to inform, enable and improve your group brainstorm and bring better quality ideas to the table!
Rapid Research
Like all effective workshops, idea generation sessions generally want to limit the number of participants in the room to ensure productivity. That said, ideas and insight can come from anywhere in an organisation and this brainstorming technique can tap into the expertise of people outside of the room.
Start by asking participants to think of a colleague or peer outside the room and call them to get a perspective on the topic or question at hand. For remote teams, you can arrange quick calls or use Slack or other tools to get quick and useful feedback. After collecting input, bring the group back together to share and document insights. You'll be surprised at how quickly and effectively you can get a wide variety of useful information!
Lightning Demos
No idea is wholly original. Brainstorming is all about taking existing ideas and learning from others while also bringing our own insights to the table.
With this activity, you and your group will look for inspiration from how other organizations, products or thought leaders have solved or approached the problem or topic at hand. Invite participants to spend a little time gathering 2-3 examples before then presenting ideas back to the group. By the end of the exercise, you'll have a set of ideas you can use as the basis for further discussion or idea development.
If you're working online, collect demos in an online whiteboard and even explore the possibility of gathering inspiration before the workshop if your team has a busy schedule.
The Medici Effect
Great ideas can often come from sources outside of your own industry or field. The Medici Effect is inspired by Frans Johansson's book The Medici Effect, which explores how game-changing ideas and breakthroughs can occur when concepts and ideas from one area are applied to another and used as the basis for innovation.
In this exercise, invite participants to find examples of how individuals from other fields have achieved their goals and come up with great ideas. Think of successful scientists, creatives, business owners, musicians, entrepreneurs, educators etc. have found success and what inspiration you and your team might take from them. If working online, encourage participants to include images, links and quotes so you can create an inspiration wall for further exploration of the problem you are trying to solve!
Brainstorming session templates
Are you looking to run a workshop or meeting where you need a complete group process to come up with ideas and turn those into actions?
Check out the brainstorming session templates below to see how to build upon an initial brainstorming session with appropriate idea selection and prioritization tools to arrive at sound group decisions.!
Ideation Workshop
In this one-day workshop template, follow an entire ideation process from start to finish, going from brainstorming and idea generation through to idea development and pitching. Tap into concepts such as disruptive cases, future tech & trends and opposite thinking to create innovative ideas and empower your team!
One Hour Brain Sprint
Have imited time for group brainstorming? Try the One Hour Brain Sprint to generate ideas quickly and effectively, all while avoiding unproductive discussions and the pitfalls of some brainstorming approaches.
Remote Problem Solving Workshop
Want to solve problems with your remote team? This virtual workshop template includes several stages of ideation and development and provides a great example of how you might utilize lightning demos and research as a basis for experimental ideas and solutions.
Brainstorming sessions made simple
An effective brainstorming session means creating a balanced agenda of activities and group discussions while keeping everyone engaged.
With SessionLab, you drag, drop and reorder blocks to build your step-by-step agenda.
Your session timing adjusts automatically as you make changes and when you're done, you can share a beautiful printout with your colleagues and participants.
Explore how facilitators use SessionLab to design effective workshops that create results or watch this five minute video to see the planner in action!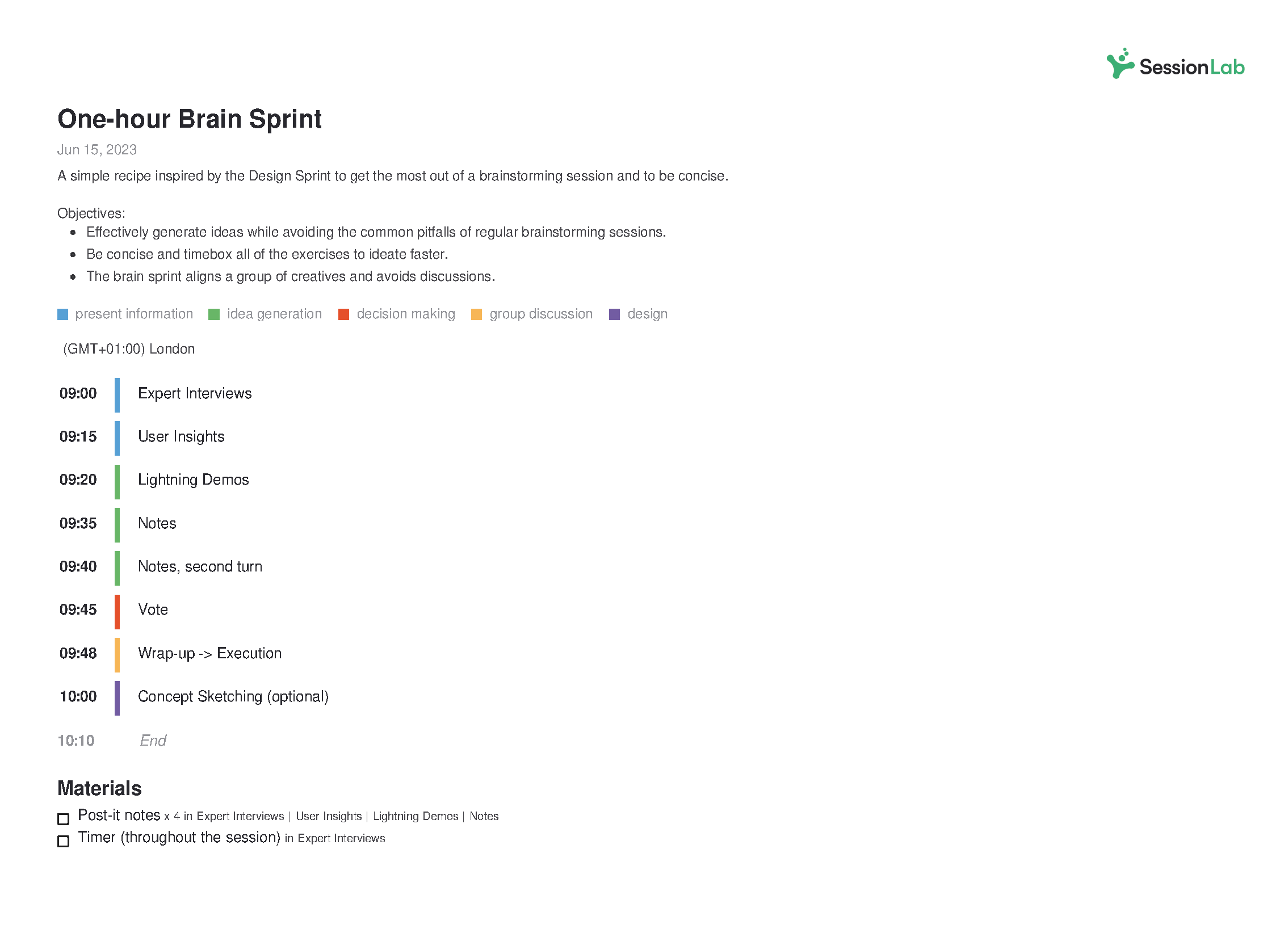 Over to you
Brainstorming can be simple or complex, visual or virtual, but whatever method you choose to use, the results should be the same – great ideas. Finding new ways to facilitate innovation is something we're passionate about here at SessionLab, and we hope you find the above brainstorming techniques useful!
Did we miss anything? Are there any great brainstorming or idea generation methods you'd like to add? We'd love to hear from you in the comments.