Tips for working remotely: what I've learned from five years of remote work
Remote working is not only here to stay, it's growing. A report from Buffer found that 99% of their respondents wanted to work remotely in some capacity for the rest of their future career.
Creating remote teams with employees globally distributed can be challenging, but comes with many benefits. As a fully remote company, we at SessionLab are passionate about celebrating what working remotely can bring to both employees and the organizations employing them.
I've worked fully remotely with several organizations including SessionLab for over five years. I've faced many of the challenges of remote working and while it's been a learning curve, I believe working remotely has changed my life for the better! I'm excited to share what I've learned and hopefully guide you through the challenges of working from home.
In this post, we'll explore what remote working is, explore the benefits, and provide some tips for working remotely that we've learned at SessionLab. Let's dive in!
What is remote working?
If traditional work usually means going to a centralized place of business and doing your job at that location every day, remote working turns that on its head. A remote worker will work outside of a traditional working arrangement such as an office, studio or warehouse by doing their job online and collaborating with their colleagues remotely.

Remote workers may still go into a central office a few days a week. They may work from a co-working space or from a home office, or be a digital nomad and move around during their working week. The key here is that remote workers are not constricted by needing to come to the same place of work from 9-5 every day, and are empowered to find an arrangement that works for both them and their employers.

One of the hallmarks of remote working is flexibility. This can mean flexibility in working location but also working hours. While some roles such as customer support likely require set working hours in a regular working week, other roles can be much more flexible. If a developer does their best work in the evening from their home office, why not empower that employee to deliver the best work they can while also being happy and arranging their own schedule?
Online meetings made easy
What are the benefits and challenges of remote working?
If you're new to remote working or considering working remotely, you might be wondering about the benefits and potential drawbacks of remote work.
Remote working isn't for everyone, and though you might find that you have a natural proclivity for remote work, it's good to consider the benefits and challenges and develop working methods to deal with them. Let's take a look.

Benefits of remote working
Newsflash: I love working remotely! We're a fully remote company at SessionLab and truly believe in the benefits that working from home in a virtual team can bring to both the company and our personal lives.

Here are some of the key benefits we see in working remotely.
Flexibility
Being able to work in a way that suits you and allows you to do your best work is one of the most attractive parts of remote working. Being a remote worker who can set some of their own hours or work flexibly is empowering and can improve job satisfaction. In Buffer's 2019 report, a flexible schedule was the biggest benefit noted by remote employees, followed closely by working from any location.
Save time and money
Working from home saves time and money in the commute, at lunch, and in many other small ways throughout your working day. You will likely have zero or reduced commuting time as a remote worker. Remote working often has the benefit of reducing time spent in meetings or some of the other busywork associated with working in an office environment.

According to stats from Tecla, remote work can save you thousands of dollars a year. While some benefits are more abstract or related to general wellness or job satisfaction, do not underestimate the value of sheer monetary savings to your wellbeing.

Work-life balance
The flexibility and time-saving benefits that working remotely can bring also has benefits for work-life balance. The time saved on commuting can enable time to be spent on wellness, with your family or simply resting! Choosing some of your working hours also means you can take time out of the day to do life admin and structure your work accordingly.
Being able to reduce the pressures of work and the time spent in the office can have a massive effect on your personal wellbeing both directly and indirectly. Free time to exercise, eat better, engage in hobbies or spend time with your loved ones can make your free time richer and improve your outlook at work too.

Reduce stress at work and improve productivity
Having some control over your work-life can help reduce stress and prevent burn out. By placing some control in the hands of remote workers, companies can empower staff to be happier and more productive.
An American Psychological Association report found that having control over a schedule helped reduce stress in workers and that workers found great value in having larger degrees of autonomy and independence.

Stress is one of the largest contributors to low productivity and diminished job satisfaction and by reducing stress as a virtue of remote work job design, you can be more productive and happy at work too!
Access to higher salaries and awesome companies
Just as companies that hire remote teams have access to global talent, as a remote worker you have access to great companies, jobs and salaries wherever you live.

In a remote work statistics report from OwlLabs, they found that remote workers earn salaries higher than $100,000/year, 2.2x more frequently than on-site workers.

Great talent and work ethic should be rewarded and remote companies know this most of all. Benefit packages for remote workers are often generous and help make the prospect of remote work even more attractive!
Challenges of remote working
Though the ability to work from home or a co-working space can be hugely beneficial, it can come with challenges too. Remote work can be tricky to adjust to, and having the ability to choose your own schedule also means you need to take responsibility for it too.
Here are some of the main challenges you might face when working remotely.
Potential isolation
Working outside of a traditional office environment can have the downside of being lonely or isolating. Depending on how your life is structured and where you work, you might not see face-to-face contact in your working day. Buffer noted that the biggest struggle for 19% of remote workers was loneliness.

Everyone works differently though the isolating effects of remote working can be mitigated by using co-working spaces, liaising with your colleagues on live-chat software throughout the day or by using some of the free-time created by remote working for hobbies like team sports or socializing.
Timezone differences between team members, disconnected communication channels or working practices can all contribute to feelings of isolation or loneliness while remote working though remember that you can work with your team to find ways to remedy the situation or change your working pattern to have more facetime with people.

I've found that having a mix of days where I work from home, from co-working spaces and coffee shops works for me. I get to spend time with people when I need a boost and work from home when I feel like I will be more productive being alone. I also make sure to speak to co-workers on Whereby and on Slack every day and connect with people wherever I can.

Maintaining work-life balance
Yes – this is both a benefit and a challenge of working remotely. While working online can be hugely beneficial to work-life balance when done right, taking your work home with you can present challenges to keeping your life in balance.

Buffer report that many employees note the difficulty of switching off after work and in our experience, this is most pronounced for those who work from home, often in the same space where they do other tasks IE – the living room or kitchen.

Being able to work flexibly can sometimes create situations where you choose to work late or at the weekend. While this may be suitable for some, be wary of creating situations where you can work at any time and take your work to bed or to family time with you.

As with any working scenario, a division between when you're on the clock and between your working and living spaces is important to keeping your work-life balance intact.

This has been one of my greatest challenges when working remotely. Working for awesome companies and doing work I enjoy means I regularly enjoy working extra hours, but in the long run this is not entirely healthy. I've taken steps to make certain areas of the house no-work zones and I use time tracking apps to not only keep track of my working hours but ensure I don't overwork myself.

Self-motivation
Working remotely does not mean you are working alone, but the reality is that you are likely responsible for motivating yourself throughout your working day. Even with daily stand-ups, company Slack channels and collaboration tools – much of your work will be self-directed and you will be working without an 'in-the-flesh' team to provide motivation.
Depending on your personality type and the work you are doing, you might find this is not an issue, but it's worth bearing in mind that this is something you are responsible for and you may want to design your working pattern to help keep your motivation high.

For me, self-motivation is generally a non-issue, though it becomes a consideration when other aspects of my work or life aren't in order. If I'm unhappy or there are some work or life stressors, this is when my motivation suffers. This is normal though it can feel more pronounced for those working from home.
As noted in the SHRM report – remote workers often feel more guilty when their work rate suffers and are worried about how their product is perceived by onsite coworkers.

Remember that whatever you do and however you work, there will be some days and some projects that you are more or less motivated to complete. You might have a low mental health day or the work might be extremely complex or difficult. Share your concerns with your team, ask for help and acknowledge what is in or out of your immediate control.
Managing distractions
More than 80% of remote working staff that responded to Buffer's survey stated that they preferred to work from home rather than co-working spaces or coffee shops.

Working from home has huge potential benefits though it's worth noting that your workspace is then also the space where you eat, sleep, do laundry, spend time with loved ones, watch Netflix and much else besides. Having discipline, maintaining work-life balance and managing distractions are all challenges you should bear in mind when working from home.

This doesn't mean you shouldn't do laundry during the working day if you're working at home (IMO, you should!) but it means structuring your day and working pattern so you can do the things you need to but not the things you shouldn't.
Remote working often gives you the flexibility to do tasks during the day that might otherwise have to wait – it's up to you to determine whether they are helping you be a happier, more productive worker or are simply distracting you from the work at hand.

In honesty, I believe distractions are an issue whether you work in an office environment or from home and in truth, offices are often more distracting places than anywhere else. Traditional work often asks that we take steps to eliminate distractions from the workspace and you can benefit from taking this approach when remote working too.
Key skills for remote working
Every job requires a strong and varied skillset from its workers. Every role – whether you're a developer or marketing guru – has its own set of tools, requirements, and proficiencies you need to become familiar with in order to be effective.
When you work online or transition to remote working, it pays to learn new skills or to develop and adapt existing ones in order for you to be successful.
Here are the nine key skills you need in order to be an effective remote worker.
Motivation
Self-motivation and being able to maintain motivation when working alone is one of the most important skills a remote worker has. A big part of helping yourself be motivated and work effectively is by nailing down the job design with your employer and creating systems and processes that help with motivation. Some organizations have reward schemes or find that effective feedback is the best approach to helping teams stay motivated.
If you need to be around people in some way to maintain motivation, go to a co-working space. If you find roadmaps and long term planning helpful in staying motivated and getting excited about tasks, then you should work with your team to put one together and share this with the company.
Remember that if you're having difficulty with motivation, it might be because of other factors such as distractions, job design or support systems. This can be one of the trickiest remote working challenges and is one we'd suggest being open about and communicating to your managers where possible.
Proactivity
In a remote working context, being proactive means working intelligently, finding tasks and jobs where you can contribute effectively. It also means being able to work independently and without direct oversight. If your manager needs to prompt you to begin work every day, that's not a great look! Similarly, if you've finished your main tasks for the week by Thursday, be proactive and find places where you can contribute or add value.
Being a proactive remote worker also means being aware of your working process and taking steps to improve it where possible. You have responsibility and ownership over your working day – within reason, you can be proactive and change this to make it the perfect process for you.
Remote working is a young field. Share best practices, try new things and develop your process. Not only will you find yourself being more productive but you'll have greater job satisfaction too!
Communication
Effective communication is vital for any employee, though even more so when working remotely. Being able to communicate efficiently via email or video chat software can ease many of the potential friction points for a remote team.

Staying in communication requires an effort from both managers and staff so be sure to reply to emails, be present on Slack and participate in online meetings and workshops where possible.
Tech-skills
Working remotely requires some basic tech skills by necessity. You need to be able to create and maintain your working environment, as well as ensure that you can get online and troubleshoot basic issues that might prevent you from working. This will likely include becoming proficient with collaboration, administrative tools, and productivity apps in order to be an effective team member.

Your company will no doubt help you learn what you don't know, but certainly, it is part of your job to become literate in all of the skills you need to do the job while working in a remote environment. Any time saved working remotely is wasted if you spend an age figuring out your VPN or haven't correctly configured your KeePass.
Organization
Working remotely means often working without direct oversight. While there will likely be several systems in place for organizing workload and assigning tasks (Trello, Asana, etc), working remotely often means being able to create some of your own working processes and finding ways to self organize that work for you.
Your responsibility is to not only use the process your organization has in place but to organize your time and working patterns so you can be both effective and happy in your work. Flexibility does not mean doing things on the hoof and not taking steps to organize your time and workload – in fact, great organization means being better prepared to be flexible when the need arrives.
Task management
Going hand in hand with organization, task management is another key skill of the remote worker. Being able to self direct your working day and to an extent choose how to best spend your time means taking responsibility over that time and the tasks you prioritize. If you spend too long on certain tasks, how does that affect others? If your marketing team needs to draft content before they can move forward, perhaps that task takes priority.
Keeping yourself on task while working from home is a big responsibility. Use tools like Kanban, Asana or Trello to organize yourself and be accountable to your team. Outline your tasks and priorities at the beginning of the week as well as every day, so you can keep track and adjust your course where necessary!
Being flexible
Flexibility is king when it comes to remote working. Not only is it one of the great benefits of working remotely, but it's also a skill you need to demonstrate. Remote teams are often global in nature and distributed across many timezones. Being flexible might mean changing your working hours based on the needs of the team or to help high priority customers on the other side of the world.

Working with a distributed team and different environments might mean being flexible in your preferred forms of communication or working. Think about what's best for the group and the task at hand and be flexible where you can.
Discipline
Working remotely means you have some self-direction over your day. Depending on your workload, role, and team policies, you can likely work when you want, where you want and how you want.
This freedom comes with the potential for distraction and as a remote worker, you need to be disciplined. Create good habits and stick to them. Working from home shouldn't mean that you wake up just a few minutes before starting your working day. Have discipline and create productive working patterns that mean you can stay on task while enjoying the benefits of working remotely.
Bonus skills
While these are not integral to being a successful remote working employee, these can be extremely helpful in being a valued and effective member of a remote working organization.
Big picture thinking
Companies with a partial or fully remote workforce are often progressive, agile and innovative organizations. Think of fully remote companies like Automattic, Zapier or hybrid companies such as Basecamp. These organizations hire remotely because they are looking for staff who are exceptional, wherever they are in the world.
Part of being an exceptional employee in these companies is being able to see the big picture and to think of how the company might grow and develop and contribute to achieving those changes.

Remote work is still a nascent field and as a remote worker, you are uniquely positioned to help change the way you and your team works.
Take advantage of that opportunity!
Varied skillset
In some remote organizations, the ability to wear many hats and contribute to various teams or areas of the company can be important. Being able to help out in customer support if your timezone is overloaded with tickets or being able to chime in with the marketing team is a huge boost to your organization.

Some remote teams are smaller and leaner by design and being able to contribute wherever you can be most effective is an added bonus. This is hugely dependent on your organization and sector, though having extra skills in your toolbox is never a bad thing!
Curiosity
Remote working in large organizations means you are unlikely to directly interact with teams outside of your own very often. This might mean that you simply don't know some of your colleagues or how other parts of your organization operate.

Being curious as a remote worker means being aware of what other teams are doing, being active in company discussions, seeing future opportunities and asking lots of questions.

Remote workers can sometimes face the challenge of feeling unknown or unseen in their organization. By being curious and getting involved with the company and teams outside your own, you can not only put yourself on the company map but be better positioned for success in your own role.
Tips for working remotely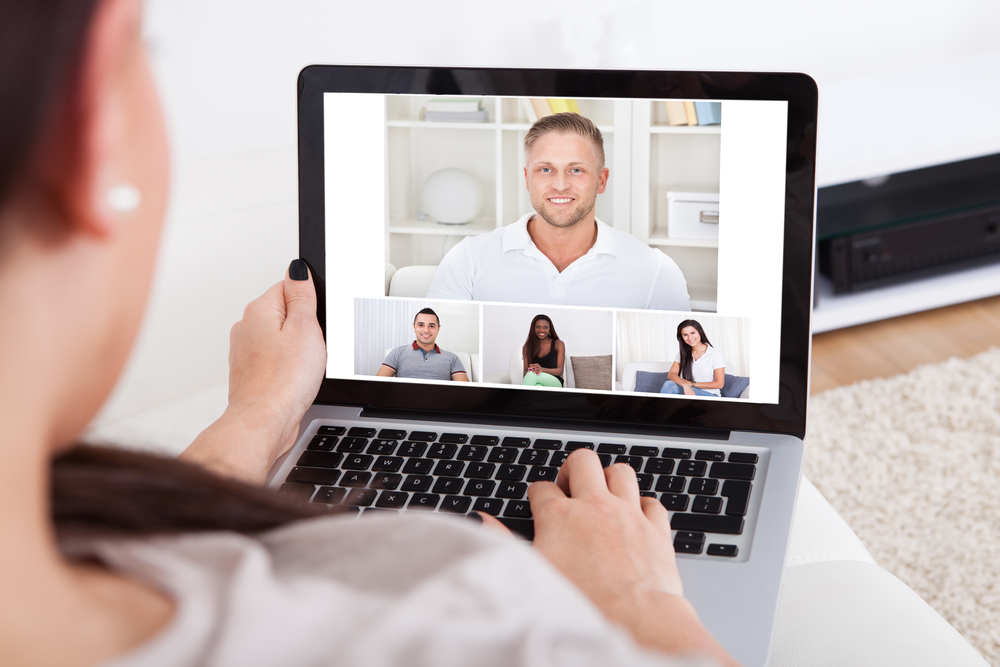 Remote work is still new to many of us, and we're still working out how to operate efficiently while also take advantage of all the benefits. Collaborating online, maintaining communication and staying happy while working online are all things we need to be aware of. A virtual team should remember to share best practices where they can. We're all in this together!
When you work from home, some things you may never have thought can present challenges and obstacles to your productivity and mental health. This is nothing new: all jobs and working environments present their own challenges.
Here are our tips for working from home or in a remote team.
Have a separate working space
Unplugging after work was the biggest struggle with working remotely for respondents to Buffer's survey on remote work. Personally, this has been one of the trickiest parts to get right in my own remote working practice. It can be very easy to take your laptop to the sofa with you after working hours are over and continue to reply to the odd email or work up some copy.

Have a separate workspace in your home so you can keep your work/life balance in check while working from home. If you have a spare room or a home office, great. If you don't, try having a dedicated corner or table away from your living space. It can be so beneficial to have a workspace that is delineated and separate from the rest, even if that's just a spot on the kitchen table.
Co-working spaces can also be great in this regard. Not only is this effective in keeping your work life and home life separate, but face-to-face human contact is beneficial too. Coffee shops and cafes can also be a good way to separate your spaces and have that face-to-face contact, though does come with the added potential for distraction and cost. I like to work from a cafe once a week as a treat. Having a chai latte and a slice of carrot cake can help take the sting out of a difficult working day.
Wherever you choose to work from, find what works for you though bear in mind the needs of your role and team. If you're doing sales calls with clients, being in a noisy cafe isn't the best idea. Mix it up where necessary but try to avoid working from your sofa or your bed – this makes it difficult to unplug and stop working when you should.
Stay in contact, stay connected
Particularly when working on big projects or to a deadline, remote work really enables you to put your head down and focus. This can be super-effective when it comes to being productive, but can also present a challenge of losing contact with your colleagues. I've had periods where I've felt so busy that I don't have time for meetings, chats or catch-ups.

This is not a sustainable practice and can lead to increased feelings of isolation or lower connectivity between teams. Be sure to stay in contact as much as possible, whether that's through email, over Slack or in video chats. Being connected to your team always has value, even if you cannot put a direct dollar value on it.

If you're working with a colleague or team on a project, why not use Zoom to work alongside each other virtually? You might not be chatting all the time, but being able to simulate some of the face-to-face conversation that goes on when sitting around a table online is a nice way to spend a few hours.
At SessionLab, we use Zoom for large or customer-facing meetings, but we also have a Whereby meeting room for impromptu chats that come up throughout the day. No need for sending invites or collating calendars – we just revisit our room URL and we're chatting face-to-face instantly.
This can be super-useful for connecting quickly on an issue that is too complicated for Slack, or just to spend some time working together when our schedules open up. You can achieve this with many tools, and I'd recommend getting into the habit of hopping on a quick call when necessary!

Good organizations should have processes in place for helping teams stay in contact. Additionally, try to put time into your schedule for replying to emails, for having chats and staying in contact. If you're feeling disconnected, remember that you have the power to change that.
Start your day the right way
Working from home means you often have the possibility of rolling out of bed and starting work in your pajamas. Not only can this habit be problematic if you have a meeting first thing, but it can also be bad news for your mental health and productivity.
I try and start the day as if I was going into the office and working with colleagues. Get up early, take a shower, have breakfast and wear nice, clean clothes. The benefit to my routine and mental health is especially noticeable when I let those things slide for a few days. It's easy to take these things for granted – build them into your routine!
Another great tip is to outline what you're going to do for the day when you start. This might be in a daily stand-up you post in Slack, or just for yourself. I've found it massively useful to write down everything I want to do that day in order of priority and to go back to it throughout the day. Working flexibly means there are possibilities for distraction – by having this list, I have something to go back to if I lose track of what I'm doing.
Create opportunities for fun
Virtual teams are no different from live teams – they are made up of people for whom morale, team culture, and connection are important aspects of job satisfaction. We spend a huge amount of our lives with our colleagues and while it's vital that you work together effectively, having fun and engaging with your remote teammates is also integral to your remote working life.
At SessionLab, we have Slack channels for GIF battles, music recommendations, and general laughs. I've seen organizations that have channels for sharing pictures and videos of pets, recounting fun things they've done, or time spent with their children.
It's also great to have rooms for specific TV shows, sports or hobbies. At a previous organization, we had a channel for Game of Thrones discussions with the tagline: For the chat is dark and full of spoilers! It was a brilliant way to get to know team members I didn't regularly work with and feel connected while sharing theories and memes about something we were all engaged with.
At SessionLab, we have daily stand-ups that are primarily work-related in nature. We also have team lunches once a week where we get to just chat and have fun together. Particularly for remote workers who are new or are working in difficult circumstances because of travel bans, these opportunities to connect and talk about something that isn't work and have fun can be instrumental in making remote work enjoyable.
Why not have a movie night where your team all watch the same movie and chat about it in Slack? Or hang out after work and have your favorite alcoholic or non-alcoholic beverage? Remember that remote work is more isolating by its nature: take opportunities to engage with your remote team and have fun where possible.
Limit distractions
Distractions are something you will often have to deal with when working remotely or working from home. If you have young children, pets or work from co-working spaces, there are times where you will be necessarily taken away from your work and that's okay – it happens all the time in a live office environment too.
What you do want to limit or remove are those unnecessary distractions. Take your social media tabs down and don't be tempted to put a TV show you really want to watch on in the background. If you have other people in the house, let them know you're working and create a system where you can be productive.

This doesn't mean don't check social media or talk to your housemates – it means having dedicated working time where you don't interact with those things unless necessary. On the subject of TV, some people find having something light on in the background on low volume is helpful.

I've seen The Office: An American Workplace so many times it's like having an amusing podcast on, with the added bonus of occasionally looking up to see Jim's reaction face. Whatever you do, be honest with yourself. If having the TV on quietly helps you work and keeps you happy, go ahead. If you know that having housemates or coworkers near you will make you less productive, find a quiet space on your own.
For me, I use music to block out distractions, particularly when working in shared spaces. In our co-working space, we have a "headphones on = do not disturb" policy. If you want to chat, leave them off. If you want to get undisturbed work done, put them on. Similarly, mark yourself as busy in Slack if you don't want to be disturbed.

Develop radical candor – ask for what you need
Working remotely has its own challenges and every worker can see issues that can affect both their work and home life as a result of remote working. These are often all surmountable, though one of the dangers for distributed teams is that such challenges or concerns remain invisible.
Being seen, heard and feeling valued is vital for job satisfaction and this is no different for remote workers. Part of this responsibility lies with management teams and organizations though for remote working employees it pays to be able to voice concerns, raise your hand and most importantly, ask for what you need. Whether that's in support to pay for a co-working space or developing systems and processes to improve the remote experience for you and your co-workers.
Part of the onboarding process at SessionLab is to take a look at Kim Scott's book on Radical Candor. This is just one of many tools you can use to help you and your team to develop a mindset of asking for what they need and being proactive in improving the workplace.

Being honest is advantageous in any role though even more so in a remote environment where you may not have as many organic opportunities for others to intuit your needs.
Invest in good equipment
Working from home means you are often shifting from a centralized office workspace to your home. This requires a change in thinking but also, having the right equipment and resources to do your job in this new environment. Having a laptop computer might be sufficient for some, but how about your desk, your audio equipment, and other resources?
Depending on your role, you may require specialized equipment or software in order to work from home effectively. Conducting online meetings with clients might mean you want higher quality audio equipment. As a developer, you may require two screens in order to be truly productive.

You might also find that a standing desk, monitor or wireless keyboards all help make your remote work more productive and enjoyable. It's easy to forget the value of a good chair!

These kinds of devices and provisions are often made available in an office environment and depending on your role, time spent working from home and other factors, they may be useful in a home setting too.
Many remote companies help with the cost of such equipment or software. Talk to your managers and see how they can help if you need equipment to work remotely.
Use collaboration tools
In an SHRM report, 98% of employees stated that collaboration tools made them feel connected to coworkers and helped to get to know them, with two-thirds of remote workers stating that their favorite co-workers worked in different locations.

Being a globally distributed team with remote workers separated by distance, timezones or other factors does not need to be a barrier if the right tools and processes are in place. Use tools that are provided by your organization or suggest your own. Slack is great, but could you also benefit from video conferencing software?

You know the challenges of your own remote working role the best, so be sure to communicate with your manager and find the best tools and practices that will help resolve the issues you face with working remotely.

At SessionLab, we use a mix of tools to stay connected and work together on projects and tasks. Google Drive works for a lot of coworking tasks, and when we're designing meetings or workshops we use our own planner tool.
Create your own routines and working patterns
Working flexibly does not mean working haphazardly. Something I've learned over five years of working remotely is that while I love being able to choose my own schedule and work from where I want, I still massively benefit from having a routine and patterns I follow throughout the week.

Knowing yourself and what works for you is vital in any job, though even more so when working remotely. You might need the company of people in a co-working space in order to be productive, or find that spending one day working in a coffee shop and treating yourself helps keep you happy.

When it comes to managing tasks, you may find that you are productive at different times or need to create a habit or routine in order to get things done effectively.

In my role at SessionLab, I touch a lot of different areas across my working week and work on a large number of different tasks and projects. I structure my day so that complex tasks and projects are tackled in the mornings when I have a good deal of creative energy and leave data or analytics-oriented tasks for the afternoon. I also found that at the end of the week, some of my emotional reserves tend to be used up and so we moved management 1-1s to earlier in the week.

Working routines are great for being productive and adding structure to your remote working time and being a remote worker gives you permission to design these in a way that is unique to you.
Take regular breaks and get away from the screen
Remote working requires you to be on your computer for much of the day. Often, those transitioning to remote work end up spending more time looking at their screen than their counterparts in the office, for whom meetings and discussions often mean getting away from their screens.
When taking breaks, try to get away from the screen where possible. This might mean going outside, doing a little exercise, doing some light chores or meditating. Whatever you do, any chance you get to relax your eyes and brain is valuable. Spending your break watching youtube videos or scrolling through Twitter might not give you the mental break you need to feel refreshed.
It's also worth noting that you should take regular breaks and if necessary, set yourself a timer so you actually take a break. I find that I can often disappear down a rabbit hole of work and forget to take a break, then wonder why I have a headache. Setting a timer on my phone at two-hour intervals helps me step away and come back feeling recharged.
Don't feel guilty about doing light chores
Reducing stress is one of the biggest benefits of working remotely – don't let the worry or guilt of doing light chores increase your stress level. Performing light chores like cooking and cleaning your desk are part of having a productive work environment. Letting these slide can really affect your work productivity and remember when you're working from home, this is your workspace! Sometimes, this means putting a load of laundry in or washing the dishes after you've had lunch.
Remote workers often feel guilty about whether they're being perceived as doing enough work and as such, let some of these tasks slide and become stressed as a result. This isn't good for you or for your company. Light chores in the home that allow you to keep working productively are okay to perform – just ensure you're not disappearing for three hours to clean out the attic!
Be empowered to work flexibly
Working from home often means that organizations are providing you with the flexibility to work at your best while also improving your work-life balance.
If you need to go out for groceries or medicine, communicate with your team and go do it. Most organizations offering flexible work operate on the idea that you work X hours a day. If you need to pick up your kid from school or go to the dentist, that should be okay so long as you communicate in advance, ensure that your team can cover you and that you keep your weekly hours at their correct level.
Every organization will have its own policies on flexible working and some roles, such as customer support may require certain working hours to be covered. That doesn't mean you can't communicate your needs. Talk to your supervisor if you want to work more flexible hours and see what can be done.
Take care of your mental health
This is one that's particularly close to my heart as someone who suffers from various mental health challenges. Depression, anxiety and many other mental health conditions can be problematic for people in work, and they can become even more pronounced when working remotely.
As conditions that are often invisible, it can feel difficult to justify taking time off or scheduling your workload around your mental health when working from home or as part of a virtual team. This is wrong: you should absolutely take time when you need to, communicate to your superiors freely, and develop systems that help you cope when your mental health is suffering.
All of the tips outlined above can help, but there will be times when you simply need to take time off or change up your working pattern.
I've personally been guilty of not communicating what I'm going through or adequately taking care of my mental health when working remotely. I've said I've had a cold when really, I've felt too depressed to work or just come into work regardless of how I'm feeling without saying anything.
Equally, it's been very easy to justify going into work even when feeling terrible, just because I'm working from home. In my experience, none of these are the right solution and it's been a big learning curve for me to find what works for me.
The best advice I can give is to be completely honest with your co-workers and managers where you feel able, to be kind to yourself and to take time when you need to. Sometimes, getting deep into a new project or work task can be beneficial and it's worth noting that every person's experience of mental health is different – the appropriate response should be similarly nuanced. Ultimately, good organizations take mental health seriously and you should too!
Over to you
Being able to work from home or work remotely can be life-changing for individuals and hugely beneficial to businesses too. In tough circumstances such as travel bans or self-isolation, remote working can be the difference between a company shutting down or being able to continue to operate efficiently.
Working remotely is not without its challenges. By developing a routine and a set of productive habits, you can make the most of working from home or a co-working space and be more effective at work too!

Are there any tips for remote work you'd like to share? What's been your biggest challenge when working remotely? We'd love to hear from you in the comments below!