18 Free Facilitation Resources We Think You'll Love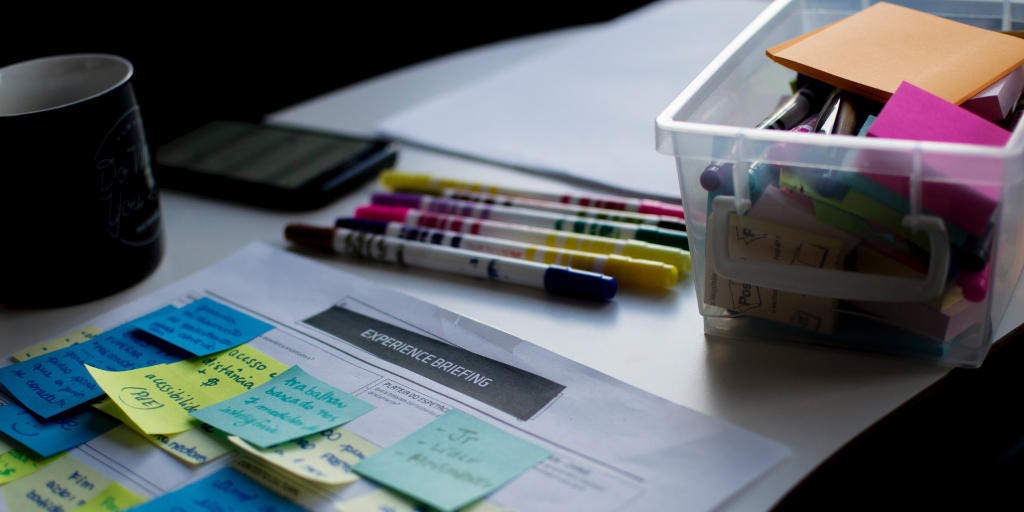 Facilitation is more and more recognized as a key component of work, as employers and society are faced with bigger and more complex problems and ideas.

From facilitating meetings to big, multi-stakeholder strategy development workshops, the facilitator's skillset is more and more in demand. In this article, we will go through a list of the best online facilitation resources, including newsletters, podcasts, communities, and 10 free toolkits you can bookmark and read to upskill and improve your facilitation practice.
When designing activities and workshops, you'll probably start by using templates and methods you are familiar with. Soon enough, you'll need to expand your range and look for facilitation methods and tips for various situations, groups, and timeframes. So, where can you find them?
If you are looking for individual methods, for example an activity to start your session with, here is a list of the best online method libraries and collections of workshop activities. These are important resources, and good to bookmark, but it is also true that facilitation goes well beyond the ability to pick and lead a good game, energizer, or brainstorming activity.

A skilled facilitator knows how to put it all together in a coherent flow, design workshops that deliver results, and encourage people to bring their best possible contribution to group work by applying facilitation skills such as active listening.
If you want to develop a deeper understanding of how facilitation works and pick up some good methods along the way, luckily many organizations and groups around the world have taken the time to put together complete facilitation toolkits. In this article, we will provide links and details to 10 of the best toolkits to learn, and improve, your facilitation skills.
Continuous development is very important to facilitators. Keeping up to date with the latest trends is important in order to keep attracting clients and for your workshops to stay relevant. While the main principles of facilitation remain stable in time, new ideas and frameworks emerge all of the time.
Stay on top of the game, keep connected and inspired by getting into the habit of listening to facilitation podcasts and subscribing to popular newsletters.
In this article, we will cover different types of facilitation resources that can help you in your journey to becoming a skilled professional in this growing field.
Stay on Top of the Game with Facilitation Newsletters
You may find it hard to keep up to date with the latest trends and topics that are attracting interest within the world of facilitation and workshop design.
Luckily though, there are a handful of generous businesses, organizations individual consultants, and thought leaders in the field who neatly package information on what is current in newsletters delivered straight to your inbox.
Here are 4 facilitation newsletters we recommend. These are the ones we actually open, read, and discuss, but for sure there are many others: let us know in the comments what your favorite ones are!
Gwyn Wansbrough's The Quest.
Delivered every Monday to most facilitators I know, Gwyn Wansbrough's The Quest newsletter is a charming combination of personal insights and curated information.

Each edition begins with a question and offers pathways for readers to deepen their knowledge of a specific topic. Gwyn specializes in online workshops and you will find a lot of useful tips on making remote sessions engaging, but there are topics specific to in-person facilitation as well, and many subjects apply to both settings.
You can browse through all previous editions right here.
Priya Parker's The Art of Gathering
With her book The Art of Gathering – How We Meet and Why It Matters, Priya Parker did away with all the jargon and wove heartfelt, thoughtful connections between being a facilitator and being a host.
In her widely read newsletter, she keeps the connections flowing. The Art of Gathering is a reliable source of inspiration not only for business development and effective meetings, but for creating magic every time people assemble, be it a family meal or a formal reception.

Voltage Control's Control the Room
Every week, Voltage Control's Douglas Ferguson packs a snappy, condensed write-up of whatever the industry has been discussing these days. Be it the return to the office, psychological safety, or the latest trends in design and innovation. The newsletter also lists upcoming events, courses, and a summary of the latest podcast episode.
Control the Room is great for staying current on what makes meetings great and for actionable ideas for planning innovation processes. It was also the most-listened-to facilitation podcast of 2022, based on answers given to the State of Facilitation survey.
SessionLab's Newsletter
At SessionLab we put out a newsletter twice a month, bringing a curated selection of methods from our Library as well as featured templates, events, and links to more resources to feed your curiosity.
We've also prepared a bounty of extra material you can get delivered straight to your inbox, including two email courses and two facilitation manuals: SessionLab's Complete Guide to Workshop Planning and the Essential Meeting Facilitation Toolkit.

The first email course, "Facilitation is for Everyone!" is a 5-week introduction to what facilitation is, covering the basics of group dynamics and tips on how to make your meetings better. It includes activities and worksheets to get you started.

If you facilitate already and would like to dig deeper, "Solving Facilitation Challenges" might be just the thing. It covers 4 key obstacles, and introduces pathways to becoming more resourceful facilitators: keeping up with the trends; collaborating with your team; transforming conflict; and managing time.

Listen to the Best Facilitation Podcasts
Do the job you love, they say, and you will never work a day be working all the time. If listening to facilitators talk shop, or getting inspired by the stories of creative innovators, is your idea of rest, you are in good company.
There is a growing number of podcasts dedicated to facilitation, effective meetings, group processes, and workshop design. Do you have some to recommend? Please add them in the comments!
First Time Facilitator
Leanne Hughes' long-running First Time Facilitator podcast is a great place to begin with. In any one of its over 200 episodes, you'll find inspiration and encouragement that are consistently beginner-friendly.
The podcast has a focus on training and learning, bringing a no-nonsense, can-do attitude to creating learning experiences that really work. The First Time Facilitator podcast is a reliable provider of sound advice and immediately applicable recommendations and tips.
Workshops Work
Myriam Hadnes has collected so many in-depth interviews in her essential podcast Workshops Work that she had to have a special map designed just to help listeners orient and choose!

Workshop Work has, rightly so, gained a faithful following among facilitators worldwide, with its deep, insightful interviews with experts of meeting design as well as with professionals drawing in their expertise from other fields, such as mediation, marketing, and the arts. You can also download scripts and one-page summaries of each conversation.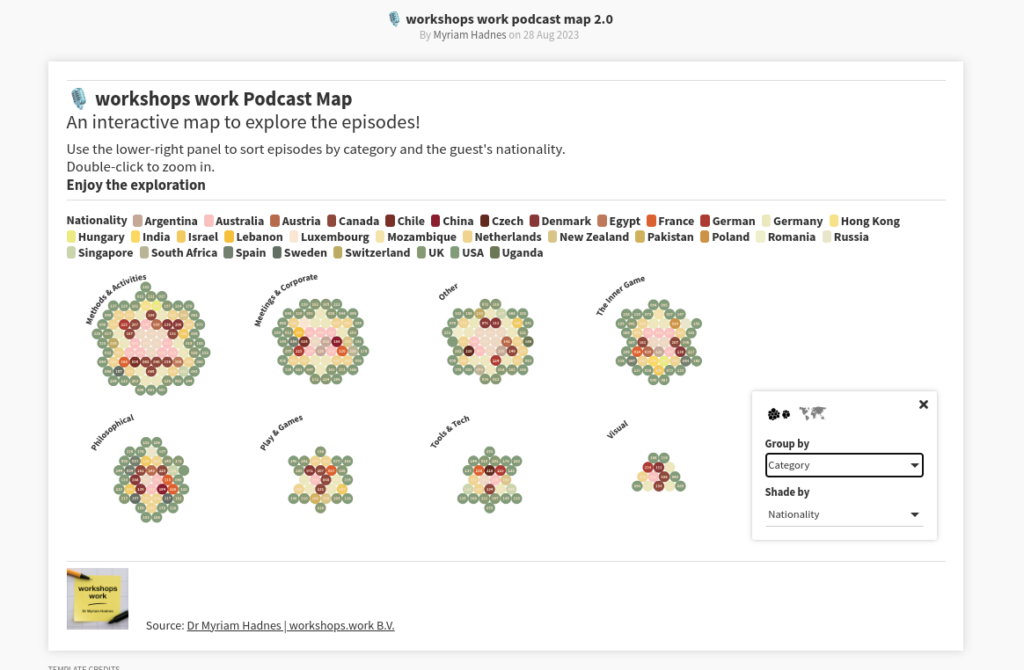 Creative Confidence
Listeners of IDEO U's Creative Confidence podcast get to listen in on the creative process of innovators, designers and strategists from a variety of industries.
In each episode, IDEO U Founder Suzanne Gibbs Howard and Executive Design Director Coe Leta Stafford lead conversations that aim to identify each guest's unique way of leading, being creative, innovating, and growing, and what lessons we can all learn from their stories.
Happiness Academy
The way we enter a room as facilitators does matter. Many experienced facilitators will highlight the importance of inner work and the type of posture and presence you bring into a room as you lead participants in a workshop. If you'd like to know more about this topic, Mirna Smidt's Happiness Academy podcast may be just the thing.
In each episode, Mirna discusses an aspect of positive psychology, such as how to bring more focus, presence, and concentration to your work. This podcast is not targeted at facilitators especially, but as a trainer of trainers herself, Mirna has examples and applications that can be nuggets of gold for workshop professionals and trainers.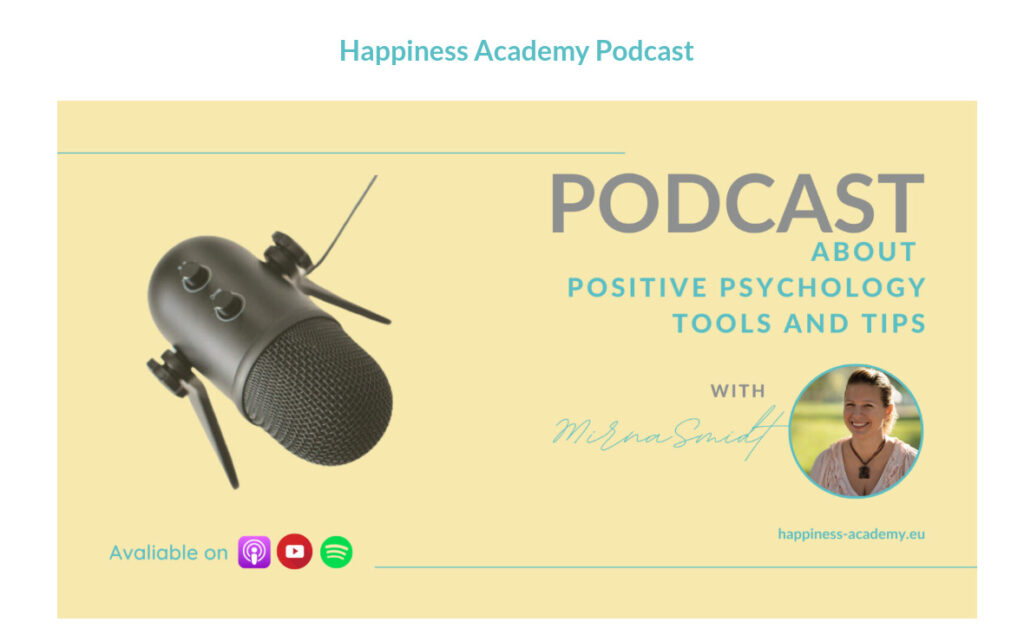 How Toolkits can Help you Learn Facilitation
Facilitation toolkits contain a set of facilitation methods, activities, and techniques in one, downloadable format. This comes in really handy when you need to access them offline. Additionally, the best toolkits are designed to accent their content and provide structure and categorization for better understanding and usage of the activities.
Need more reasons why they are a great resource?
The toolkits you will find in this post will help a skilled facilitator as well as a newcomer to the field. They all have an easily understandable format, regarding both the method descriptions and the whole documents, too and they are all free and downloadable, so you can use them whenever you want.

These toolkits contain several different techniques for various facilitation needs, so you won't spend time needlessly searching methods one-by-one for each of your projects or meetings. Even better, this list of toolkits we have collected can help you facilitate a whole session, all the way from opening to closing.
So without further ado, here are the toolkits!
Curated Collections of Facilitation Methods
In this opening section we've collected lists of activities and methods. Facilitators, generally speaking, will have a series of tools and practices they are familiar with, know to work well, and can always fall back upon. That said, it's always nice to learn new practices, be it an innovative process for decision making or a simple ice breaker.

The following toolkits are curated collections of activities suitable for small groups as well as larger ones. Bookmark them as sources of ideas and inspiration for your next workshops!
Collective Action Toolkit
Aim: Bring groups together to work on a challenge/solution
Number of methods: 25
Unique feature: "Where to next?" section
The Collective Action Toolkit from the Frog Design team was created to help bring groups together to accomplish a shared goal. These activities help problem-solving small and larger challenges concerning a whole community.

The 25 group facilitation techniques are sorted into 6 categories from "imagine more ideas" to "plan for action". Next to the time frame and group size, you will find the needed materials for the exercise.

At the end of every activity, there is a "where to next?" section which suggests the next ideal step, whether it is an activity or a new section such as "define your problem". One of the strengths of this collection is its design which complements each activity and also gives visual cues of how an exercise should be done.
Facilitation Tools for Meetings and Workshops
Aim: Effective group facilitation
Number of methods: 65
Unique feature: "Things to be aware of" pointers for each method
This toolkit from Seeds for Change is one of the most thorough compilations of facilitation tools with 65 methods that are available for free. The collection covers most of the main facilitation areas, in an order that follows a typical meeting or workshop.
This includes ideas for warm-ups, increasing participation, prioritizing ideas, trust building, exploring complex issues, ending and evaluating sessions, as well as a generous sprinkling of games and energizers.

In every category, you will find several activities indicating ideal group size and time. Additionally, each practice is completed by a list of "things to be aware of". These are the nuances, instructions, and inclusion practices a skilled facilitator ought to consider when offering a certain activity. If you are in need of a simple, easy-to-understand and well-structured toolkit, go ahead and take a look!
SessionLab's Essential Meeting Facilitation Toolkit
Aim: Effective meeting facilitation
Number of methods: 12
Unique feature: Find more about these and other methods in SessionLab's Library.
Here at SessionLab we've created a powerful set of resources to share facilitation practices with the world. You can head over to our newsletter page to sign up to free email courses introducing general facilitation skills (Facilitation is for Everyone!) and tackling some of the most common pitfalls (Facilitation Challenges) to get tips, exercises and reading material delivered to your inbox.

We've collected a suite of 12 methods we consider essential to making meetings really work (and that we use ourselves) in the Essential Meeting Facilitation Tookit. Sometimes it can be hard to imagine how methods come together in a coherent flow, especially in a formal work setting such as a team meeting. This essential template puts some of the methods from the toolkit to use; we hope it can give you a sense of how much can be achieved, even in a small group, when facilitation methods are put to good use!
SALTO Youth Quality Handbook on Facilitation
Aim: Train youth for peer education projects
Number of Techniques: 15
Unique features: Based on a real-life training
SALTO-YOUTH is a network of seven resource centers working on European priority areas within the youth field. As part of the European Commission's Training Strategy, SALTO-YOUTH provides non-formal learning resources for youth workers and youth leaders and organizes training and contact-making activities to support organizations and National Agencies (NAs) within the frame of the European Commission's Erasmus+ Youth program, the European Solidarity Corps, and beyond.
A number of the organization's activities are focused on disseminating facilitation skills, especially in the context of youth programs, retreats, exchanges, and training courses.

If you are interested in a peer education approach to facilitation, and looking for activities that really work with younger participants, with a strong intercultural approach, this booklet is for you. Facilitation is Easy includes tips on basic facilitation skills such as co-facilitating and setting up a venue.

An especially interesting aspect of this publication is that it's based on a real-life youth workshop. No abstractions here! All the activities are detailed as they were actually run, including pictures of the group at work and their posters. A great place to get a better sense of facilitation-based training in action!
For more ideas on introducing newcomers to facilitation you can also check out this template for a half-day beginners workshop.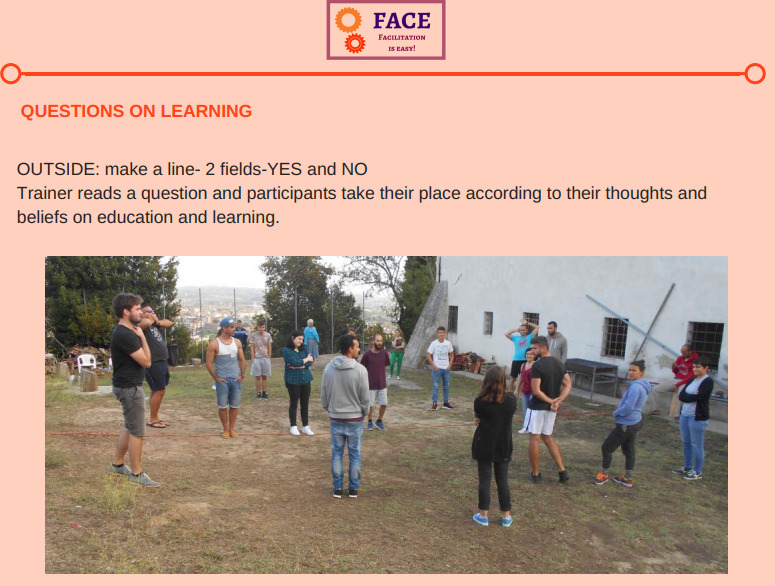 Manuals to Help You Become a More Skilled Facilitator
The facilitation compilations we have presented so far put an emphasis on hands-on, immediately implementable facilitation techniques and activities, usually according to some kind of categorization. They are good for bringing variation to your existing "facilitator toolbox" of frequently used exercises.
However, sometimes you might need to go back and review the basics of facilitation principles, or you might just be getting familiar with this field. Whatever the case, the next toolkits will help you dive into the more abstract yet equally important part of facilitation: the basic principles and good-to-knows.
All facilitators pretty quickly realize that there is a lot more to guiding groups than just having a good set of activities.
Beyond having a magic box of tools, facilitators must develop an understanding of how groups work, what the possible underlying dynamics are, and what stages a discussion typically undergoes on its way to becoming a successful decision.

Facilitators must understand how to raise, and maintain, energy levels; how to include diverse voices; how to co-create safe space, and more. The following booklets can help you improve your facilitation skills in this direction, and better serve your participants and clients.
FFBS Facilitation Toolkit
Aim: Understand the process of facilitation
Number of Techniques: 5
Unique feature: A walk-through of facilitation processes with handouts
This facilitation toolkit from Care.org is a practical starter toolkit covering all of the important areas a facilitator should know about before actively facilitating groups. FFBS stands for Farmers' Field and Business Schools, which is an educational and empowerment program for women in agricultural activity in the global south.

As the context indicates, this material is a good starting point for those who are new to the facilitating world. Among the topics, you will find "adult learning", "qualities of a good facilitator", "how to moderate exercises" and "giving and receiving feedback".

Although the focus is more on "how to facilitate" the toolkit also offers some basic facilitation exercises indicating materials and objectives next to the recommended time and group size. If you are only getting familiar with facilitation, or you need to refresh the basics, then make this collection your go-to resource.
NHS Institute for Innovation and Improvement Facilitator's Toolkit
Aim: Increase interaction and participation at events and meetings
Number of Techniques: 27
Unique feature: Top tips about what not to do
The NHS' Facilitator's Toolkit is divided in two main sections, with a user-friendly design somewhat reminiscent of a map of metro stations (well, tube stations I guess, this being the UK). The first part contains 27 easy, friendly activities, divided into sections that follow the structure of a typical meeting or event, from getting-to-know-you to closing activities. Do note that these are very much geared to native speakers of English (i.e. some rely on rhyme and alliteration) so make sure you choose those most appropriate to the group you are working with.
While the first part of the booklet is useful in itself with many tried and tested facilitation resources, the final sections really shine. The team putting together this resource has found expert facilitators to provide their top tips: some are scattered along the methods, and others are collected in the second part. With headlines such as "Preparation and venue" and "Managing group dynamics," these provide clear and practical guidance to anyone wanting to learn more about how facilitators work. The "What not to do!" list at the very end is an absolute gem. What top tips of things not to do would you add?
Transgender Europe's (TGEU) Facilitator's Toolkit
Aim: Learn how to handle power, conflict and diversity
Number of Techniques: 23
Unique features: Available in Spanish, and in text-to-speech format.
This Facilitation Toolkit is written by Nim Ralph and Nadia Vogel and is based on their work as facilitators with the European Transgender Council. The Facilitation Toolkit takes a power-critical approach to facilitation.
Anyone gaining more experience as a group facilitator will soon encounter complex challenges related to how to appropriately handle power differences, such as between a manager and a new intern in the workplace, or between founders and newcomers in a volunteer association. This guide offers practical, no-nonsense support to facilitators in need of developing an extra bit of self awareness in the more challenging aspects of the role.
It includes brief guides on understanding power, dealing with conflict, understanding different kinds of learning styles and how to make space for these in your sessions, as well as considering access needs while facilitating or preparing sessions. As is fitting for a guide that explores accessibility with intent, it is available not only just in English but also in Spanish, and in a text-to-speech format (in English).
Resources for Leading Group Discussions
A large part of the facilitator's job is to carefully lead groups through discussions. You may call this part of the task "moderation", "directing traffic", or have your own words for it. The fact is, it may be the most common application of facilitation skills even outside structured, carefully designed workshops.
There are many different ways to lead collective discussions. You'll need to know how to kindly interrupt, how to pose questions that move the group ahead, as well as how to reformulate, summarize, hold, and reconcile differences.
If you are looking for a tool to help you with this particular part of a meeting or event, here are three interesting sources of knowledge created by organizations working at the intersection of education and policy.
University of Edinburgh's Facilitator's Toolkit
Aim: Integrate reflective practices in higher education
Number of Techniques: 5 (find them in the Reflection Toolkit section)
Unique features: Case studies from classroom practice
As we've recounted in this article on teachers as facilitators, good classroom practices such as having small group teamwork or well-led discussions have a lot in common with facilitation. In this web-based toolkit, the University of Edinburgh has put together a complete overview of how to employ group discussions and reflective practices in higher education.
Facilitating political discussions booklet
Aim: Training to work through charged political conversations
Number of Techniques: 13
Unique features: Handouts to encourage self-awareness
This packet of workshop materials was put together by Nancy Thomas and Mark Birmhall-Vargas on behalf of the Institute of Democracy and Higher Education at Tufts University. Addressing the risk that teachers and university staff might shy away from charged political discourse, they have provided a guideline that may prove uniquely useful to any facilitator looking for facilitation resources directed specifically to having those difficult conversations around political ideology, social identity and power.
This booklet contains great advice on how to set ground rules and navigate the tensions of discussions where there is no clear "wrong" or "right" and participants may feel attacked in their personal beliefs. It includes plenty of tips and handouts to help self-reflection and growth. The advice contained in this guidebook will work with larger groups as well.
Do note that some of the specific exercises included are quite US-centric and some may be dated or not applicable to your group, so you might need to change some handouts and base discussions on topics more relevant to your specific situation.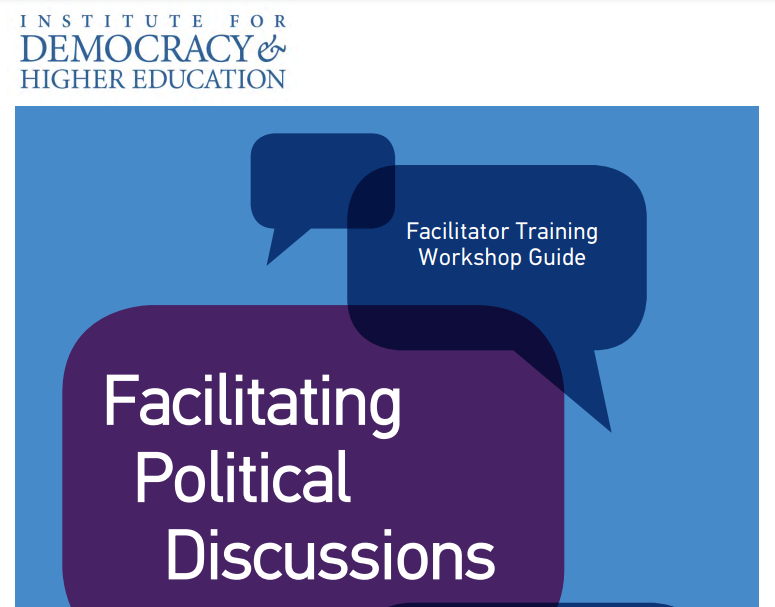 Talking Climate Workshop guide
Aim: Learning to host open conversations on a sensitive topic
Number of Techniques: 7
Unique features: Focussed on climate change
Last but not least comes a guidebook to facilitating conversations around a very specific topic: talking about climate change. These resources provide practical evidence-based guidance on how you can help friends, family, colleagues, neighbors and any person in your community feel more confident about talking about climate change in their daily lives.
This workshop is based on what the organization Climate Outreach calls REAL TALK:
Respect your conversational partner and find common ground
Enjoy the conversation
Ask questions
Listen, and show you've heard

Tell your story
Action makes it easier (but doesn't fix it)
Learn from the conversation
Keep going and keep connected
The guidebook is short and to the point, and comes with a full workshop script and slide deck you can use or pick up for inspiration; if you want more resources on climate conversations, the same website provides plenty of documentation to study.
In closing
Whether you are a seasoned facilitator with several years of experience behind you or an enthusiastic newbie who has just gotten a taste for this profession, we hope that these facilitation resources will be of value to you and become part of the next steps in your facilitation journey.
Which are your favorites among these toolkits? Do you know of more resources? Please share with us in the comments, or join the discussion in our free, friendly community space; we would love your input and feedback!