Top 10 Free Online Resources for Workshop Activities (2020)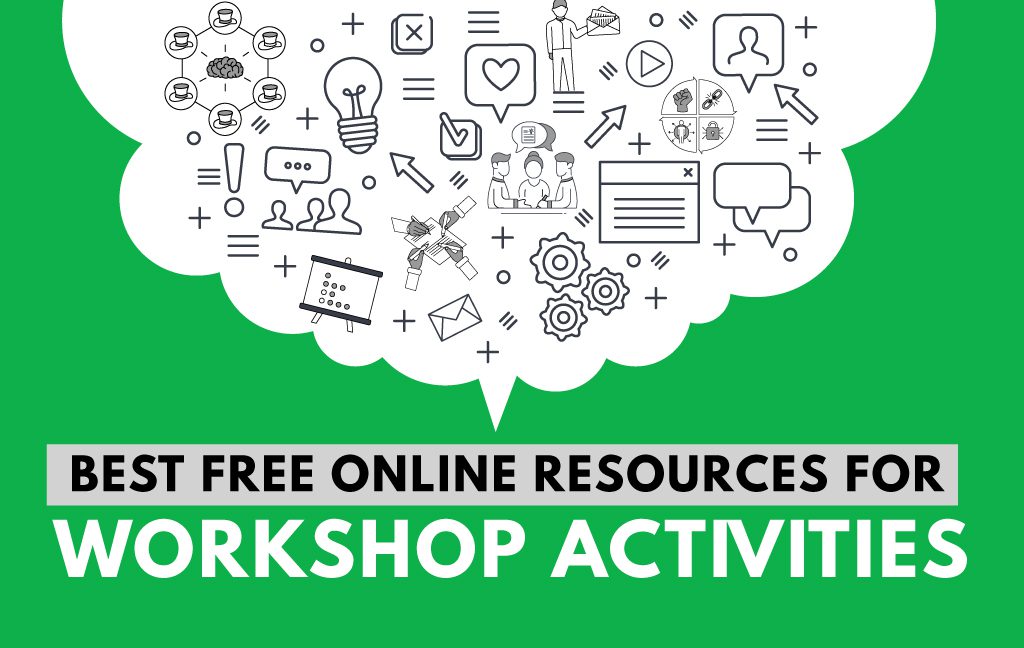 Meetings and workshops are a significant part of work for most of us. Whether they end up being useful or a waste of time depends a lot on how they are designed.
A diversity of workshop activities and balanced mix of group facilitation techniques are essential for any facilitated session, be it a strategic workshop, a team retreat, a kick-off meeting, a co-creation session or a regular project meeting.
It takes careful consideration to pick the right interactive workshop activities for your session, the ones that will fit perfectly with your objectives, group size, profile of participants, and available time.
You may already have some favourite exercises for different types of events, but as you facilitate more and more meetings, you might not want to use the same workshop activities over and over again.
So what are the best ways to equip yourself with new group facilitation methods? You might ask some experienced colleagues to share their tips and tricks or read a thorough and insightful book on workshop facilitation. Or if you don't have the opportunity for either of these options, you might just hit the web.
There is a myriad of resources online that can help you pick the right tool or technique for a specific meeting. Some are hard to navigate and only offer generic tools, while others provide you precisely described workshop activities with practical facilitator tips in an easy-to-navigate web environment. Listed below are our favorite and trusted facilitation resources.
Design better workshops for free
Workshop Activities – Platforms with great content and UX
In this first section of the article you will find platforms that not only offer high quality group facilitation activities and workshop activity ideas but also help you find what you are looking for by allowing you to apply different filter criteria on a user friendly interface.
Hyper Island is a creative business school which also offers consulting services. It approaches learning by focusing on collaboration, creativity, and learning-by-doing. Hyper Island Toolbox offers a selection of activities to help you do things more creatively and collaboratively in a team or organisation. It features both some popular, well-known workshop activities and facilitation methods created by Hyper Island itself.
The HI toolbox hosts more than 70 activities on an extremely user-friendly interface that allows browsing by category, time frame and group size. All methods are illustrated with consistent and relevant visuals, making it easy and visually pleasant to browse.
WorkshopBank is an online community that provides information, techniques and resources for trainers and businesses that need help with things like team building. Although a paid subscription offers access to full workshop templates and unbranded content, you can find more than 40 free tools and activities on their site to help create high-impact meetings, events and workshops.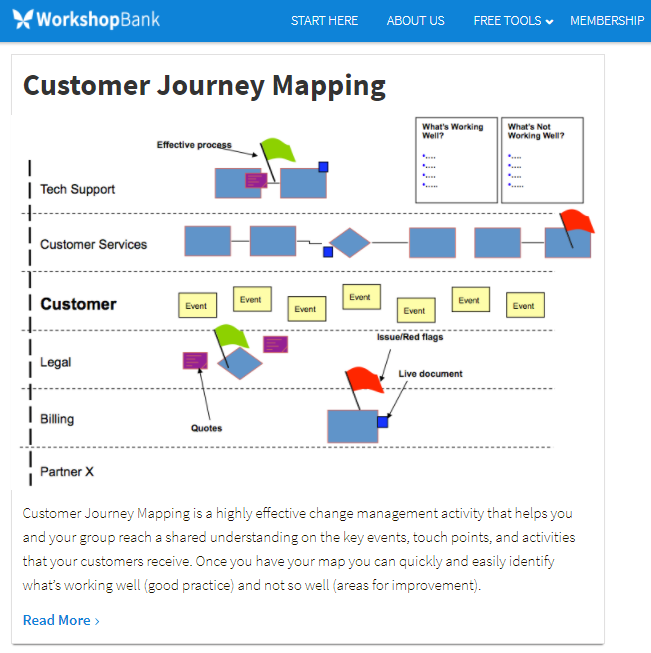 The free activities are described in great detail to capture the essence of any exercise, and you can find downloadable Powerpoint templates for each activity to help you run it in a meeting.
SessionLab is an online platform providing a workshop planner application and a public library of facilitation techniques, developed by the makers of this blog. The library hosts more than 700 interactive workshop activities, both coming from organisations sharing their own content (including some like Hyper Island and Gamestorming that are also featured in this list) and individual meeting practitioners sharing their favourite tools with the community.
A unique feature of this library is that it allows you to easily save and use its activities. If you find an activity you like, you can save it for later in your collection of favourite methods. And if you decide to use SessionLab's free workshop planner tool, you can easily pull any activity from your personal or the public library to your workshop plans, and your workshop agenda's timing automatically gets updated.
The MediaLAB Amsterdam Design Method Toolkit is a well-organised collection of design and research methods that enables you to get started and enrich your design process. You can find more than 50 practical tools with step-by-step guides on how to run design research, ideation, experimentation and creation within short iterations. If you run agile, team-based projects, then you will find useful inspiration in this toolkit.
The IAF Methods Database is a set of facilitation tools and techniques collected and curated by IAF members. The purpose of the database is to serve facilitators by gathering and making accessible a breadth of facilitation methodologies and techniques. Part of the library – around 50 facilitation methods – is publicly available to help facilitators promote the power of facilitation worldwide, while the full library is accessible for IAF members only.
Further Useful Resources for Workshop Activity Ideas
We highlighted the five platforms above due to their ease of use, each of them offering useful filters and search options. Thus, if you want to find an exercise for a specific purpose (e.g. team building) with a given time frame and group size, you can easily filter by these criteria.
However, there are many other gems on the web, too. While it might take a little more effort to find the exact tools you are looking for, you will certainly find valuable workshop activity ideas and templates on the following sites:
Gamestorming is a set of co-creation tools used by innovators around the world to facilitate meetings in the business world. These innovative activities aim to make meetings a great experience for participants while still delivering on effectiveness, short timeframes and action.
You can find more than 50 Gamestorming activities with detailed step-by-step guides on the official Gamestorming website. And if you like a good old printed version to look over the Gamestorming methods all at once, you might like the Gamestorming book itself, too!
Are you already familiar with the Business Model Canvas and the ingenious way it helps structure thinking on developing a business model? This toolbox offers a great collection of templates and canvases in a style similar to the BMC, mostly related to business design, such as the storytelling canvas, customer journey canvas, persona canvas and many more. You can find step-by-step guides on how to use each framework coupled with downloadable templates to use in your workshop.
The aim of Liberating Structures is to enhance creativity, trust and relational coordination while making every participant feel included and heard in meetings. You can find a structured set of 33 easy-to-learn group facilitation activities on their website. Liberating Structure methods help make meeting processes more explicit and understandable for everyone since it increases the ownership of solutions by including large groups of people. If you are just starting out with Liberating Structures, then you can find inspiration in several field stories that suggest sequences of use for the LS methods.
The National Coalition for Dialogue & Deliberation is a network of innovators who bring people together across divides to tackle today's toughest challenges. Their resource center features a vast quantity of group facilitation activities and change management tools, and you can find over 180 tools and methods used for dialogue and deliberation listed in the Participatory Practices and Dialogue & Deliberation methods section of the resource center. The depth of write-up vary greatly from method to method, but you can find great assets among the methods.
Thiagi's website offers more than 400 free games and exercises with detailed descriptions, facilitation tips, and debriefing questions, ready-to-run for everyone. If you want to filter your search among the games, you might visit the SessionLab library where you can find a significant set of these activities shared with Thiagi's permission. There you are able to search and filter based on tags, time and group size to find the activity you need.
We believe these online resources are worth checking out if you are looking for new tools and techniques for your next workshop or meeting. We hope they will save you time and help you find new and effective activities.
Which is your favourite resource for workshop activities?
Let us know in the comments! We also greatly appreciate if you share any further suggestions for free useful workshop resources.