How to design a learning and development strategy
Workforce development is increasing at a faster rate than ever before, especially with the shift toward digital processes. People's working lives are far longer, and remote work and hybrid scenarios are becoming increasingly common.
As the necessary skills in business are constantly evolving, staying ahead of learning and development is a must for companies today. Having a great learning and development strategy is not only important for the companies themselves but for employees too.
People are not only working to make a living, and value investing in their personal growth and overall job satisfaction. Whether it's improving soft skills in developing team emotional intelligence, or cultivating practical skills to adapt to different ways of working, they are all areas that benefit from ongoing development.
87% of people acknowledge the need for training and developing new skills throughout their careers. This article keeps all of these topics in mind, whilst giving an overall "How to" process to create an L&D plan, whatever the subject matter!
What is a learning and development strategy?
I love learning. I'd be the first to put my hand up when there's an interesting and informative course on offer. As part of the millennial cohort who are consistently seeking self-improvement on some level, I'm not the only one.
It's not just millennials, of course. We've all had to become flexible and open to learning new skills to stay relevant in the forever-changing job market. Many people are working beyond their planned retirement age or changing careers completely. We're no longer leaving school, joining a company, and staying put for 20 years!
Before working at SessionLab, I don't recall ever working for a company that had an actual L&D strategy in place! I'm very happy we have one, and it really does illustrate how a company invests in its people and has a progressive outlook. So what is one?
Simply put, a learning and development strategy is a blueprint that outlines how an organization identifies, tracks, and implements employee training and development opportunities.
An effective learning and development (L&D) strategy are vital to the long-term growth and success of a company. Done right, it will confidently equip individuals to do their job and work together to drive the company forward.
There are different methods of documenting an L&D journey, but most successful strategies should have the following processes in common:
Identify company goals and the skills necessary to achieve them.
Invite each individual to determine their own key strengths, the goals they'd like to achieve, and areas in need of development to reach those ambitions.
Align the organization and team members in prioritizing the skills and tools where improvement is needed.
Create a plan and action it using the best learning methods and tools.
Together, track progress in an ongoing manner.
Finish by reflecting, celebrating, and creating goals for future development!
These processes are the backbone, but are flexible to mold around the learner's needs. A strategy can cover different tasks too, from onboarding an employee to upskilling someone into a leadership role. An organisation would also do well to define an overall L&D strategy to open up learning opportunities to employees, and invest in them as individuals.
Why Are learning and development strategies important?
These days, having processes in place to improve learning and development is not an option, it's a must. Companies that invest in employees' development will benefit from attracting and retaining talent, saving both time and money in the HR process.
The 2022 LinkedIn survey showed that
"Companies that excel at internal mobility retain employees for an average of 5.4 years, nearly twice as long as companies that struggle with it, where the average retention span is 2.9 years"

LinkedIn Workplace Learning Report 2022
The same report also mentions that 79% of L&D professionals agree that it's less expensive to reskill a current employee than to hire a new one.
The key reasons in 2022 for development are focused around leadership and management training, and re-skilling and upskilling employees. Investing in development can almost guarantee an improvement of processes, which in turn will make a company much more productive.
Career development is a major incentive for employees, and the top three motivations for wanting to learn are:
Staying relevant in their field.
Having a personalized learning path that includes their interests and career aspirations.
Internal progression and promotion, or bringing them closer to their career goals.
Having a strong strategy in place that is revisited on a regular basis ensures that the learning and development goals are tracked, recorded, and achieved. Without it, employees may lack core skills, be unable to grow, and feel demotivated.
The key elements to creating a learning and development strategy
A company strategy clearly states a set of practices and procedures that demonstrate expectations, the opportunities available to employees, and how together we can achieve the company's goals through personal development. Its primary purpose is to align business, employees, and anyone involved with people management.
In this section, we'll cover the key elements needed to create and document the strategy before implementing it. We'll cover how you can:
Document the strategy
Choose a tracking system that will work with your plan.
Align company goals with individual strengths and areas of development
Design personal development goals.
Prioritize learning objectives
Decide what the metrics or measurements of success will be.
Assign responsibilities for implementing the strategy
Decide on timelines and schedule regular check-ins
Collaborate & design your learning and development strategy
Firstly, gather the relevant people who will collaborate on the strategy. This will definitely include senior management, any stakeholders who have a business interest, and possibly an internal or external consultant with detailed knowledge of L&D processes and practices.
The team responsible for designing the strategy should have the authority to decide on budgets, and project scope, and be responsible for allocating resources. They should decide on a timescale to create the strategy, and perhaps form a series of workshops to collaborate in the creation of the strategy.
In these meetings, the team should decide on a way to document and track the strategy in a formalized way that will work with their plan. The development plan should contain clear goals and objectives along with benchmarks and KPIs to align with the key objectives. A company's L&D strategy should of course work in tandem with the overarching business strategy, and outline methods of prioritization for learning to align with this.
A strategy will contain the resources available to the L&D team to implement the plan. It should include the reasoning behind the strategy, how it will be actioned and tracked, and what outcomes we aim to achieve. It will also contain the training materials, and resources, which can be a mix of internal in-house training and external accredited courses, depending on the objectives and overall budget.
Responsibilities for actioning the strategy across the teams should be agreed upon, along with a timeline for this to take place. Regular feedback and check-ins should be scheduled to see what's working and what needs to be improved upon.
Documenting learning & development
At SessionLab we use Notion to document all of our internal processes. This includes everything from our company values to roles and competencies, and personal development opportunities, all of which are transparent to all employees. Between a team member and their manager, we have separate private documents to record notes from our regular 1-1s and where we set out our growth development plans for the future.
Openly documenting these practices within the company encourages people to identify their own strengths and weaknesses and be comfortable asking for support in developing their skills. For the most effective results, having a document to record development with an end target in sight will be far more likely to obtain the results than an undocumented process.
Create a learning document for learners and managers to document and refer back to throughout the process. This serves as a single source of truth and can be as simple as a shared Google Doc, to a full LMS package.
Align company goals with individual strengths and areas of development.
Start by establishing company goals, roles and responsibilities, and the skills necessary to succeed. Create a document or template and include prompts to help individuals recognize where their strengths lie, what their needs are, and their areas of improvement. The template might ask:
What are the company goals?
How does your role contribute to that?
What are your career goals?
What do you do well in your current role?
What support do you need?
Which skills would you like to develop?
People with leadership roles within the company should also be encouraged to identify their team's strengths and areas of development to spot opportunities for improvement in a way that works best for their team. It's important for a leader to refer back to the objectives in the strategy so they can develop the team in a way that serves both company and individual goals, ensuring growth happens in the right way.
A team member's strengths can play an important part in training other team members too. For example, someone who is talented at data analysis could mentor another team member, encouraging peer-to-peer learning.
A company might also use assessments such as online or written examinations to record an employee's specific competencies. The results can help to plan and develop clear goals and objectives. These can then be assessed after training to determine if the training was valuable. The strategy and tracking of development should always be kept in mind and referred back to regularly to ensure that the learnings are the right ones with the desired outcomes.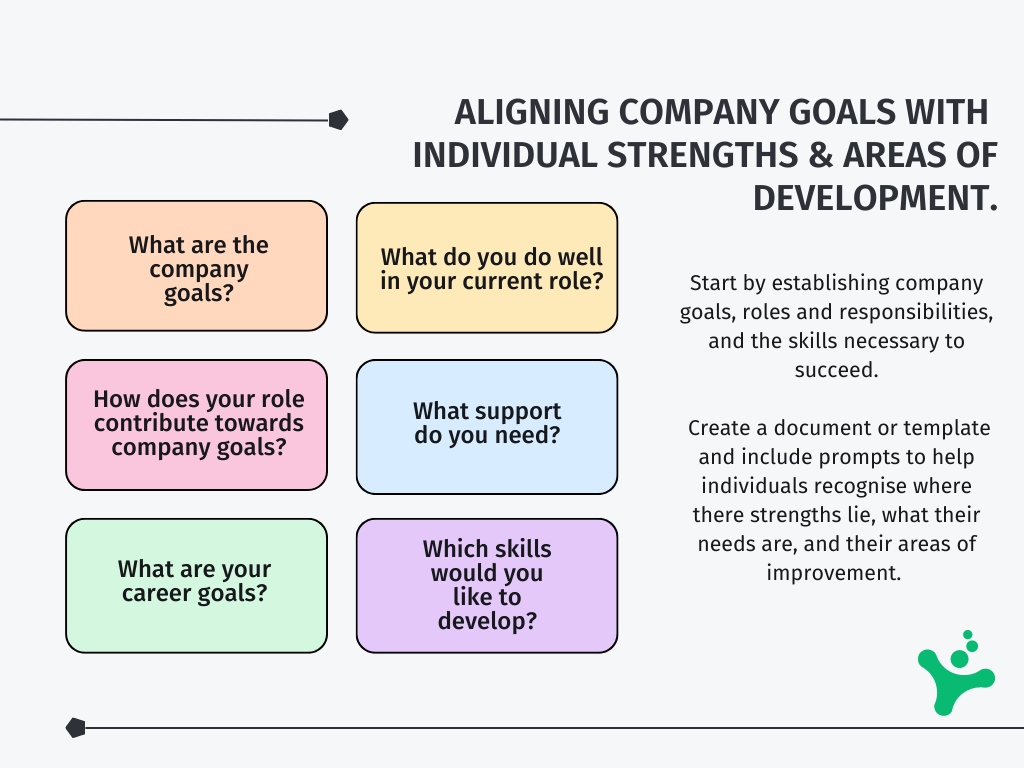 Design personal development goals.
An individual L&D strategy can be personalized to help an employee reach their full potential by providing access and support to educational opportunities. Be that formalized or smaller goal-orientated learnings. Remember, there isn't a one-size fits all approach to learning. A recent graduate will have different learning needs than a senior manager.
A personal strategy helps tremendously with accountability! Especially if this is co-developed between the learner and the manager, as both parties will take ownership of their responsibilities, learning tasks, and tracking. People work easier with a defined plan that outlines what needs to be done, and how we can get there together. For example, an onboarding checklist can be a learning strategy or teaching a new skill such as how to write and send the company newsletter.
I recently completed my Agile PM certification, which is more formalized learning. The course had a guided strategy and checklist that kept me accountable and on track. Initially, I had studied a PRINCE2 course and I found the methodology outdated as well as irrelevant to my personal career path, so I switched. The Agile path aligns with my future career plans and interests, and I can apply the learnings immediately in my role at SessionLab!
Prioritize learning objectives.
Choose which learning objectives take priority and set those as a target. This may be immediately apparent from assessments and reviews, but it also might be a case of many areas of improvement being identified. Some people, myself included, want to learn more about several areas! So, "How do we decide which should take priority?"
We can revisit the company goals, and the responsibilities of the employee's role and perhaps group areas of similarity together. As an example, the marketing team's strategy may be to improve their social presence and community engagement. A member of the marketing team may identify a gap in their own skills to want to improve their writing style for social media posts. They might also wish to find ways to interact with people in the community. Both social media channels and a community are similar in that they both require clear communication with customers.
Applying a learning plan that includes attending workshops, and creating a style guide will contribute to the company's marketing strategy and put the skills to immediate use!
Choose one or two key areas of focus and work on those before moving on to another area. Our Product Manager at SessionLab made an interesting reference to self-help books when implementing changes and learnings.
People often read one self-help book after another without applying any of the advice and seeing no results. If we read one useful resource and follow up with the actions rather than diving into the next book, we are far more likely to change habits and therefore see positive changes.

Sandijs Liepiņš, Product Manager at SessionLab
Implementing a learning & development strategy
Now that you and your team have your strategy document in place, it's time to start to implement those actions and track your development. In this section we'll cover:
The responsibilities of the learner, the team leader, and the organization
Choosing effective tools and techniques
Using in-house workshops
Tracking progress and feedback
Reflect, celebrate and improve!
Own your responsibilities
Every learner needs support. However, a learner should ultimately be responsible for their own development. The employee/learner can chart their own path and explore ways to develop the skills they have decided on with their mentor. Being responsible for completing tasks and their own agenda will make sure that they are actioning their newly learned skills.
The support system includes a manager, mentor, or coach. The person in this role is responsible for providing feedback, guiding the learning process, and mentoring the employee. They open doors to educational opportunities and can provide real-life situations and case studies to support development.
As well as feedback and direction, the employee can see this person as their accountability partner. It's often easier, more productive, and enjoyable to have a buddy help them reach their development targets. The coach is the support system that assures the learner of their capacity to reach their goals.
The company is responsible for the overall strategy and for resource and budgeting considerations. These must be part of an effective learning and development strategy. For example, will employees benefit more from internal training and workshops, or would providing access to quality further education classes and courses be a better route?
Choose effective and flexible learning tools and techniques
Traditional L&D strategies might've been a week-long classroom set-up, with little to no follow-up sessions, and no application of the skills learned afterward. Nowadays, change is on the horizon, and we might be lucky enough to belong to an organization that follows a continuous development path with applied practical scenarios. But there's still work to do to make this a reality in many companies! How can we do that?
The approach taken should be bespoke to the individual and their needs. It might be a blended route of in-person workshops alongside online asynchronous work that fits around the person's schedule. Peer-to-peer learning, case studies, and working practically with on-the-job coaching can allow the learner to become competent in an effective and efficient way.
The benefit of a flexible learning plan allows us to try different styles of learning, and be agile to adjust.
When to choose formal training courses
Formal training courses are recognized certifications and courses. Usually, these are qualifications that will be in place for a specific role. For example, CIPD (The Chartered Institute of Personnel and Development), is the regulatory body for HR professionals, and obtaining their certification gives the benchmark for best practices.
Formalized learning, doesn't have to be at a university or an in-person training workshop. The Agile PM course I studied is entirely a self-led journey using a pre-recorded video and handbook to study before sitting the exam online.
How might your company encourage more collaborative learning?
This brilliant video on 2022 L&D trends focused on collaborative learning, encouraging a curiosity towards learning with a more holistic approach. Instead of a top–down structure to development, teams can learn from one another through peer-to-peer training. Video can help facilitate collaborative learning in remote contexts too.
At SessionLab, we often use Loom to record a process that will also be useful to other team members to watch in their own time. It means we don't have to repeat the demonstration multiple times and have a library of recorded training to refer back to.
Learnings can be documented using tools like Notion to develop an ever-growing collaborative handbook of best practices, techniques, and resources. Think of it as a company's open-source "learning library" that all employees are invited to contribute to.

Design effective in-house workshops
Companies very often use in-house workshops to train groups and align everyone on practices within the business. This might vary from a workshop designed to set team values, or a learning process relevant to a specific process such as design sprints. A great way to keep your lessons and workshop exercises on an agenda is by using SessionLab! Once you've created a great workshop, it's saved to your account and the training can be repeated over and over with new teams.
Finding exercises for your workshops depends entirely on the subject matter, but if you're looking for an exercise specific to L&D within your company, you could try Engineering your Team OS from Hyper Island. If you are working on growing awareness of diversity, inclusion, and equity with your HR team, this article outlines the importance of inclusion.
Developing soft skills such as emotional intelligence is considered a key goal for companies too. Investment in your team's self-awareness can improve morale, well-being, and direction. Having these foundations will enable the individual to recognize their strengths and areas in need of improvement. If emotional intelligence is a growth area for your team, you can explore some activities, or run your own self-awareness workshop!
Tracking an individual's progress
Individual development plans can benefit from regular check-ins. This can be done through weekly or monthly 1-1s with a manager or mentor, and the purpose is to give feedback, keep each other up to date, resolve any issues, and help the participants grow and develop. It is a space that is dedicated to discussing any issues or celebrating achievements that might not be brought up during a busy work schedule.
An individual might journal or track their own progress in the strategy document. This activity can bolster the 1-1 meetings, and help remember points that the employee might wish to bring up. Using questions to prompt the participant's development can help with clarification. Prompts to identify areas of growth might be:
Based on recent feedback, are there areas you'd like to develop further?
What steps can you take toward these goals?
What parts of your job do you enjoy most? What's inspiring and makes you feel energized?
Which parts of your job do you least enjoy? What task would you like to stop doing if possible?
Where do you see yourself this time next year?
For more ideas on talking points for one-to-ones, there is a handy resource by Small Improvements, a website with tools specific to learning and development.
Reflect, celebrate, and improve!
It's good practice to reflect on your strategy, seeing what has worked and what hasn't. That's why tracking progress early and often is important. It's useful to analyze data such as:
Department KPIs. How have the learning and development goals contributed to these?
Company goals. have they been achieved? What approaches were successful? Which were not?
Employee growth and how people thrive. Kim Scott describes employees as 'Rockstars and Superstars', and companies need both types of people to excel. Superstar growth in terms of L&D strategy can be measured through promotions and progression. Rockstars' success is measured through satisfaction and the ability to thrive in their current role.
Reviewing the success of the company's L&D strategy can be done in a formalized end-of-year retrospective. Development is an ongoing process of growth as we learn, change, and develop new skills. With the information from our L&D retrospectives, we should take the time to celebrate successes and then use the feedback to improve our strategy each time. This can be done by identifying:
What has worked, and what will continue?
What didn't work
What are our key lessons this year?
What are our focus areas for next year?
Any parting thoughts?
Conclusion
Creating and implementing an L&D strategy is an ongoing process, and something that should be just as important as the daily running of a company, and the bigger projects taking place.
Having a strong strategy that is revisited regularly and ensures that employees are enabled to do their best work will result in success all around.
What are your thoughts on creating and implementing an L&D strategy? Are there any tools or techniques you'd like to share? Let us know in the comments!