14 Best Virtual Meeting Tools (that we actually use!)
Virtual meetings have become the lifeblood of modern work and collaboration. Whether you're hosting a team meeting, conducting a client presentation, or facilitating a workshop, the right virtual meeting tools can make all the difference in productivity, engagement, and overall success.
In this comprehensive guide, we'll explore the 14 best virtual meeting tools for 2023, each offering unique features to enhance your online interactions and run more productive online meetings.
In a remotely distributed, always-online world, virtual meetings are the norm. On a typical week, more than 50% of employees spend between one and three hours in virtual meetings. That's a lot of time spent looking at cameras and screens!
An effective online meeting can help teams get aligned, plan tasks and feel connected in less than an hour. The right tools help facilitate this process and help improve productivity too.
In this guide, we'll share some of our favourite online meeting tools that we use across our teams at SessionLab. Here, you won't find a recommendation that we haven't used ourselves!
Looking for free online meeting tools? All but one of these tools has a free option! We'll share some insight about price and how we've used each app so you can easily decide what to bring to your next virtual meeting without needing to worry about pricing.
SessionLab: Your Meeting Design Ally
Best meeting design tool
Key Features:
Fast, effective agenda design.
Drag & Drop agenda builder.
Automatic timing calculation.
Real-time collaboration.
Beautiful printouts.
Templates and reusable agendas.
SessionLab is more than just a virtual meeting tool; it's your secret weapon for designing, facilitating, and documenting effective meetings and workshops. Whether you're a professional facilitator, a trainer, or a team leader, SessionLab empowers you to plan and run engaging virtual sessions with ease.
Simple, effective agenda design: SessionLab provides a comprehensive platform for designing workshops, meetings, and training sessions. The intuitive drag-and-drop interface makes designing your agenda a breeze. Add blocks to easily create your meeting structure and build from there.
Stay in control of time: Add clear timing to every activity and create a minute-perfect agenda. Use Time Tracker to help you stay on time while running the meeting. When you need to make changes, your timing will update automatically. Save time on manual adjustments so you can focus on running an effective session.
Session Templates and Reusable agendas: SessionLab simplifies the meeting planning process with pre-designed templates and reusable agendas. Ensure that your meetings and workshops follow a structured format across your entire organization. Save time by reusing and adapting your recurring meeting agenda.
Does it have a free version? Yes. You can design up to 10 meeting agendas in SessionLab for free!
Zoom: The Video Conferencing Giant
Best video conferencing tool
Key Features:
High-quality video and audio.
Screen sharing and annotation.
Breakout rooms for group discussions.
Robust mobile app.
Integration with third-party apps.
Zoom almost needs no introduction. Renowned for its reliability, ease of use, and comprehensive feature set, Zoom is a top choice for video conferencing, webinars, and more.
Whether it's for internal meetings or running events in our community, we've found that Zoom offers a solid, reliable platform for video calls. It's easy to do screen sharing with participants, set-up breakout rooms for group work and control the flow of the meeting. It's also a good choice when we want to record sessions or invite external collaborators to meet.
Zoom's integrations are also a massive boon when it comes to collaboration. We often pair Zoom with an online whiteboard such as Miro or Mural and have our SessionLab agenda on the second screen to keep everything running smoothly.
At this stage in the game, Zoom is a great choice of online meeting tool because everyone is so familiar with it. Your meeting attendees are likely to know how to navigate between chat channels, jump into breakouts and send emoji reactions. This means they can focus on the content of the meeting, rather than fumbling with controls.
Does it have a free version? On Zoom's free plan, you can run an online meeting with up to 100 attendees for up to 40 minutes.
Miro: Unleash Creativity in Virtual Sessions
Best online whiteboard tool
Key Features:
Online whiteboard and collaboration platform.
Visual thinking tools for brainstorming.
Pre-built templates for workshops.
Integration with popular apps.
Real-time collaboration.
Miro is a powerful digital whiteboard for encouraging creativity and collaboration in virtual workshops and meetings. It's a versatile tool for visual thinking and ideation and we use it in many of our more involved workshops and meetings.
Collaborating in real-time on a shared digital canvas with notes, ideas and other resources is a great way of making a virtual meeting more interactive. We often use Miro's voting features to help us sort and prioritorize ideas during many of our sessions. The extra features available to the meeting host are really helpful when it comes to facilitating more complex sessions.
Miro is also great to use before and after a meeting. We'll often add ideas or topics to a Miro board ahead of a meeting and use it as a continuing workspace for remote team members afterwards.
Visual thinkers will be immediately at home in Miro. It includes many visual tools including sticky notes, flowcharts, and mind maps, to facilitate brainstorming and idea generation. We love being able to add images and GIFs to a board too!
Does it have a free version? Miro's free plan is enough to get started, with a single workspace and 3 editable boards.
Calendly: Simplified Scheduling for Online Meetings
Best meeting scheduling tool
Key Features:
Automated scheduling and appointment booking.
Personalized meeting availability.
Integration with calendar apps.
Customizable meeting types and durations.
Meeting reminders and notifications.
Calendly is an efficient scheduling and appointment booking tool that streamlines the process of arranging meetings, consultations, and appointments. It simplifies scheduling by allowing users to share their availability and book appointments effortlessly.
With Calendly, you can automate the scheduling process, eliminating the back-and-forth emails to find suitable meeting times. Share your Calendly link, and participants can book appointments based on your availability.
At SessionLab, we use Calendly extensively when arranging external virtual meetings, whether that be user interviews or partner meetings. It's simple, easy to set-up and takes a lot of hassle out of arranging meetings. The integration with Google Calendar is a particular benefit here!
Calendly also sends automated reminders and notifications to participants, reducing the likelihood of no-shows and ensuring that everyone is prepared for the meeting.
Does it have a free version? Calendly's free plan you to have unlimited meetings of a single event type, and we've found it plenty to get started with!
SpatialChat: a Space for Virtual Networking
Best tool for virtual offices
Key Features:
3D spatial audio for natural conversations.
Virtual spaces for events and meetings.
Networking features for social interaction.
Customizable virtual environments.
Integration with calendar apps.
SpatialChat brings a fresh approach to online meetings by creating immersive, 3D audio-based virtual spaces for events and meetings. If you're looking to create a shared office feel or create a space where spontaneous conversation can occur, SpatialChat is a great option in a crowded video conferencing market.
In SpatialChat, you and your team can create virtual spaces for events, conferences, or team meetings, complete with customizable environments and layouts. Coupled with proximity-based chat, it can create a space where participants can network and socialize naturally. At SessionLab, our product team uses their space to engage in spontaneous conversations during the workday and have made it their own!
Does it have a free version? SpatialChat offers video conferencing for up to 5 users for 2 hours a day on its free plan.
Otter.ai: Transform Virtual Meetings into Searchable Content
Best tool for meeting transcription
Key Features:
Automatic transcription of meetings.
Searchable and shareable meeting notes.
Integrations with popular conferencing tools.
AI-powered summarization.
Real-time transcription.
Otter.ai is an intelligent assistant for turning spoken words into searchable, shareable, and actionable meeting notes. It's been very useful for creating meeting transcripts, particularly during customer interviews or discussions.
Otter.ai transcribes your meetings in real-time, capturing every spoken word with accuracy. The transcriptions are searchable, making it easy to find specific discussions or topics. You can also share these notes with team members for reference.
While not every virtual meeting calls for Otter.ai, I've found it can be a great way to speed up the process of transcription and summarization.
Does it have a free version? With 300 monthly transcription minutes at 30 minutes per conversation, Otter.ai's free plan is well positioned to start supporting your online meetings.
TeamRetro: Elevate Your Retrospectives
Best tool for running team retrospectives
Key Features:
Agile retrospective and feedback platform.
Pre-built retrospective templates.
Collaboration and voting features.
Action item tracking.
Integration with project management tools.
TeamRetro is a dedicated platform for agile retrospectives and feedback gathering. It streamlines the retrospective process and empowers teams to continuously improve their work. When we're running retrospective meetings, we often kick-off asynchronously by asking team members to add input to TeamRetro before presenting and discussing items during the session.
While you could run an agile retrospective without it (or recreate the process in your online whiteboard) we've found it much more effective to use a dedicated tool. Not only does it save time, but it ensures the process is followed across our various teams.
Team members can collaborate by adding feedback and voting on important issues, ensuring that everyone's voice is heard. After the virtual meeting is done, we can also easily track, assign and manage action items. While you won't bring TeamRetro to all of your virtual meetings, for retrospectives, you'll be glad you did!
Does it have a free version? TeamRetro does not currently have a free plan.
Google Meet: Video Conferencing with Google's Power
Best tool for simple meetings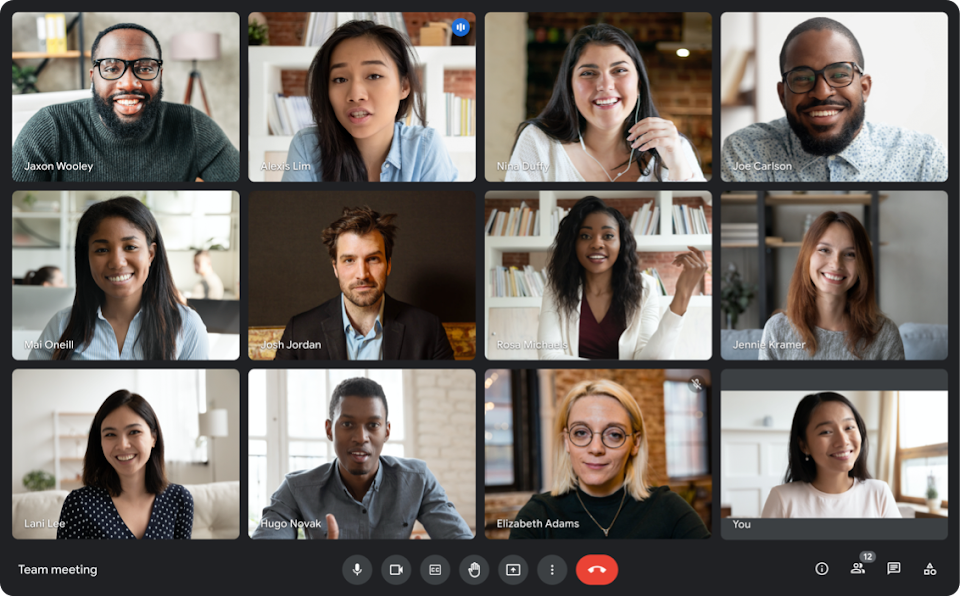 Key Features:
Integration with Google Workspace (formerly G Suite).
Secure and reliable video meetings.
Screen sharing and collaborative features.
Calendar integration for scheduling.
Encrypted video meetings.
Google Meet, integrated with Google Workspace, offers a seamless video conferencing experience. If you're already invested in Google's suite of productivity tools, this is a natural choice.
At SessionLab, we use Google Meet for arranging simple internal meetings. The ease of organizing a video call (and reorganizing!) with Calendar and jumping in for a chat make this a great tool for our regular virtual meetings. It's one of our favourite free online meeting tools, with so much value being offered without needing to go anywhere near the business plan.
Google Meet features all the bells and whistles you'd expect from modern video conferencing software. With simple integrations, screen sharing, secure and reliable video meetings and more.
The choice between this and other meeting tools often comes down to your existing ecosystem (Google or Microsoft) and whether your virtual meetings tend to be internal or external. In our case, it makes sense to primarily use Google Meet for simple meetings and Zoom for external sessions and those where we'll be recording. If you need a simple tool for video calling, be sure to give Google Meet a go – especially with it's native Google Calendar integration!
You can also integrate your Google Drive with SessionLab, making it easy to add your files and resources to your SessionLab agenda.
Does it have a free version? As a standalone meeting tool, Google Meet offers video calling without limitations. When using Google Workspace on a business plan, pricing starts at $5 per user, per month.
Mentimeter: Engage Your Audience with Interactive Presentations
Best tool for meeting engagement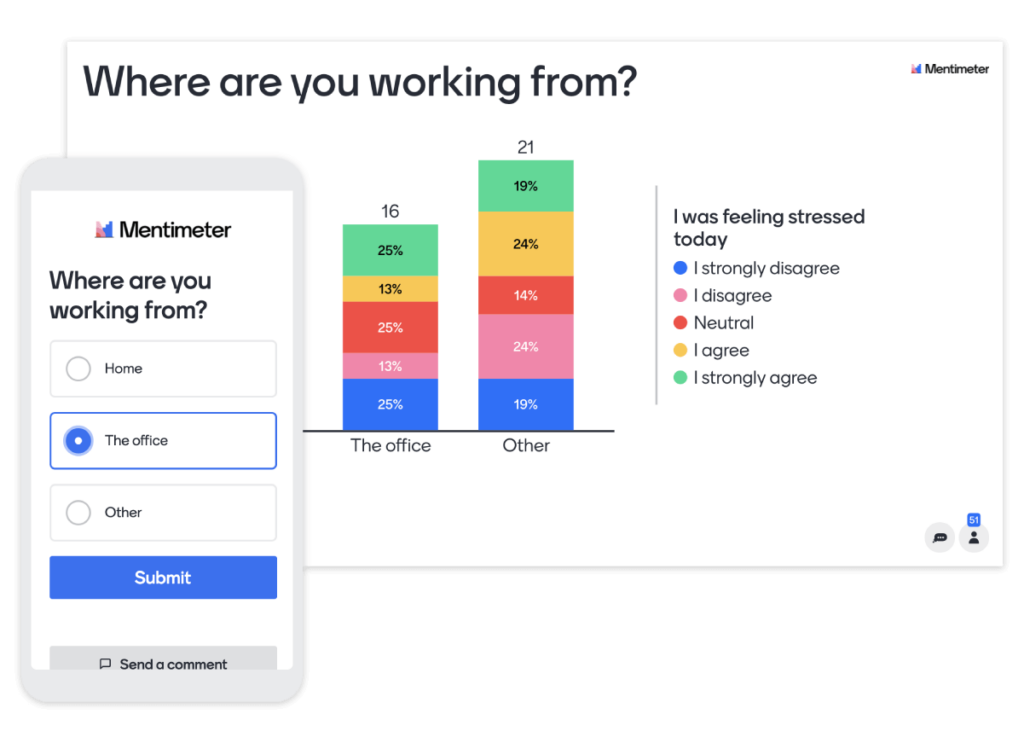 Key Features:
Interactive presentation and polling tool.
Live audience engagement.
Real-time feedback and surveys.
Versatile question types.
Integration with presentation software.
Mentimeter is a go-to tool for creating engaging and interactive presentations that captivate your audience and gather real-time feedback. It was the most cited engagement tool in the State of Facilitation 2023 report and with good reason.
Mentimeter transforms traditional presentations into interactive experiences by adding polls, quizzes, and audience engagement activities. If you've found your team all hands a little lacking or want to easily gather insights from your whole team during an online meeting, a tool like Mentimeter is a great way to engage your audience. It plays well with video conferencing tools and features a mobile app too!
If you're looking for a surefire way to improve the quality of your team meetings and get your meeting participants engaged, try adding interactive elements via Mentimeter. You'll be surprised at how much more dynamic it can make proceedings!
Does it have a free version? Mentimeter's free plan offers 50 participants per month.
Microsoft Teams: Collaboration in the Microsoft Ecosystem
Best tool for integrated meetings
Key Features:
Integration with Microsoft 365.
Team chat and collaboration.
Video conferencing and screen sharing.
File sharing and storage.
Microsoft Teams is a comprehensive collaboration platform that integrates seamlessly with Microsoft 365 apps and services, making it an ideal choice of online meeting tool for organizations deeply entrenched in the Microsoft ecosystem.
Whether it's collaborating on documents within the platform or hosting video meetings and screen sharing sessions directly within Teams, everything you'd expect is here. While some of the other video conferencing software on the list is great when standing alone, Teams really comes into its own when you leverage it's integrations and complete workspace.
Choosing between Teams and other options likely comes down to preference and what your organization is already using though when running external meetings, stay open to alternatives that might best serve your audience.
SessionLab integrates with Microsoft Teams too, so you can easily access your files and resources and link to them in your SessionLab agenda.
Does it have a free version? As with many desktop and mobile platforms, Microsoft Teams has a basic free plan you can use to get used to the software, but it really comes into its own once you start on even the first business plan.
Google Docs: Collaborative Document Editing
Best tool for simple collaboration and note taking
Key Features:
Real-time collaborative document editing.
Commenting and feedback features.
Version history and revision tracking.
Integration with Google Drive.
Accessible from any device.
Google Docs is a staple for collaborative document editing. While not a traditional virtual meeting tool, it's indispensable for simple note taking, collaboration and sharing documents in real-time.
Multiple users can edit the same document simultaneously, facilitating real-time collaboration and feedback. While you might want to use an online whiteboard for deeper visual collaboration, the simplicity of a word processor like Google Docs can ensure everyone in your meeting is able to get involved. These kinds of free online meeting tools are an indispensable part of your toolkit as a facilitator!
Google Docs automatically tracks changes and comments, allowing you to review previous versions and see who made specific edits. It's also easy to share different access rights, meaning you can let people view a file without editing during a meeting if you wish! If you're looking for a quick way to add simple note taking or text collaboration to your video conferencing offering, Docs is likely your best shout.
Does it offer a free version? As with the rest of Google's suite of tools, Google Docs has an option for free Google users that only gets more powerful when integrated in a business plan.
Notion: A Comprehensive Workspace for Collaboration
Best tool for project management and meeting notes
Key Features:
Workspace for notes, documents, and databases.
Real-time collaboration on content.
Kanban boards and project management tools.
Integration with popular apps.
Customizable workspaces.
Notion is more than just a note-taking app; it's a comprehensive workspace for teams to collaborate, plan, and manage projects in real-time. As a online meeting tool to support our sessions and remote workflows, Notion has been wonderful for us at SessionLab. We use it as the hub for all our company documents, and so it naturally follows to keep our meeting notes there too!
Notion combines notes, documents, and databases into a unified workspace, making it easy to organize and collaborate on content. Link items well and it's easy to turn discussion points from your meeting into a task or a project.
You can even add them to a database, kanban board or other project management tool to help your team plan and track their work. Notion's power really comes into play when centralizing your documentation and enriching it with the output of your meetings. We attach our SessionLab agenda to our meeting notes so everything is well organized too!
Does it have a free version? Notion offers unlimited content for individuals though when collaborating with your team, you'll likely want to graduate to the basic paid plan.
Slack: Streamlined Communication and Collaboration
Best tool for messaging
Key Features:
Team messaging and chat.
Channels for organized discussions.
Integration with various apps and services.
Voice and video calls.
File sharing and collaboration.
Slack is renowned for its team messaging and collaboration capabilities, making it a valuable addition to any toolkit for virtual meetings and communication. While we don't use Slack during the running of the actual virtual meeting, it's where almost all of our inter-team communication happens. Facilitating communication before and after the meeting is often as important as the meeting itself, so be sure to consider a tool for this.
Slack provides a centralized hub for team communication through channels, direct messaging, and group conversations. You can create channels for specific teams, projects, or topics, ensuring organized and focused discussions. You can also integrate channels with external tools and services, getting updates when you get a new survey response or support ticket, for example.
Slack also supports voice and video calls, allowing you to transition from text-based discussions to face-to-face meetings whenever needed. We've found it to be less robust than other options such as Google Meet or Zoom, but as a communication tool for day to day work is where it really shines.
Does it have a free version? Slack's free plan includes up to 90 days of history and support for team conversations. It's more than enough to get started and supporting your online meetings and team collaborations!
PowerPoint: Hold Participants' Attention with Visual Presentations
Best tool for virtual presentations
Key Features:
Create and design presentations.
Slides with text, images, and multimedia.
Animation and transition effects.
Presenter mode for virtual presentations.
Integration with collaboration tools.
Microsoft PowerPoint is a versatile presentation software that empowers users to create visually engaging and informative presentations for virtual meetings, webinars, and conferences.
While it might not be your immediate thought for a virtual meeting tool, PowerPoint plays a crucial role in delivering compelling content during online interactions. It was one of the most mentioned tools that facilitators use in the State of Facilitation 2023. Facilitators also use PowerPoint Online as a space to collaborate in real-time, inviting participants to join them in the tool during a virtual meeting.
Depending on the ecosystem you're in, you might prefer Google Slides or even Canva for your visual presentations, though in our experience, PowerPoint offers a powerful toolset that you can use for a variety of purposes.
Does it have a free version? PowerPoint Online has a version that is available for free online, though for teams and more robust needs, you may need to purchase the software or grab a subscription to Office365.
Conclusion
In the digital age, online meetings have become the cornerstone of collaboration and communication. Whether you're looking to design engaging workshops, conduct video conferences, gather real-time feedback, or streamline collaboration, the right virtual meeting tools can transform your interactions and enhance your productivity.
From SessionLab's specialized meeting design capabilities to the robust video conferencing of Zoom and the immersive collaboration of Miro, these tools cater to a wide range of needs and preferences. Consider the needs of your virtual meeting and use those tools that support your goals and the format of your sessions.
Explore these options, experiment, and discover the perfect virtual meeting toolset that works for you and your team. Remember that we've focused on (mostly) free online meeting tools, so you can get started without worrying about pricing.
With the right tools at your disposal, you'll unlock new levels of efficiency, creativity, and collaboration in your virtual meetings. Want to go further? Read about how to run more effective team meetings in our guide or explore how you might develop and use facilitation skills to augment your online meeting tools!