What is the train-the-trainer model and how can your organisation benefit from it?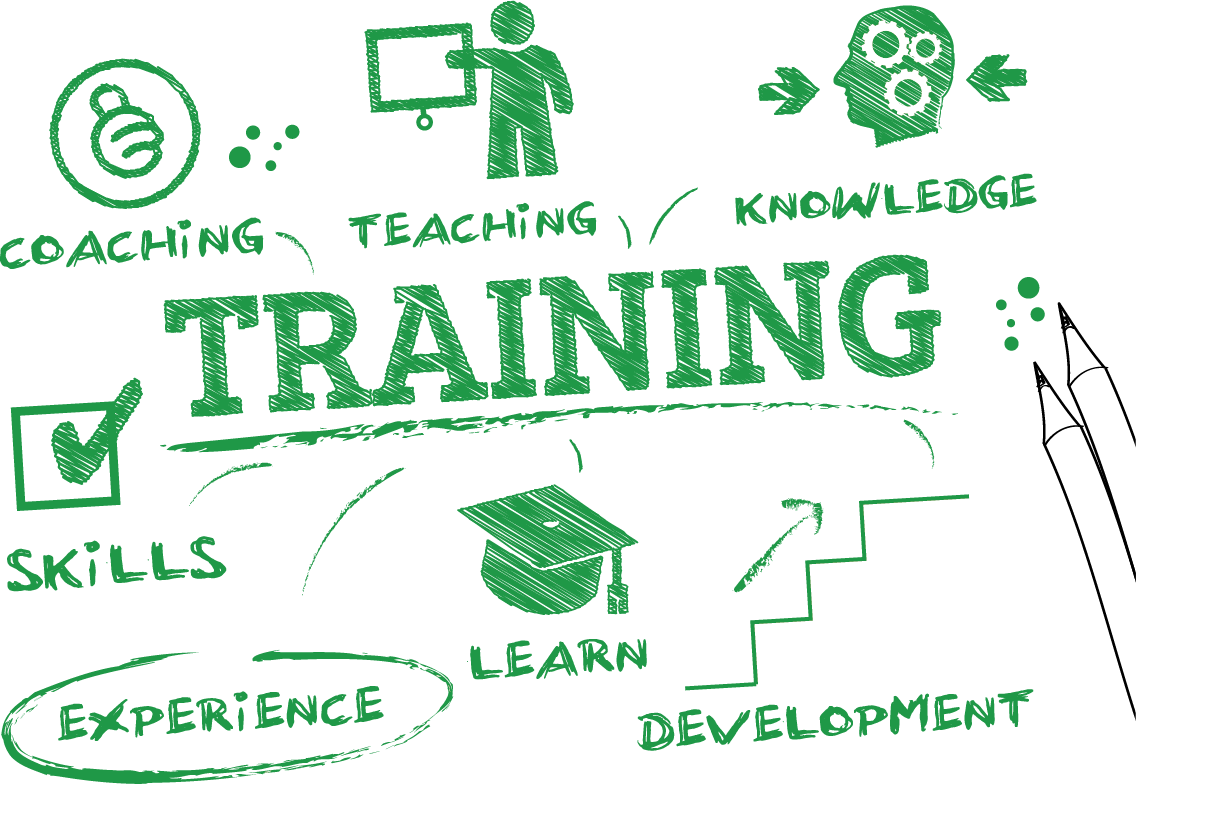 Staying competitive and relevant in your market is more important now than ever. But to be in a position of relevance, training and development must be added to the list of ingredients that creates your success.
A well-trained and motivated workforce is essential for a thriving business, and that is where the train-the-trainer model comes into the picture.
Having an internal training program is a powerful way to ensure that employees learn to acquire fast the knowledge and skills necessary to perform well in their jobs.
But how do you make sure that you have the capacity to effectively train employees at a scale? By making subject matter experts employees capable of teaching their colleagues via the train-the-trainer model.
Save time designing your next workshop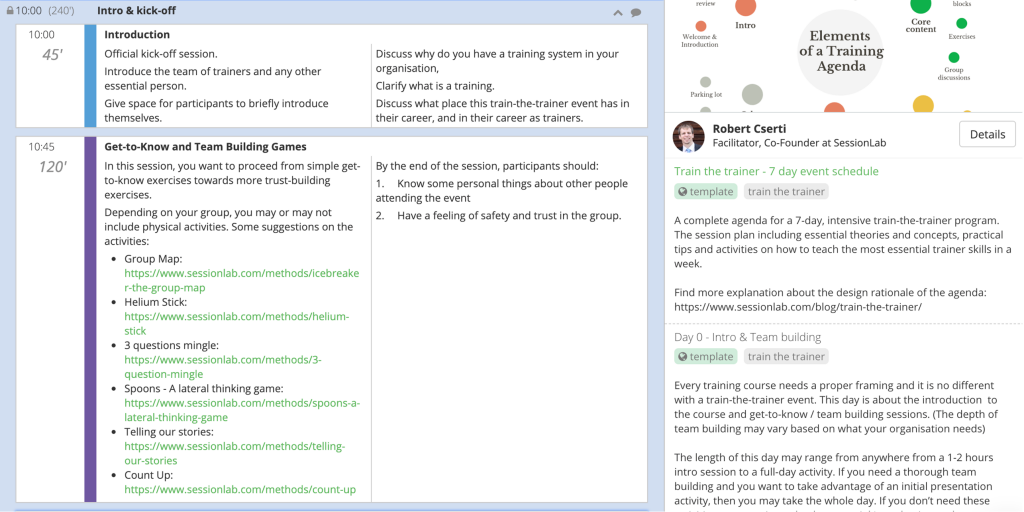 What is Train-the-Trainer Model?
Train-the-Trainer is a framework for training potential instructors or subject matter experts to enable them to train other people in their organisations.
In other words: A group of employees receive a compact training program that focuses both on specific training content and on how to teach this training content to others.
For example, a subject matter expert trainer trains a select group of employees on meeting facilitation skills and simultaneously teaches them how to train other colleagues on how to run effective meetings.
The expected outcome is that attendees learn the new knowledge or skill, and they will instruct further batches of people in the organisation.
This approach was first applied in NGOs and non-profit organizations and since then enterprises picked it up and applied it to their learning and development programs.
Benefits of the train-the-trainer model
The core advantage of the Train-the-Trainer model is its effectiveness to teach new skills and knowledge to a wide range of people within an organisation by involving internal resources to scale training delivery. Also, becoming an internal trainer and picking up new competencies is a great professional development opportunity for the people involved. Let's inspect see what are the other benefits that make the train-the-trainer model a frequently used approach in the learning and development industry.
Cost-effectiveness: It is much less costly to send one expert trainer to train internal subject matter experts, than hiring a large unit of external trainers to deliver every single training session within the organisation
Consistency in delivering a training curriculum: The default mode of operation for train-the-trainer programs is that trainers receive the exact same materials they were trained on, and therefore they disseminate the same learning through the organisation. This makes the model ideal for large organisations where continuity of training is important. Additionally, the standardized format allows to measure and compare the performance of each training group.
Acceptance of internal trainers: In most organisations, people tend to seek advice more from their colleagues who they are already familiar with, than from outside specialists.
It fits well in situations where fast dissemination of information is needed. After the initial train-the-trainer course is completed, the freshly minted internal trainers can deliver their courses simultaneously to their colleagues. This is particularly useful when rolling out change initiatives for a whole organisation.
Tailored learning: Internal trainers have the advantage of knowing the environment and culture of the organization as well as the products and services offered and client needs, allowing them to tailor the training content to the specific needs of the training participants.
Trainers' growing subject-matter mastery: Teaching someone else is the best way to learn. As trainers keep delivering training sessions to their colleagues, they will be exposed to handling new situations, meeting new questions and perspectives. As they find their way to answer these challenges, their subject matter expertise will inevitably leap to new heights.
Developing a competent internal training team: Once people attend a train-the-trainer program and they start teaching their own colleagues, their competence as instructors will keep growing. Next time, when your organisation needs internal trainers for another subject, you already have a group of employees in the organisation who are skilled in training delivery.
Better training follow-up: Since trainers are in-house experts, they stay around and can easily follow through until the new skills and knowledge become part of their colleagues' routines.
Train-the-Trainer has a ripple effect making the enterprise an appealing employer and progressive workplace for attracting talents. A company that provides growth opportunities for their employees and training through innovative techniques is attractive to potential employees.
On the other side, all methods have their limitations, and the train-the-trainer concept is no exception. One of the most frequently cited drawbacks is the lack of flexibility it offers to customise and adjust the centrally rolled out training curriculum. Needs may differ in different units of an organisation, and often times there is no time and resource allocated to tailor the scripted training program to the specific needs of different groups.
Secondly, the training programs are often designed to much lecture-oriented focusing on one-way communication and content distribution, lacking powerful experiential learning activities and hands-on practice. This can be improved by thoughtful course design respecting adult learning principles and proper training follow-up.
How to Choose the Right Participants?
Any training program requires investment, both in time and money. And putting the right people into the course is especially vital for success in a train-the-trainer program. The selection process can be easier by considering these parameters:
The selected soon-to-be-trainers should be well respected, ideally, a role model and a person employees look up to as well as go to for help. Choose an employee that leads by walking the talk and follows the company's processes and principles.
A trainer must possess good communication skills and able to lead discussions as well as listen to their colleagues. Being a good public speaker and presenter is also a big advantage.
It is important to be reflective and being open to receive feedback.
Generally a positive attitude and willingness to help colleagues to help to bring the training instruction to real-life application during and beyond the training sessions.
Some degree of experience and expertise in the given field or subject is a must, since the train-the-trainer model actively builds on the expertise and knowledge of its trainers. Not to mention, in order to be a credible trainer, one needs to be competent in the field she teaches. This is particularly important in subjects relating to technical know-how.
Flexibility in time and general availability for delivering training should also be considered. Being a trainer requires time away from one's regular job while training others in the organisation. It is a practical idea to ask the applicants' managers for support and confirmation that their job permits them to take part in the program.
How do I build a train-the-trainer program?
If you decide to design a train-the-trainer program in your organisation, there are a set of things you need to consider to build an effective model:
Clarify the purpose of the program: What are the main goals you want to achieve? Passing on technical skills from experienced to younger members? Build up an internal pool of trainers who can be relied on for a wide range of skill development training? Have internal change agents in the organisation? The answers you give for these questions will determine which area you need to focus on your training curriculum.
Design measurement and assessment process: You will need to set measurable objectives for the program and figure out how to measure course outcomes. Tracking progress of both trainers and trainee indicates the effectiveness of the program, and it is essential to be able to evaluate and improve your train-the-trainer program over time.
Design the training curriculum: As the train-the-trainer model is based on both teaching subject matter knowledge and training delivery skills, your curriculum will need to reflect on both. At first, you need to define course-by-course, what is the focus content that you want your trainers to train and disseminate in the organisation. Secondly, you need to allocate time to teach about group facilitation and training delivery. (Plus, if your trainees will have any flexibility in designing their own training sessions, it is essential to know about adult learning and training design principles.)
Create training materials: In order to maintain a consistent rollout and delivery of your training curriculum, you should design and provide all the materials that you trainees will need when they deliver the training content to their colleagues. This may range from detailed training facilitation plans to slideshows and participant handouts.
Do you have any further tips about how to design great train-the-trainer programs?
Let us know in the comments!