12 Best Meeting Management Software For Effective Meetings
Good meetings make your work easier, not harder. They help teams remove blockers, get stuff done and feel more aligned. Done well, meetings can become the beating heart of an effective organization. But how?
Whether you're a project manager or team leader, the right meeting management software can make managing efficient meetings easy and save you valuable time.
In this guide, we'll explore the best meeting management software, each offering unique features to help you plan, execute, and optimize your meetings effectively.
Good meetings are how the best teams align, make decisions and discuss what's important to them. The majority of employees spent up to one third of their work week in meetings. Doesn't that time deserve to be spent well?
An effective stand-up meeting can set your team up for success. On the other hand, bad meetings can feel like a waste of time. So how do you go about ensuring you have productive meetings that also stay on time?
The best meeting management software will not only help you create agendas and stay on time, but they'll help you streamline your entire process. These tools make it easy to organize your meetings, share the agenda with participants and run the session effectively.
But how do you choose the right tool? In this guide, we'll share some of the most effective meeting management tools on the market, outlining key features and benefits. Let's explore!
What is meeting management?
Meeting management is the systematic process of planning, organizing, facilitating, and following up on meetings to ensure they are productive, efficient, and valuable.
In a professional or organizational context, meetings play a crucial role in decision-making, collaboration, communication, and problem-solving. However, without proper management, meetings can easily become time-consuming, unproductive, and frustrating for participants.
Whether it's a daily stand-up, company all-hands or decision making meeting, every session benefits from being well structured and managed.
One important point when it comes to choosing meeting management software is considering your existing toolset and ways of working. For some remote teams, you may want a complete meeting platform with all the bells and whistles. For others, using an agenda planning tool will be enough to supercharge your meetings alongside your existing video conferencing tool.
In any case, remember that your meeting management solution works alongside the person leading and facilitating the meeting. Think of the solution you use as a way to streamline your process, make tedious tasks easier and save you time. Choose your tool accordingly!
SessionLab: Streamlined Meeting Agenda Planning and Facilitation
SessionLab is an agenda planning tool that makes it easy to quickly create and share your meeting agendas. Drag, drop and reorder your blocks to create your meeting agenda in minutes. Support your meeting process by adding notes, links and attachments to agenda items. It's a powerful, easy-to-use tool for anyone looking to create well-structured and engaging meetings.
Automatic timing calculation: SessionLab handles timing calculations for you, so you can focus on creating a tight meeting schedule. Create meeting agendas with minute-perfect timing with ease. As you make changes, SessionLab will automatically update your timing, no need to manually calculate your time schedule.
Collaborative Meeting Planning: Collaborate with your team to design effective meeting agendas and plans, ensuring that everyone is aligned and able to contribute. Invite team members to leave their comments and work together in real time on collaborative agendas.
Access to a Library of Meeting Templates: Save time by utilizing a library of pre-made meeting templates for various types of meetings, from brainstorming sessions to project retrospectives. Running recurring meetings? Create your own agenda templates so you and your team can quickly and consistently run more productive sessions.
Beautiful printouts: Create materials that help you prepare and conduct meetings. Export your meeting agenda in a format that works for you. Customize your printouts to include the information you and your team members need.
Time-tracking during your meeting: Use Time Tracker to keep your agenda on track during your meeting. See where you are against your plan and effectively timebox each item in your agenda. Add meeting minutes and notes to your agenda so everything you need is in one place.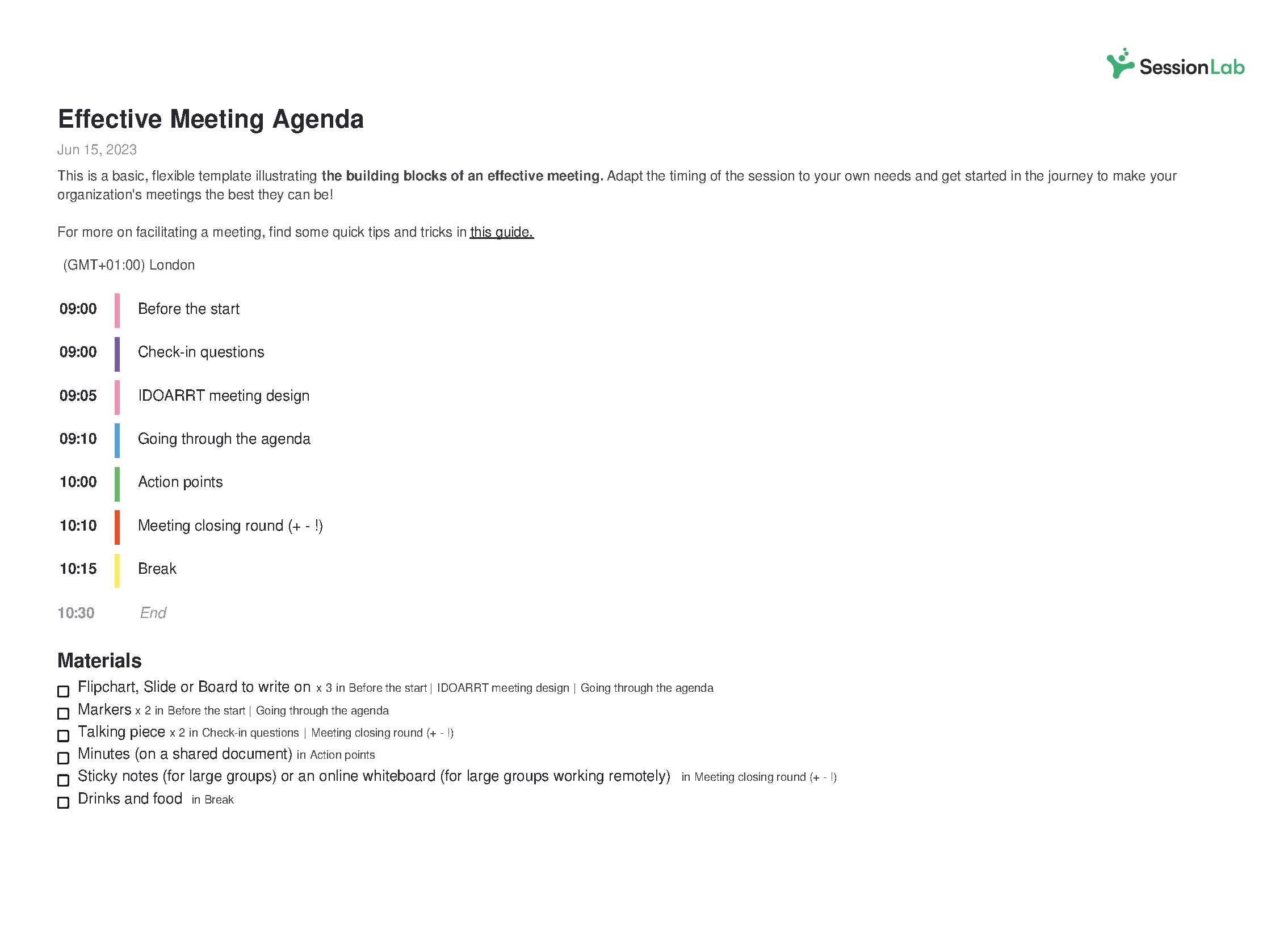 Key Features of SessionLab:
Fast, effective agenda design.
Automatic timing calculation.
Collaborative meeting planning.
Access to a library of meeting templates.
Beautiful printouts.
How much does SessionLab cost?
SessionLab is absolutely free to get started with, including ten sessions and everything you need to starting creating better agendas and having more productive meetings. Want more robust features that can enhance team productivity? SessionLab Pro starts at $15 per month, with unlimited sessions, real-time collaboration, exports to Word and much more.
Microsoft Teams: Microsoft-powered collaboration
Microsoft Teams is an all-in-one collaboration platform that combines real-time messaging, video conferencing, and robust meeting management capabilities. It's an ideal choice for organizations already invested in the Microsoft ecosystem and who want to link meetings to projects and documents easily.
Teams is an effective, collaborative platform where remote teams are able to chat, file share and host video meetings, all in one-place. While it may lack some advanced agenda management capabilities, Teams is a great all-rounder that is a natural choice for PowerPoint and Office 365 users.
Key Features of Microsoft Teams:
Real-time collaboration and messaging.
Video and audio conferencing.
File sharing and integration with Microsoft 365 apps.
Task and project management.
How much does Microsoft Teams cost?
Microsoft Team has a free version to get started with. Paid plans for Microsoft Teams begin at $4 per user, per month.
Hypercontext: One on one meetings All-star
Hypercontext is a meeting management tool with a strong focus on helping managers have productive 1:1 meetings and performance reviews with their team members.
Hypercontext integrates with popular calendar apps like Google Calendar and Outlook to help ensure that meeting schedules are synchronized and up-to-date. It also includes tools to aid collaboration and engagement such as discussion boards and action item tracking. Syncing with project management software is a great benefit here.
We also loved the meeting analytics on offer. Hypercontext provides data on meeting frequency, duration, and engagement, enabling teams to make data-driven improvements to their process.
Key Features of Hypercontext:
Meeting agenda creation and distribution.
Integrations with calendar apps.
Team collaboration tools.
How much does Hypercontext cost?
Hypercontext has a free plan if you want to take it for a spin, though if you want to start using more advanced features, Hypercontext starts at $7 per user, per month.
Zoom: Interactive Virtual Meetings and Webinars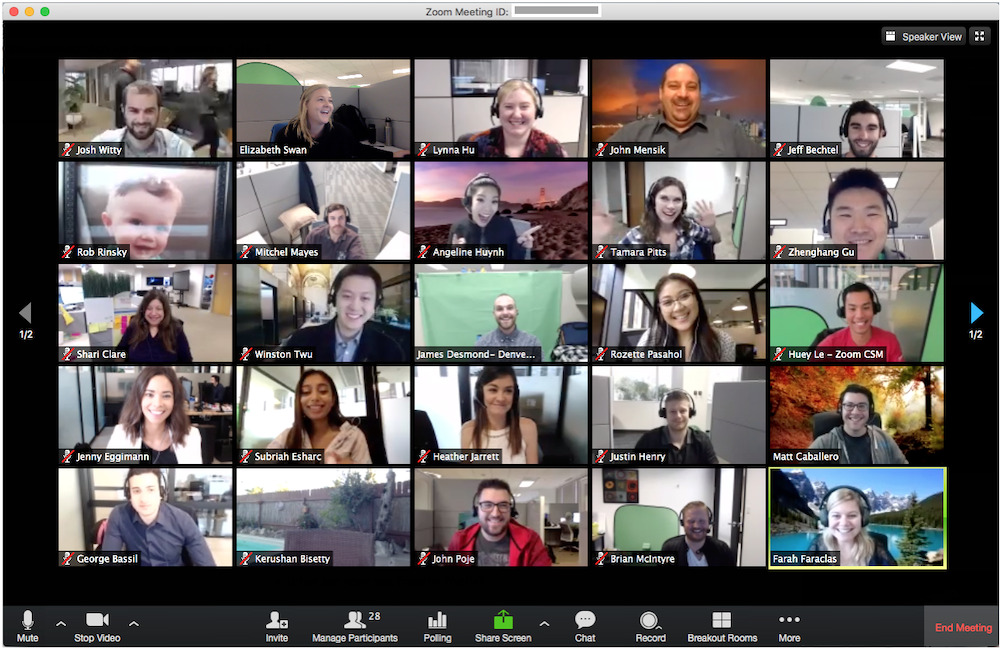 Zoom is renowned for its video conferencing capabilities, making it an excellent choice for hosting interactive virtual meetings and webinars. Zoom is great at helping your run productive meetings online. Share screens, collaborate on documents, and annotate shared content in real-time. Use breakout rooms for group discussions or activities. You can also record meetings for later reference and take advantage of automatic transcription to easily generate meeting minutes.
In our experience, Zoom works best when paired with other meeting management tools that can handle your meeting agenda or help with engagement. We'll often have a SessionLab meeting agenda in the second screen and integrate with a Miro board for collaborative work
Whatever other tools in your stack, you'll absolutely need some meeting software that will actually host your team meetings and allow you to communicate over video. Zoom is a great choice for this!
Key Features of Zoom:
Video and audio conferencing.
Screen sharing and collaboration tools.
Recording and transcription features.
Virtual background and breakout rooms.
How much does Zoom cost?
Zoom starts out with a free plan. When you start running larger meetings or need some advanced hosting tools, plans start at $15.99 per month.
Miro: Visual Collaboration and Brainstorming
Miro is a versatile visual collaboration platform that helps teams brainstorm, plan, and manage meetings with a focus on visual aids. It's widely used among facilitators who answered the State of Facilitation survey, and with good reason!
In many of our remote meetings, we'll work together in a Miro board, often collecting ideas, voting on solutions and collaborating visually.
A good meeting management tool helps during both the planning and running of your session. In Miro, you can use mind maps, flowcharts, and brainstorming templates to encourage creativity and problem-solving during your meeting. Getting people into a shared whiteboard can make it easy to illustrate ideas and recreate that in-person vibe among team members.
Top tip: when inviting participants to join a shared whiteboard, you'll need to send them the right link, in most cases through a chat function. Make the experience seamless: when designing your meeting, add Miro links to the relevant parts of your agenda to make sure you keep everything you need at hand!
Key Features of Miro :
Digital whiteboards and visual collaboration.
Mind mapping and brainstorming tools.
Integration with popular project management and productivity apps.
How much does Miro cost?
Miro has a limited free plan with up to 3 editable boards. Their paid plans start at $10 per user/per month.
Otter.ai: Transcription and Note-Taking
Otter.ai is an AI-powered transcription and note-taking tool that is ideal for capturing meeting minutes, making them easily accessible and shareable for your team.
With Otter, you can automatically transcribe your online meeting in real-time or upload a record to create a transcription afterwards. It'll automatically identify speakers and create accurate meeting minutes with ease.
Creating resources to support your meetings and make it easy for participants who couldn't attend to catch-up is a great way to support your team. Meeting management tools like Otter can prove to be a wonderful addition to your toolset.
Key Features of Otter.ai:
Real-time transcription and note-taking.
AI-powered voice recognition.
Searchable and shareable transcripts.
Integration with calendar and communication apps.
How much does Otter.ai cost?
Otter starts with a free plan. The paid plan's start at $10 per user, per month and include features like advanced collaboration and exports.
Calendly: Simplified Meeting Scheduling
Calendly is an efficient scheduling and appointment booking tool that simplifies the process of arranging meetings, consultations, and appointments. It's especially effective for arranging 1-1s or external meetings with clients.
Share your Calendly link, and participants can book appointments based on your availability. Easily set your working hours and specify when you're available for meetings to get organized with ease. Calendly integrates with popular calendar apps like Google Calendar, Outlook, and iCloud too!
Calendly sends automated reminders and notifications to both you and participants, reducing the likelihood of no-shows. For us, this has been especially useful during hiring processes or when conducting user interviews. Scheduling meetings without extra busy work is exactly what meeting management solutions are good for. Use Calendly alongside an agenda planning tool like SessionLab to effectively plan and arrange your meetings.
Key Features of Calendly:
Automated scheduling and appointment booking.
Personalized meeting availability.
Integration with calendar apps.
Customizable meeting types and durations.
Meeting reminders and notifications.
How much does Calendly cost?
Calendly also has a free plan. Unlock more advanced features such as unlimited event types and integrations starting at $10 per seat, per month.
Fellow: Collaborative Team Meetings
Fellow is a specialized meeting management tool with a strong focus on team management, feedback and ongoing collaboration. Easily assign clear action items and takeaways to your meetings and track interactions and feedback over time.
Fellow has an agenda builder that is great for simple meetings that may not require more robust time-tracking. You can easily schedule follow up meetings after running a session too. It also integrates with task management tools like Asana, Trello, and Slack to help streamline your workflow.
Key Features of Fellow:
Meeting agenda creation.
Meeting prompts.
Action item tracking and follow-up.
Integrations with productivity tools.
How much does Fellow cost?
Fellow's paid plans start at $9 per user, per month, with a minimum of 5 users. You can also try it for free.
Slido: Engage Your Audience with Live Polls and Q&A
Slido is an audience engagement platform that enhances meetings and events with live polls, Q&A sessions, and real-time interaction. It's a great tool to add to your all-hands meetings or workshops.
Slido makes it easy to engage participants with live polls and Q&A sessions, making meetings more interactive. It's great for gathering feedback, asking questions, and getting opinions in real-time from your audience.
Integrate Slido with popular presentation software like PowerPoint or video conferencing tools to seamlessly incorporate audience engagement into your meetings. You can also access valuable data and insights about participant engagement and meeting performance.
Key Features of Slido:
Live polls and Q&A sessions.
Real-time audience engagement.
Integration with presentation software.
Analytics and reporting.
How much does Slido cost?
Slido has a free plan with simple engagement tools. For bigger events and more advanced features, plans start at $12 per month.
Stormz: Effective Facilitation Platform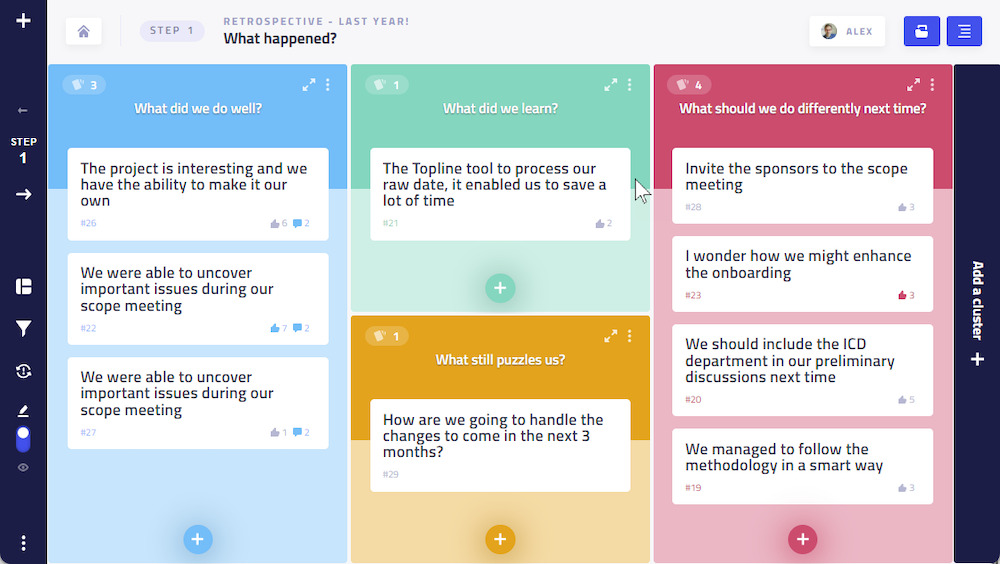 Stormz is a platform designed to facilitate engaging workshops and meetings, making it easier to brainstorm, collaborate, and reach decisions as a team. If you're looking for meeting management software that helps you visually collaborate and run exercises in one spot, Stormz is a good shout!
In essence, Stormz works a lot like a simple, stripped-back online whiteboard designed for simplicity and ease use. Facilitate real-time brainstorming sessions and decision-making processes with intuitive, tools. Engage participants with interactive activities and exercises that encourage collaboration and creativity. Collect meeting notes in the parking lot and return to them later.
In Stormz, you can really feel that the tool has been built with facilitators in mind. For move involved meetings and interactive sessions, we definitely recommend it as a bespoke alternative to Miro and Mural.
Key Features of Stormz
Digital workshop and meeting facilitation.
Collaborative activities and exercises.
Real-time brainstorming and decision-making tools.
How much does Stormz cost?
Stormz has a 10-day free trial and then costs $10 per month with 10 participants per session.
ClickUp: Meeting Task and Project Management
ClickUp is a versatile task and project management software that can play a significant role in meeting management by streamlining task assignments, tracking progress, and facilitating collaboration.
If you're looking for an all in one solution that can help you keep your team organized more broadly, ClickUp is a great tool to consider.
You can easily assign tasks and manage projects, and initiatives. Tailor workflows to match your meeting management processes. Customize task statuses, assignees, and due dates.
Foster teamwork with communication tools, such as comments, task discussions, and file sharing. You can even track the time spent on various tasks and generate reports to assess productivity and resource allocation.
Key Features of ClickUp:
Task and project management.
Customizable workflows.
Collaboration and communication tools.
How much does does ClickUp cost?
ClickUp's paid plans start at $10 per user, per month, though it also has a free plan if you wish to test the platform.
Klaxoon: Transform Meetings with Interactive Tools
Klaxoon is a versatile meeting management software that focuses on transforming traditional meetings into interactive and engaging experiences.
Klaxoon offers a range of interactive tools such as quizzes, surveys, word clouds, and brainstorming boards to keep participants engaged and encourage collaboration. For online meetings where you want to encourage active participation, meeting management tools that include quizzes and polls are a wonderful place to begin.
You can also collaborative boards to gather ideas, feedback, and input from participants, making it easier to make informed decisions. Collect real-time feedback and conduct surveys to gauge participant opinions and measure meeting effectiveness.
With Klaxoon, you can take your meetings to the next level by leveraging interactive tools and collaborative features, ultimately improving the overall meeting experience and driving better outcomes.
Key Features of Klaxoon:
Interactive meeting tools and activities.
Collaboration and brainstorming boards.
Real-time feedback and surveys.
Integration with various apps and platforms.
Analytics and reporting.
How much does Klaxoon cost?
Klaxoon has a free plan to help you get started with 50 participants. Paid plans for Klaxoon's more robust features start at $24.90 per month.
Why is Meeting Management important?
Meetings have long been a staple of business and organizational life, providing a platform for collaboration, decision-making, and communication. However, not all meetings are created equal.
Organized badly, meetings can be a waste of time that leaves team members feeling drained and less aligned. Plan and organize a meeting well and your team can achieve great things and stay on time while doing do. This is where effective meeting management comes into play.
Meeting management refers to the process of planning, organizing, facilitating, and following up on meetings to ensure they are productive, efficient, and valuable. It might seem like a straightforward task, but there are several compelling reasons why effective meeting management is of paramount importance.
When a manager or facilitator uses the right meeting management software, meetings tend to flow. Teams are aligned on the agenda, meeting materials are easily created, meeting notes are collected and managers have everything the need to run the session.
In this section, we'll share the benefits of using the right tools during every step of your meeting process and explore why you should start using a solution to help support your process.
Optimizes Time and Resources
Meetings take time to plan, organize and run. Good meetings are those that feel like an effective use of the collective time and resources of everyone involved. When thinking about running a team meeting, remember that the time used is cumulative for everyone in the session. A one-hour meeting with ten team members can cost your hundreds of dollars in working time. That time should be spent effectively and productively!
Meeting management software is designed to optimize the process and save you time in the process. For example, reusing and adapting a SessionLab meeting agenda can help you create a perfectly-timed agenda in minutes, rather than hours.
Planning and structuring your team meetings effectively can ensure you discuss what's important, rather than going off on tangents that take you further from your goal. Effective meeting management ensures that meetings are focused, concise, and end on time, making the best use of everyone's time.
The best meeting management software also makes it easy to do all the tangential tasks relating to your meeting. There's always something for managers to do, and so saving time here can be a life saver. Whether its collating meeting notes, sending invites, creating beautiful meeting materials or assigning tasks, using meeting software can help optimize this process.
Enhances Productivity
Well-planned and managed meetings help teams get more done. They have a clear agenda, defined objectives, and a structured flow. This allows participants to stay on track, make decisions efficiently, and accomplish the meeting's goals. Unproductive meetings, on the other hand, can lead to frustration and reduced morale among participants.
I often think of meeting management software as the second facilitator in the room. Have a question about what comes next? Check your agenda. Want to quickly poll participants? Use the engagement features of your tool to make the process quicker. Want to timebox each activity to make sure you cover everything needed? Use a time tracker connected to your session plan.
Meeting management tools are a great way to support your process and improve meeting productivity, all while saving you valuable time and effort.
Promotes Accountability and Ownership
Accountability and Ownership are cornerstones of successful organizations. Get your team behind a new initiative and have team members assigned to follow-up tasks and your projects will be more successful as a result. Good meetings and workshops are often where this accountability and buy-in begins.
Have you ever been in a meeting where you had a nice chat about an upcoming initiative, but it felt like you had no clear idea about what you should do next? Effective meetings enable your team and incentivize action. Great meeting management software can help you by making it easy to set action items, responsibilities, and create clearly defined and documented deadlines.

You can go further by inviting collaborators to co-create your agenda, lead sections of the meeting or give feedback on your plan. A great agenda is one that everyone involved believes in. Getting your team involved in shaping your agendas can have profound effects on team productivity and buy-in.
Encourages Participation and Engagement
Ever been in a meeting where you unintentionally got distracted, just because it was dull? Or perhaps you were trying to get feedback on a new project and were met with silence? Managing a great meeting also includes encouraging active participation and finding ways to engage your audience as necessary.
You can achieve this on multiple levels. Designing your agenda with space to check-in and warm-up participants with activities is a great first step. You might also consider how each item of your meeting flows into the next and tailor your plan to the task at hand. Sending your agenda to participants ahead of time can also ensure they're prepared to contribute and engage with the topic of your session.
Meeting management software can help encourage participation during the meeting too. You might use a whiteboard for team members to collaborate in real-time. Using quick polls or idea generation games can make a session more intriguing. Something as simple as sharing videos or slides while video conferencing can help hold participants' attention.
Remember that dropping everyone into a video conferencing tool and talking at them for an hour without variation or participatory activities is a surefire way to have a bad meeting. Use a meeting management tool to help facilitate engagement and active participation throughout the process.
Transparency and knowledge sharing
Transparency is vital for creating a sense of trust and credibility within your team. In the context of meetings, being transparent means making sure that the agenda and supporting information are shared openly and that decisions and notes are documented clearly. Management software can help support this process by making it easy to control who sees what and making it easy to invite people to your agenda and meeting notes.
A meeting management tool like SessionLab can be a great place to keep all your meeting agendas organized. You can reuse your best agendas, share notes and ensure consistency across your organization. Of course, you may have meetings that want to remain private or within certain groups, such as one on one meetings or executive sessions. A good meeting management solution allows you to control who sees what, and invite only those people you want to each agenda or workspace.
Your organization and team will likely create your own rituals and best practices around your meetings. The way you manage meetings in your team doesn't need to be the same as everyone else (though there's lots to learn from others) but it does help to be consistent within your group. Your meeting platform will help you achieve this with templates, instructions and by taking the pain out of sharing your best practices.
Conclusion: Optimize Your Meetings with the Right Software
There's more to an effective meeting than simply getting people in the room. Video calls without structure or planning are rarely productive and seldom help a team achieve their goals.
Effective meeting management software is an essential component of the process, enabling meeting leaders to plan, organize and run sessions with confidence.
Whether you need help with agenda creation, note-taking, scheduling, collaboration, or engagement, the right tools can significantly impact your meeting outcomes. SessionLab is an effective way to start creating and sharing better meeting agendas and supercharging your entire meeting process.
Have thoughts or recommendations? Let us know how you get on in the comments below. Want more help with the cultivating the skills you need to run your meetings? Learn how to become a better facilitator and improve how you hold the space and execute meetings.
Looking for inspiration? Check out our workshop and meeting templates to see how to structure an effective session and use it as the basis for your next meeting.