Recent statistics show that 85% of the global workforce is actively disengaged at work, causing a global impact of $7 trillion in lost productivity.

With this in mind, it's vital to the success of your organization that you find innovative methods of engaging your workforce to increase productivity. Implementing these productivity tools could have a positive effect on improving employee engagement and achieving your organizational goals.

There are thousands of productivity tools to choose from that will help your office excel. It's essential, however, to select the ones that best fit the needs of your business and employees. 92% of employees agree that when a company optimizes the right tools and technology necessary for their work, it can positively impact their satisfaction and productivity at work.

Here are a few of our favorite office productivity tools that can improve your office efficiency and improve productivity in the workplace.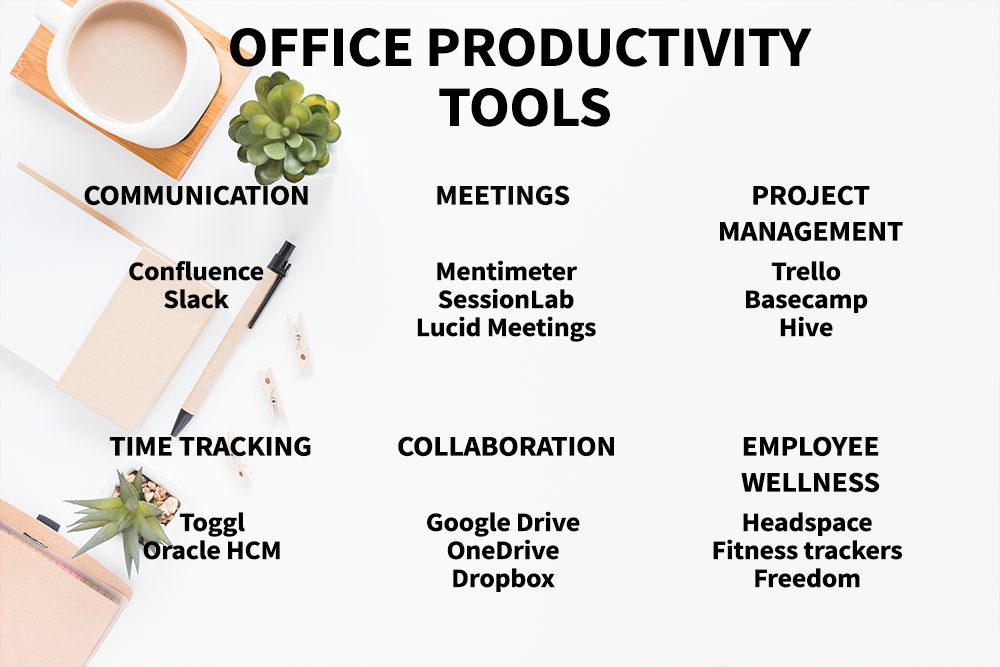 Sections in This Article:
Communication – Slack, Confluence
Meetings – Mentimeter, SessionLab, Lucid Meetings
Project Management – Trello, Basecamp, Hive
Time Tracking – Toggl, Oracle HCM
Collaboration – Google Drive, OneDrive, DropBox
Employee Wellness – Headspace, Fitness Trackers, Freedom, Ergonomic Office Furniture
Communication
Strong internal communication is integral to the success of any organization. When there is a lack of communication throughout the organization, employees lose their sense of direction and purpose. This can cause productivity levels to decrease significantly.
Finding strategic ways to increase your communication amongst your team can help your organization become more engaged and productive during the workweek. By implementing the right tools, this process becomes much more simplified and streamlined.
If you're looking to improve communication across your teams, look no further than Slack. Slack organizes each department, subgroup, or the entire company, into channels where communication is stored and organized. This method makes it easier to keep important information in an easily referable location. This app also lets you choose which messages require immediate attention and which can wait – something email programs lack. Slack can also integrate with many of the applications you may currently use, such as Google and Hive.
Are you looking for a central hub to house all company-wide notifications? Confluence is your answer! This application makes it easy for companies, particularly large-scale organizations, to get important messages out quickly to a location that can be accessed by internal employees at any time. This flexible workspace can help organize your policies, instructional videos, and other important information in an online hub that encourages collaboration amongst all departments. This can also be a great place to host a virtual bulletin board for specific employee/team recognition.
Meetings
Many of us spend a great deal of time in meetings each week. When a meeting is unproductive, it's easy to feel that time is at the waste. Unproductive meetings can often be a cause of productivity loss within a company. Finding a creative solution to bring high-impact engagement to a meeting room can help increase team productivity and innovation.
Creating meeting visuals and presentations that hold the attention of your audience can sometimes be tricky, especially if the material is a little dry. Incorporating interactive features into slides and presentations can lead to more meeting engagement and retention of the knowledge being presented. Mentimeter offers meeting engagement software where users can utilize their smartphones to interact with the meetings they are in. Whether voting, answering open questions or contributing, presentations never get dry.
Using Session Lab can help you and your team design more productive meetings and workshops. Our workshop planner tool is designed from the ground up for those designing and facilitating workshops and meetings. Drag and drop your activities and the timing adjusts automatically. Color-code your exercises and re-use blocks across sessions to make the design process easy. Need extra help? With a library of over 700 expert facilitation techniques and a collection of fully-featured templates, you can learn from the best and ensure your meeting will be productive and effective.
Throughout these meetings, you may find yourself curious about the diagnostics and data that comes out of them. Are your employees engaged throughout the meetings or are they distracted? If you find that your meetings are not turning out to be as productive as you would like, finding coaches and facilitators may help. Lucid Meetings' coaches, for example, work in major focus areas that can assist with productivity, employee engagement and retention, performance, and decision making.
Productive meetings made easy
Project Management
All projects in a company must be appropriately managed to succeed. Allocating the proper resources, assigning deadlines, and maximizing each employee's skill set are important components of project management. Effective project management also reduces any possibility of employee ambiguity, so no resources are wasted, and projects get completed efficiently and accurately.
There are many popular software programs available for organizations to use to increase productivity in their project plans.
One popular option is Trello, a flexible and easy to use option for anyone just starting on their project management journey. With this program, projects are organized into cards that anyone granted access can collaborate on from start to finish. Trello even offers an automated bot named Butler who can further increase team productivity.

Basecamp can help you get organized and stay that way. Anything you need to complete a project from start to finish will be right where you expect it. Having all of the tools accessible or able to be integrated will increase productivity and reduce costs.

The program Hive is gaining a cult following in the business community. With this software, your company can organize project tasks and allocate resources into one of its four view options that work best for your team. In addition to more than 1,000 compatible app integrations, it also has analytics reports available to better track your team's productivity.
Time Tracking
The ultimate way to analyze and improve a team's productivity is to track the amount of time and resources spent on each task. When you have this information at hand, you can use it to make well-informed decisions around resource allocation and support in areas where productivity seems to be lacking.
Toggl is a simple and easy to use time tracking program that allows users to input the number of hours they spent on each task. It can even pull this information automatically from calendars and other apps. Also, should an employee forget to input their time, an automated bot will remind them to do so. Toggl provides managers with a detailed report broken down into specific projects, tasks, and clients. With this information, employers can see where productivity is soaring and what's holding them back.

Want to go further than simple time tracking? With software like Oracle's Cloud HCM, you'll have a complete HR system to engage and optimize your operations. By implementing this software, you'll be able to see time breakdowns, absences, and expense reports across the organization. This program can also help you manage labor costs and minimize compliance risk.
Collaboration
When employees are provided with tools that streamline cross-functional collaboration, productivity increases as a result of the shared knowledge, resources, and value.
Working together seamlessly is vital for project success, especially for organizations that have siloed departments or may be widespread (remote employees, multiple offices, etc.). That's where these collaboration tools can be useful for your organization to increase collaboration opportunities.
Google Drive is a leading choice for many organizations, as it is free and offers secure cloud storage for documents, sheets, and slides. Files can be easily shared and edited with multiple collaborators. Also, access is available from any device or location – a significant benefit for remote employees.

Microsoft's OneDrive offers many of the same options that Google Drive does, yet the main difference is that files can be viewed and edited offline with this software. This offers an advantage for businesses operating on a variety of locations, such as construction or transportation.

While all of these solutions offer SSL/TLS encryption – which is guaranteed to keep your records from ending up in the hands of a cybercriminal – DropBox offers unparalleled cloud storage offerings for enterprises who need to store and manage their files securely. When sharing data with a colleague or client, you can also use this software to encrypt your messages.
Employee Wellness
Encouraging your team members to prioritize their self-care can lead to higher productivity rates in the office, as well. High-stress work environments can be detrimental for employees to achieve success. Alternatively, when employees feel relaxed and supported, they are happy to come to work and put in their best efforts. Increase your employee morale by promoting wellness and self-care through these tools.
Research the above tools and consider which ones are best for your business. Looking for tools for workshop planning and meeting facilitation? We have you covered!