Our Guide to Facilitation Week 2022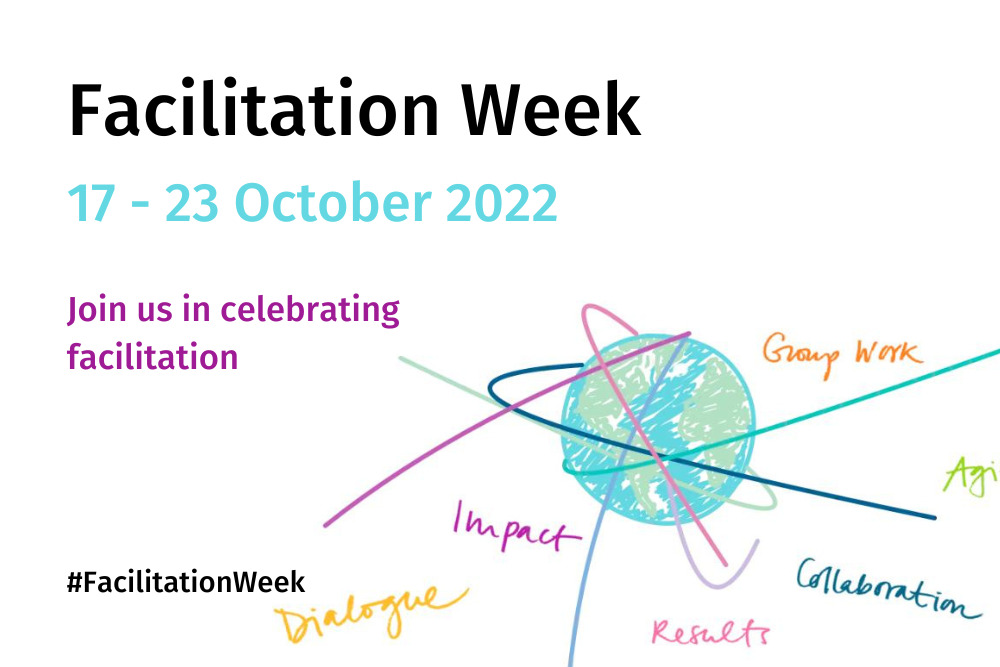 Where focus goes, energy flows. And in October, the world of facilitation's focus is on the rich calendar of co-created events of Facilitation Week! Facilitation Week is a yearly marathon catalyzed by IAF, the International Association of Facilitators. This year, it will run from the 17th to the 23rd of October, in all time zones, live and online!

There is always a lot to learn and you can expect every session to be lively and participatory. But before you go check out the entire event list, heed a word of warning! The week is absolutely packed with great events running for free, online, and open to anyone. There is so much going on simultaneously that it might feel daunting: where to start? What not to miss?

SessionLab's got you covered: we put together a dedicated guide to Facilitation Week 2022, including:
Facilitating for the Emerging World
Facilitation week is a co-organized event. Each local IAF chapter, as well as individuals and consultancies, can offer one or more sessions. The organization sets an intention: to focus for a week, collectively, on the power of facilitation. It also set a theme for this year, Facilitation for the Emerging World. This theme is meant to address the sense of momentous change that is upon us after two years of remote-only work during the worst of the COVID-19 pandemic.
Do you remember when, all of sudden, all events, meetings, festivals, and workshops had to move online? The facilitation community as a whole learned a lot, quickly and together, sharing skills and tips about online platforms and soon discovering what virtual facilitators had been telling us for a while: participation and engagement online are, indeed, possible!

Now it's 2022 and the new challenge are hybrid meetings, where some participants are online and others share the same physical space (check out our guide to hybrid events here). Entire workplaces have become remote-only, while others are learning to harmonize workflows in remote & at-the-office combinations. Much is emerging that is new in the post-pandemic world of 2022, not to mention the societal and environmental challenges we face together. Facilitation week addresses all that by creating a space for collective sharing and learning.

Another sub-topic this year revolves around the IAF's Core Competencies. This is a framework identifying the essential skills of a professional facilitator. A series of talks and round tables will focus on these competencies, from the thorny issue of facilitator neutrality to the essentials of negotiating with clients. You'll find that series highlighted by a white-and-purple banner at the side of the event flyers.
Some logistics – how to join
Sessions at Facilitation Week are being offered by the local chapters, not all of which are English-speaking. In this piece, we will highlight our picks in English, but if you are interested in sessions in other languages there will be something for you as well!

For each session, you'll find registration links on the dedicated page. Most sessions will require you to register aforehand, and you will receive a link to join, via email. This is mostly so that hosts can know in advance more or less how many people to expect, but you can usually also join at the last minute if that suits you better.

All levels of experience are welcome! Expect sessions to be highly participatory; facilitators will probably appreciate it if you can join from somewhere that allows you to speak, and with a camera on, if possible! Most sessions will feature some activities in breakout rooms, so consider this also a great opportunity to network with professionals from all around the world.

Speaking of the global dimension: hosts are located in many different time zones, so take care to make sure to check the timing of events!
Featured Events not to Miss
The core team behind Facilitation Week has set up a few "featured events" to support the facilitation community's professional development. Each lasting two to three hours, these are really deep dives, and all for free!
Courageous Encounters with Transitions
On October 17th, at the very start of this packed week, Tom Schwartz and Sharon Li will guide a three-hour exploration around the topic of transition and change. They invoke the word "courageous" in the very title, so bring your bravery and an open heart to a session that promises to delve into the roots of change. The desired output: new responses we can go forward with, both individually and collectively.
The Art of Hosting + the Flow Game
Mary Alice Arthur and Toke Paludan Møller are hosting two connected sessions from the Art of Hosting community toolkit. The first, on October 18th, is a two-hour-long introduction to Art of Hosting, inviting you to discover this rich framework for holding and harvesting conversations. The next day, join them for another two hours dedicated to exploring the Flow Game, a gamified activity to find clarity together in a fun, engaging way!
Introducing Facilitation Mode
We have our own SessionLab slot at Facilitation Week as well! On October 19th, SessionLab co-founder Robert Cserti will give a demonstration of Facilitation Mode and tips on how you might use it when running your sessions.
Keeping sessions on time can be challenging. With the new feature of Facilitation Mode in SessionLab, we make it easy to track the progress and timing of your session so you can focus on facilitating a great workshop or meeting. You'll have the opportunity to ask questions, try Facilitation Mode, and share your feedback. We'll also have the chance to connect and mix as a community and to share how we currently track time when facilitating.
Stories of Impact through Facilitation
If you like to hear stories about facilitation, are looking for inspiration for your next projects, or would like to know what impact facilitation actually has, look no further than the Facilitation Impact Awards. This yearly event honors organizations that have made an impact in the world thanks to facilitation services, and the facilitators who worked with them.

You will learn about eight impactful projects in conversations and panel discussions. To get a taste of the event, go check out the awarded projects on the event page.
Sessions that are Perfect for Newcomers to Facilitation
All sessions hosted during Facilitation Week welcome people with any level of experience, including none at all. That said, here is our pick of sessions that may be best for you if you want some introductory material to start with.
Activities and Techniques for Great Remote Workshops
If there is one thing facilitators insist on, especially after the experience gained in the Covid-19 pandemic lockdowns, is that online meetings and events can, and should, be participatory and engaging. Join the folks from Impact by Design for a 90-min training on what makes remote workshops great!
How to create an Ether Environment
Don't get discouraged by the strange title! In this session, Elaine Chen and Eric Tseng will talk about one of the core competencies of facilitation: creating a participatory environment. "The participatory environment," they write "is just like the Ether element, which is invisible, but we can feel it everywhere". Join them to experience what it is like to live and breathe participation!
Facilitators' Nightmares
You may feel ready for your agenda to go as planned, but hesitant as to what to do in case you encounter obstacles. What will your response be if a participant gets emotional? What if someone unexpectedly hijacks or undermines your plan? Get ready to face your fears in a 90-min session hosted by Amy Chan and Connie Tsui-Burchfield.
Bite-sized Bits: Short Sessions to Inject some Learning into your Week
Don't have much time to dedicate to Facilitation Week events but would still like to take a peak? Here is a collection of 1-hour events you might find the space for in your busy agenda.
Being Brave or Being Nice?
A short workshop on modeling different ways of being as a facilitator. Do you self-identify as "being brave" or "being nice"? How does your level of risk-taking influence your practice? Can we become more flexible in choosing when to exercise which part of our temperament?
How to enhance your leadership skills
A lunchtime (if you are in CEST, that is) hour dedicated to identifying and developing leadership skills on October 23rd. Leadership and facilitation really do go hand-in-hand. Perhaps you don't want to become a professional facilitator, but how about becoming a facilitative leader?
An overview of the IAF Professional Development path
IAF is not a training institution but it does certify that members have acquired competencies as facilitators. There are different levels of accreditation involved, as well as a 6-month-long mentoring program. If you'd like to learn more, at Facilitation Week you'll find opportunities to tune in and learn what the IAF professional development path is like.
SessionLab Staff Picks
Ever walked out of a bookstore with a title that a friendly staff member recommended to you, and ended up loving it? That's what we hope to achieve with this last section, in which we've asked staff members from SessionLab to pick and choose a session they would like to recommend, and why.
Carrin's pick – Personal Growth by Life Dynamics

If I spoke Italian, I'd be super interested in the Laughing Yoga workshop! However, I'm not too sure how LOL-ing in my co-work space would go down. So, in that case, the English-speaking event that calls me the most is Personal Growth by Life Dynamics. Personal development is very much an area that I geek out on, as do many in the facilitation space!
What I found interesting in the workshop description is the idea that it's not our life experiences that shape us, but our reflection of our experiences. I worked with a women's co-operative in Guatemala and we had a facilitator come and run a workshop called 'Construyendo la Felicidad' (Building/Cultivating Happiness). He asked older members to share their individual experiences and stories of what life was like after the civil war.
The reflections helped as reminders to new and old co-op members of how much they had built and how far they had come before looking forward. It was one of the first experiences I had working with a facilitator and I was really blown away at how much this workshop benefitted the group in coming together again as a team and being excited again about the future. By asking the women to look back and remember why they created the cooperative and the crafts department, they built a happier workplace for older and younger members. I'd love to learn more about how to apply reflective exercises to make positive future changes
Deb's pick – Facilitating in Crisis Situations
In 2016 a series of earthquakes struck my region of Central Italy. There's a "fun" video of me in a Zoom session suddenly panicking and rushing out of the house while everything shakes! I was fine, but many other people from my region were not. That is when I learned the humongous amount of work that needs to go, after a disaster strikes (and before as well, if you have foresight!), in tending and nurturing the social fabric of the impacted areas.

I had the privilege of helping out with a few workshops on projects created after the earthquake, and that is where I got some of the deepest (and deeply humbling) learnings about really listening to the impacted population. And that is why I am looking forward to hearing more from this panel of colleagues discussing Facilitation in Crisis Situations from the GFSC (Global Facilitators Serving Communities) group on 22nd October.


Laura's pick – Atelier Expérience

Laura is drawn to this event on calligraphy for graphic facilitation and might join, despite not knowing French, because the language of illustration is universal!

At this point, you should be perfectly equipped to map your own journey through this exciting week. If you feel inspired to do more than just attend, here are some great ideas from the organizing team as to actions you can take to spread the power of facilitation far and wide!
Add an event to the roster by creating an account on the event website and registering;
Host a "Lunch and Learn" or "Coffee-Break case study" in your workplace to showcase how your organization uses and benefits from facilitation.
Host an event to showcase the benefits of facilitation.

Publicize your facilitation stories on your own and your clients' websites. Get creative: use video and podcast interviews.
Use #FacilitationWeek to join the discussion on social media!
More events are being added to the calendar by the day, so you are likely to discover hidden treasures we've not seen yet: use the comments below, or in our Community, to let us know what events you'll be joining, and how it goes! We'll be writing a post-event wrap-up, and would love to put your stories in there as well!